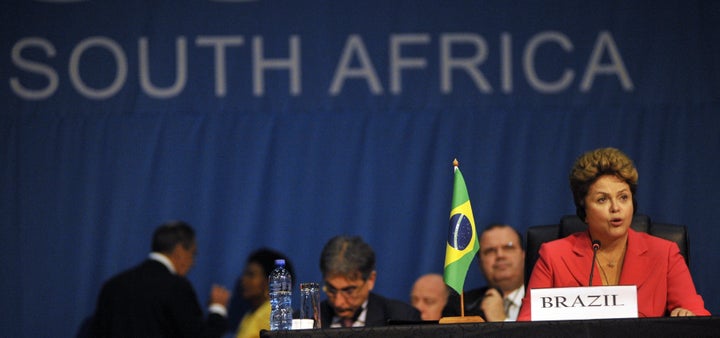 I spent the past two days in Durban, where I attended the fifth BRICS summit. One of the most notable things about the conference was the prominent African presence there. Fifteen African heads of state were invited including leaders from Angola, Republic of Congo, Egypt, Guinea, Ivory Coast, Senegal and Chad, to name few.
I suggest that when we talk of the key emerging regions in the world, we should use the acronym BRICA instead of BRICS. The entire African continent is emerging, and many countries are growing at twice the rate of South Africa, where the economy grew by just 2.5 percent in 2012. In contrast, other countries like Ghana or Equatorial Guinea, or Nigeria or even the Republic of Congo, are growing at a much faster rate of 6 or even 7 percent.
On his way to South Africa the President of China, Xi Jinping, made a two-day stop in Tanzania. After the conference he spent an additional day in South Africa, and he is visiting the Republic of Congo on his way back to China, signing billions of dollars of partnerships. This shows that Africa's rise is no longer just beginning -- this is definitely an emerging region, despite the political conflicts occurring in Mali, the Central African Republic and elsewhere.
Since we started our initiative the New York Forum AFRICA, in June 2012 in Gabon, 100 percent focused on concrete business opportunities in Africa, every single week there is a forum about Africa happening everywhere except in Africa! Africa needs to manage its transformation through homegrown solutions.
African leaders stand at a pivotal point in the continent's modern history. They should take note from the failures of "developed and advanced economies" in order to avoid similar crises as those suffered in the US and Europe. Those crises were of course caused by exorbitant indebtedness. Many African countries are financing projects through generous debt and loans coming from a small number of institutions -- China's ExIm Bank, the African Development Bank, the World Bank and so on. What's important to remember, however, is that these debts will some day be called. Without smart, long-term planning that addresses growth beyond just the first stage of investment, Africa could find itself in a difficult position a few years from now. It is imperative to coordinate and cooperate together to build the right model to finance Africa's growth and improve the continent's infrastructures.
Meanwhile, the media should cover the good news related to Africa more often, because there is plenty of it and western citizens need to hear about it.
Calling all HuffPost superfans!
Sign up for membership to become a founding member and help shape HuffPost's next chapter