'Tis the season when wedding planning and preparations are in full swing. I caught up with one lovely bride-to-be recently, Irini Arakas in her studio where she designs wonderful accessories for her company Prova. Not long ago she was writing about designers for Vogue, now tables have turned and she couldn't be happier. (Her recent scarf collection is not to be missed.) We got together for a makeup trial for her outdoor wedding, taking place at the end of June. She won't be the most conventional of brides, but the details of her dress are not to be revealed, in case her fiancé sees this before the special day. I can, however, reveal the details of her makeup. Here's the cosmetic scoop!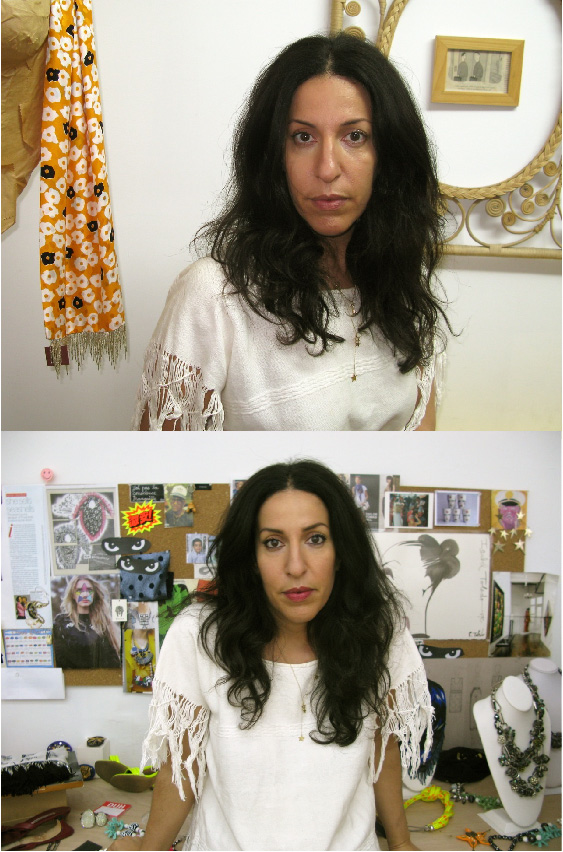 Before & After
Before: Here I simply moisturized Irini's skin and really gave it a good massage, with Jurlique Moisture Replenishing Day Cream. I then applied Skyn Iceland Hydro Cooling Firming Eye Gels under the eyes, for 10 minutes. To get her lips nice and hydrated I put a touch of very yummy Josie Maran lip balm.
After: Irini wanted to look like herself only a bit more polished for her wedding day. She agreed to use her usual makeup and add a primer, concealer and tinted moisturizer, which she doesn't normally use. First, I used a bit of Laura Mercier Radiance primer, then Chantecaille Just Skin tinted moisturizer in Wheat, brightening concealer Touche Eclat by YSL in 3.5, and Secret Brightening Powder by Laura Mercier. We went for a stronger defined brow. Then using her black eye pencil she rimmed the inside of her eye, curled lashes well, then applied Clinique Power Lash, which is a long lasting bride-proof formula mascara. For a wash of color on the cheeks and lips try Josie Maran Coconut Cheek Gelee in Berry Bliss. You can tap it on with your finger anywhere on the face. You'll be a blushing bride for at least 14 hours with this formula.