Born into a family of painters and artists, bridal gown designer Sareh Nouri began to delve into the world of art from a very young age. In Tehran, she spent a good part of her childhood studying with renowned Iranian painter Abbas Katouzian, who mentored Ms. Nouri after she and her family left Iran to settle in the United States.
In 2009, after designing the 'ideal' gown of her dreams for her own wedding, Ms. Nouri decided to create a collection of bridal gowns for other brides-to-be who (like she once did) dream of walking down the aisle wearing a wedding dress that embodies their own, personal 'ideal' of romantic beauty. Today's brides clearly enjoy Ms. Nouri's ethereal couture aesthetic. Since the up-and-coming bridal designer formally debuted her wedding gown collection in June 2011, she has enjoyed a massive surge in both sales and popularity. Here, Ms. Nouri reflects on how her background in the arts and her Iranian-American heritage have influenced her bridal designs.
Prior to launching Sareh Nouri Bridal, you worked professionally in graphic design, and became an accomplished artist of Persian calligraphy. How did your prior work in graphic design and the arts impact your move into the world of bridal gown design?
My work throughout the years in graphics, calligraphy, art and sketching ultimately helped me make a quick transition into bridal design. Whether it's a painting on canvas or the design and weave of a gown, to me, it all blends into one thing: having the creative eye to make something new. A creative eye, innovation and originality lie at the center of design. However, with art, you can be creative and include a vast variety of patterns, and your creation will still be beautiful. The special challenge with bridal gowns is having a balance between a creative dress design and something that is admired by the everyday bride. Having consulted with so many brides (and their mothers), I've found that what my brides love the most is a wedding dress that is a work of art, yet romantic, timeless and elegant.
How has Persian art influenced the design of your gowns? What sorts of Iranian art or symbols are infused into your designs?
My previous work as a graphic designer and artist of Persian calligraphy (both written and digital) gives me great motivation to come up with unique patterns and layouts for my sashes and gowns. I also travel to Iran frequently for inspiration. In my upcoming collection, my use of vintage lace, the designs of my sashes, and the embroidery on my dresses are all influenced by Persian art. Specifically, the delicate flow of vintage crystal embroidery on my sashes has been inspired by my love for the intricate details and smooth flow of Iranian miniature art, such as the works of Isfahan-based artist Mahmoud Farshchian.
Also, I have found that Guipure Lace, such as that used in my design of the Farangis gown (View image), which I named after my grandmother, is reminiscent of the elaborate, textured geometric patterns decorating many of Iran's historical mosques and palaces. The heaviness of Guipure, and the thick pattern of the lace, give a soft allusion to Iranian architecture. The name Farangis is also the name of an Iranian female character from Iran's epic Shahnameh, or "Book of Kings."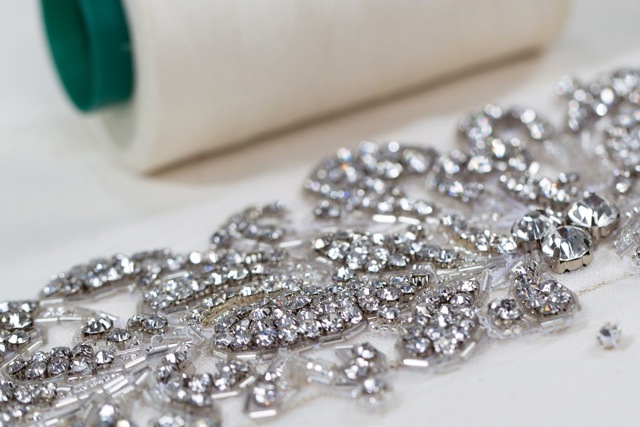 Photo by Moshe Zusman Photography
Some of my gowns are also named after Iranians who have been an inspiration to me. For instance, I named one of my favorite dresses from my first collection Neda, after the young Iranian woman who lost her life in 2009 during the protests in Iran for freedom and democracy. My Neda dress in particular (which happens to be ultra popular with my brides) is very soft, very light, and inspirational to me. I wanted to name something after Neda Agha-Soltan, and my mom actually helped me choose this gown to be the one to bear her name. The delicate, free flow of the gown, to me, serves as a symbol of freedom. The dress just fit the description, and I thought that would be a good name for it.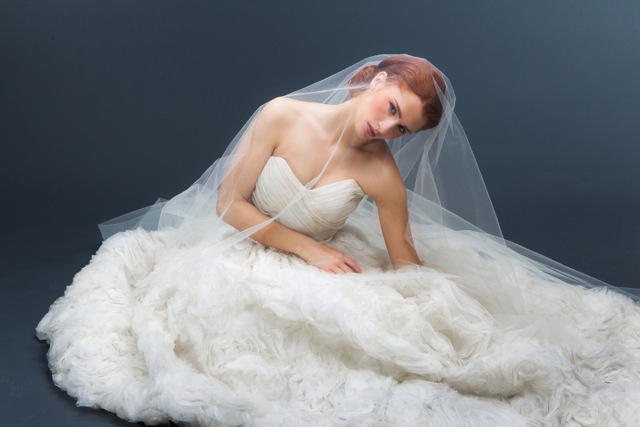 'Neda' Gown -- Photo by Moshe Zusman Photography
When you travel to Iran, where do you go for artistic inspiration?
During my last trip to Isfahan, for example, I visited ancient sites such as the Si-o-se Pol ("33 Arch") Bridge and the Naqsh-e Jahan ("Image of the World") Square, which is surrounded from east, west, north and south by some of Iran's most beautiful and masterfully decorated mosques and palaces. I also love walking through the vaulted hallways of Isfahan's Grand Bazaar, which links the old section of Isfahan to the new parts of the city, to look for works of Iranian Khatam-kari (also used in Persian Miniature Art), and especially for jewelry with vintage Iranian patterns. I've found that my brides here love it!
What are your plans for Sareh Nouri Bridal during the next year?
In the next year, I will keep expanding the national and international presence of my bridal gown collections within the high-end bridal market. I will also launch a new collection of evening gowns.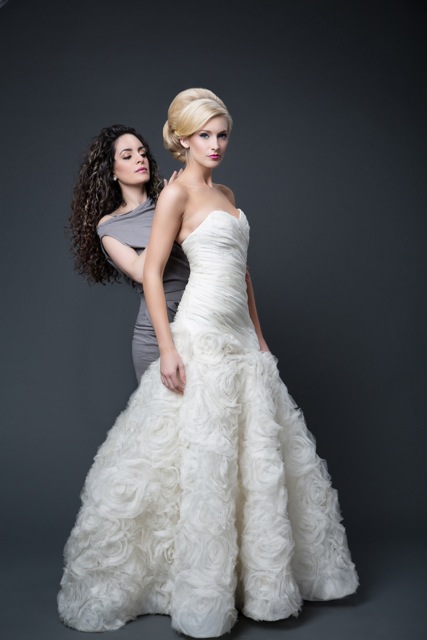 Designer Sareh Nouri with her Genevieve gown -- Photo by Moshe Zusman Photography

Meet Sareh Nouri and check out her gowns, including the ones mentioned above and her upcoming Fall 2012 collection, at the London Hotel in New York from October 13 - 16.
Popular in the Community