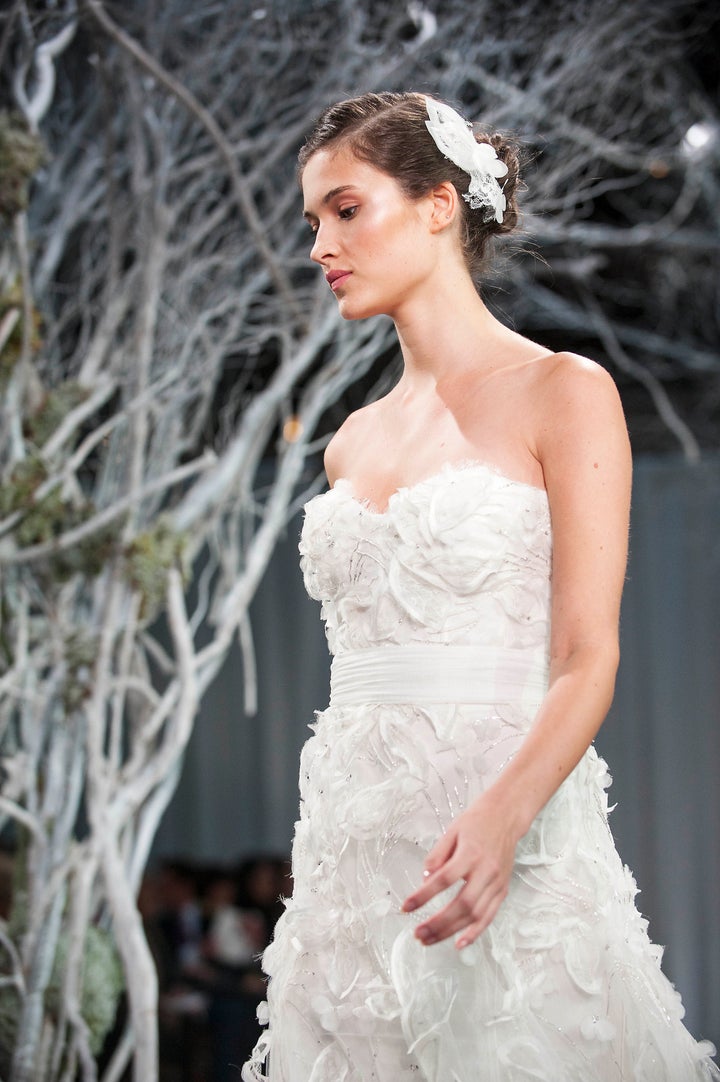 At some point brides decided to loosen up a bit. The modern bride understands that there's beauty in small imperfections. Today's most chic looks evoke being "done" without being "overdone." The hair and makeup choices exhibited at this year's Bridal Market shows reflected this trend toward a more natural, realistic bridal look.
At Badgley Mischka, this effortless ethos took on a sense of whimsy with big, cotton candy-like chignons centered in the back of the head. The traditional "updo" has been transformed into more of an "undo." By moving the ever-popular side chignon into the center of the head, the hair can be left un-parted. Suddenly a more modern take on this very traditional look begins to take shape. By teasing the strands into a whipped disarray, the result is a look that is perfectly imperfect.
The models faces were left clean and unfussy. The only noticeable splash of cosmetic color was on their lips. I noticed a soft pinky red and even a peachy coral hue that played off the models' (typically flawless) skin in a very soft way. There was no lip liner, no perfectly tailored or starkly accentuated features. The way to get this look would be to use a finger to dab lipstick color on the lips instead of painting it on with a brush. This gives the lips a natural "flush," and the bonus is that it wears nicely throughout the day for a real bride. Remember: if it looks subtle when it goes on, it will also look subtle if and when it comes off.
At the Monique Lhuillier show, there was no trace of whimsy. The looks were dead-serious and totally sophisticated. The hair was pulled up with a more pristine look and feel. Each model had been adorned with a tasteful hairpiece (which we have been told that Monique now sells in her stores), and on the side of each centered chignon was a bejeweled ornament. The look was angelic yet dressy. Still, despite the formality of the looks, a sense of soft, neutral, underdone elegance pervaded. Somehow, even amidst the finery, these models radiated innocence and charm.
This is where clever make-up design can come in handy. You want your models to radiate innocence and charm? Give their cheeks some shine, and leave the blush at home. In real life, women have a tendancy to overdo the blush, which is a big mistake for brides. All the excitement and, yes, nerves that come with getting married give a bride naturally rosy cheeks (or the "bridal glow," as we call it in the business). An overdose of blush on top of that can turn a blushing bride into something more closely resembling a clown. So by trading blush for a little neutral shimmer, we can accentuate the cheeks but still pull off a modern, minimalistic look.
There are always brides who come to us want to copy specific runway looks. This year we see the runway looks starting to move away from the outré aesthetic of the editorial world toward a more consumer-based realism. In other words, the runway is copying the brides rather than the other way around. It's refreshing, to say the least.
Fashion trends are always influenced by the world at large. The bridal industry doesn't exist in a vacuum, and so if we want to stay on top of the trends we need to try to read the larger story at play. So what explains this relaxed, imperfect trend in bridal grooming? Too much emphasis has been placed on "the perfect wedding" over the past decade. Less than flattering representations of the perfectionist bride in popular culture (think "Bridezillas") have made women run in the opposite direction. Women now would much prefer their friends and family to view them as "uncomplicated" rather than "perfect." And, as it turns out, uncomplicated is becoming on just about everyone.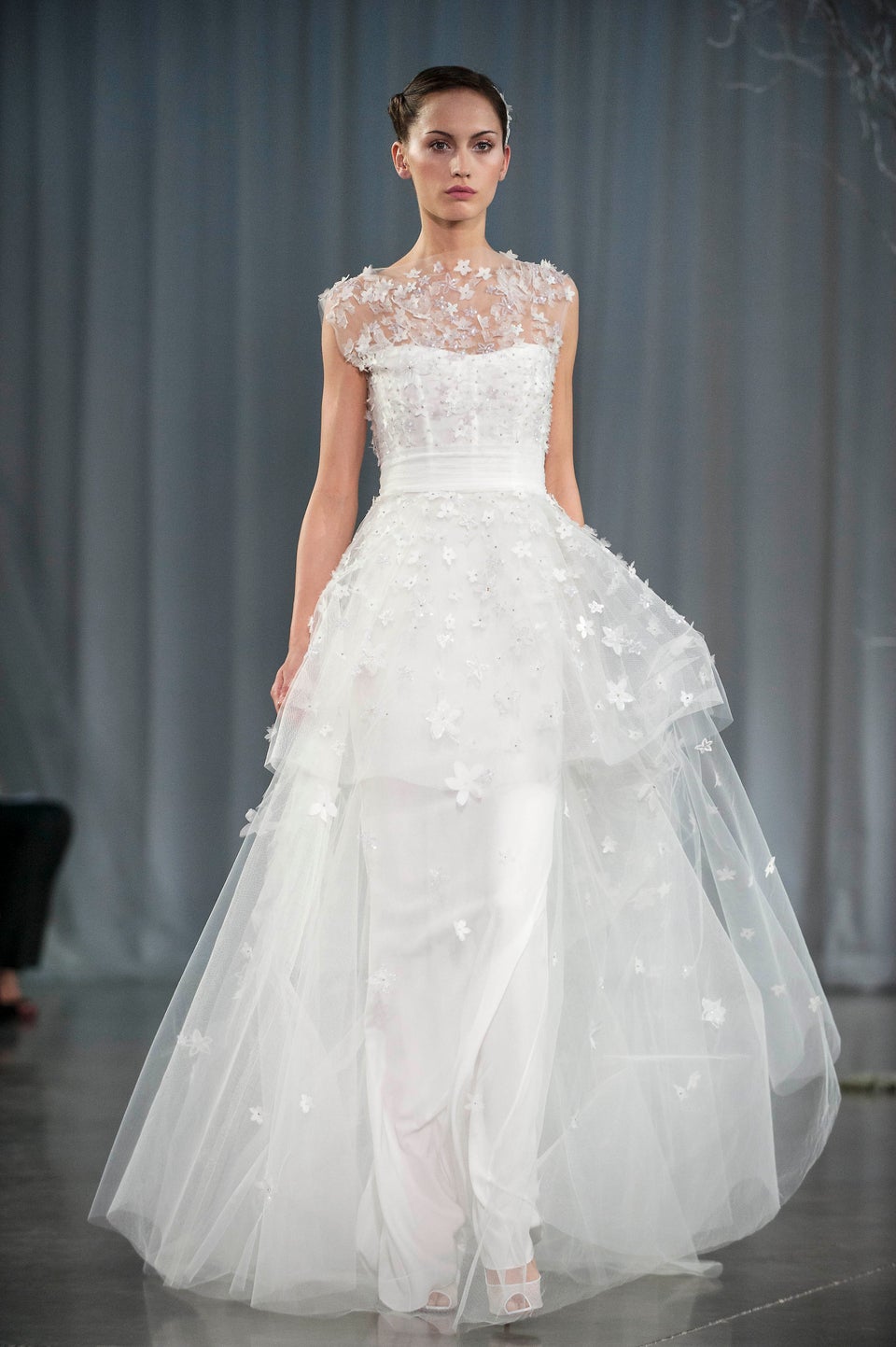 Runway-Ready Bridal Makeup Looks