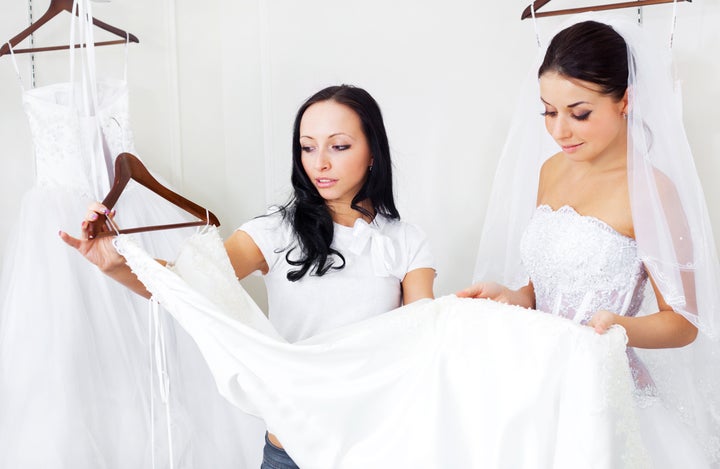 One of the most common inquires we get from brides when making consultations is regarding trunk shows and what exactly they entail. If you've shopped before with loved ones you may have an idea of what to expect but for the rest of you who are new to the bridal world, we give you all the details!
What Is a Bridal Trunk Show?
A trunk show is a special event in which a bridal salon features a particular designer's collection. The bride has a unique opportunity to view and try on wedding dresses straight off the runway before they are available in stores as well as styles from previous seasons. A trunk show is a special event not to be missed and offers brides a very exclusive and fun experience along with many benefits!
If you find yourself liking multiple styles from the same designer a trunk show is a wonderful opportunity to narrow down your search with many benefits that come along with it. Most likely some of the dresses you've been eying on the Internet or in magazines will be from the designer's new collection, so a trunk show would be your chance to see them first and try them on! Some designers will also send dresses that are only available during a trunk show and not in stores, giving you the opportunity to choose and try on gowns that are a bit more exclusive and not available to everyone. Oftentimes designers and representatives from the company are at a bridal trunk show to offer their expert knowledge and answer any questions you may have about a style or custom changes. Some designers will even offer a pattern change for free or half off at the time of the trunk show. If the designer is in attendance at their trunk show, it is a very wonderful experience to meet with them, snap a photo or even receive a custom sketch (depending on the designer.)
When Are Trunk Shows Held?
If you're in search of a trunk show you can usually find a schedule of upcoming events near you on both your local bridal salon's website and the designer's website. Trunk shows are usually two to three day events held on the weekend. These special events are by appointment only and do fill up quite fast, so if you are interested in attending, don't wait to reserve your spot!
What Else Do I Need to Know?
Trunk shows are not just for bridal. Many evening wear, bridesmaid and accessory designers host trunk shows as well!
If you decide to purchase a gown from the designer featured at the trunk show, you will benefit with special pricing incentives during that time only.
Bride's can look forward to receiving the best possible price during a trunk show so bring whoever is instrumental in making your final decision with you to your appointment.
If you're wondering if you can try on other designer wedding dresses while at a salon's trunk show the answer is YES! Salons are usually more than happy to accommodate you with trying on from their full selection of dresses should you prefer to do so.