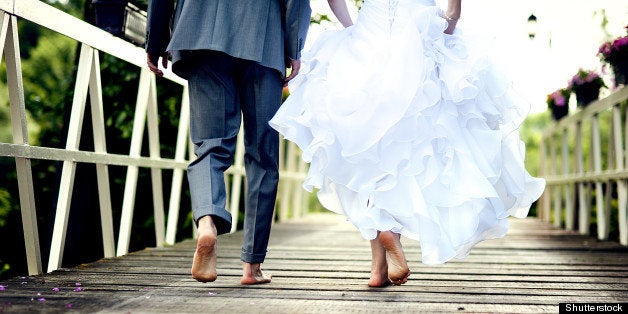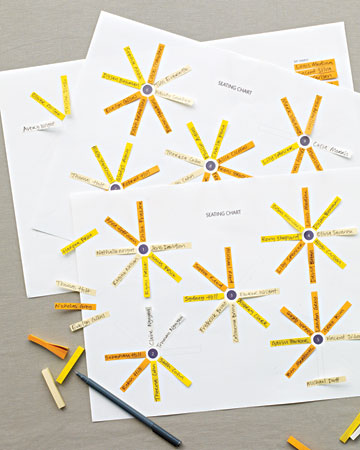 As the lucky bride, you will likely find yourself with a team of family members, bridesmaids, and friends willing to lend you a hand in planning your wedding. But even if you hire a wedding consultant, there still should be one person ultimately in charge: you. The following is a brief sketch of what you'll need to think about.
Getting Organized
Begin by making lists: Write down each task to be done, the date by which it needs to be completed, and who will do it. Devise a system for recording your plans and for remembering who is helping you with what. Buy a wedding planning book, or create one in a three-ring binder or accordion folder, or just set aside a section in your daily planner. Make sure you include a section for filing away inspirations from magazines or old family photographs and one for recording the names and phone numbers of vendors and their references.
Choosing Bridesmaids
Assembling a wedding party is an exciting milestone that should be completed early in the planning process. Start with your maid or matron of honor, whose primary function is to organize the bridesmaids and make sure the bride has a constant flow of emotional and practical support. You might ask a sister, close friend, cousin, or even your mother or grandmother to play this role. Then turn your attention to the bridesmaids. What's most important in your choice of attendants is that each one is a person you can count on for help and support. A week or two before the wedding, it is customary for you to be the host of a bridesmaids' lunch showing your appreciation for all they've done; if some of your attendants live out of town, you may prefer to wait until the day before the wedding, so all can attend.
Planning Your Ensemble
You'll want to start shopping for your dress as soon as possible: Make your final decision -- and place an order -- at least six months before the wedding. Once you've settled on the gown, select your veil, shoes, handbag, jewelry, gloves, and undergarments. If your maid of honor or a bridesmaid will bustle your gown after the ceremony, she should attend your final dress fitting, so the seamstress can show her the technique. If you are having your hair and makeup professionally done, choose a stylist early, and make appointments for both your wedding day and a trial run one to two months beforehand. Since your new wedding band is sure to draw attention, have your engagement ring cleaned so it sparkles beside the band, and treat yourself to a manicure just before the wedding.
Of your many tasks, the one that matters most is to enjoy being the bride. To allow yourself this pleasure, you'll need to master the gentle art of delegating. Remember: Though some people, such as members of your wedding party, know they are expected to help you plan, you still want to use tact and grace when asking for and accepting help.
A natural place to start delegating is with your groom. But first, know that tradition already dictates some tasks for him: purchasing the wedding bands, choosing his groomsmen and their attire, buying gifts for his attendants, making appointments for the marriage license and blood tests, organizing transportation to and from the ceremony and reception, arranging for the officiant's payment, and planning the honeymoon. Like many grooms, yours may wish to expand his involvement. After all, the wedding is an expression of you both. There are some things you'll want to do together, such as setting a budget, drawing up the guest list, organizing your ceremony, composing your vows, and registering for gifts. Other tasks you'll want to tackle separately before making the final decision together. The groom who is a gourmet cook, for instance, might select the caterer; the bride who is a gardener might enjoy finding the florist.
Then there will be responsibilities that may be attended to by others. Consider each person's strengths and interests as you decide how to divide the to-dos. If your father is a musician, for example, ask him to look for a band. You might ask your mother or future mother-in-law to handle the publishing of your engagement or wedding announcement in the newspaper. Your bridesmaids will likely enjoy -- and appreciate -- helping you choose the dresses they'll wear.
Coordinating the Rehearsal
While your future in-laws traditionally plan and host the rehearsal dinner, you're the best candidate to organize the actual rehearsal, since you'll be the most familiar with all the details of the ceremony. Make certain that all who need to be there have been instructed about time, location, and logistics, including the order in which people walk down the aisle and where everyone stands at the altar.
During the rehearsal dinner, you and your groom will want to welcome out-of-town guests and say a few words of thanks to your parents. You'll also want to give each bridesmaid a gift to express your appreciation (if you prefer, these gifts can be distributed at the bridesmaids' luncheon). Even if the gifts are all the same, add a personal touch to each: Give each attendant an evening bag in her favorite color, or engrave her initials on a silver bracelet.
Once the rehearsal dinner is over, and you and your groom have a moment alone, you may wish to present him with a wedding gift. It is customary for the bride to give her groom a wristwatch or other piece of engraved jewelry that echoes the permanence of the wedding band she is about to receive.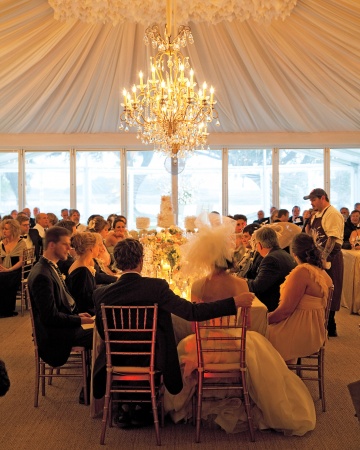 Getting Married
On your wedding day, your focus needs to be only on looking and feeling like a bride. Any logistical task -- meeting the florist, handing out the bouquets and boutonnieres, putting out the guest book, placing hospitality baskets in the restrooms, and overseeing the choreography of the event -- should be assigned to someone else in advance.
If you want to have a receiving line, tell a groomsman or bridesmaid where you want it -- at the ceremony or reception site -- so he or she can organize it. During the reception, you customarily share a first dance with your groom (picking the song is a fun thing to do together) and one with your father (select a special song for this dance, too).
Throughout the reception, try to circulate, on your own or with your groom, so every guest gets at least a moment of your attention, especially if you decided not to have a receiving line. In addition, you may choose to symbolically pass on your good fortune in love by tossing your bridal bouquet.
Finishing Touches
Once you return from your honeymoon, you will have just a few things left to do. If you have moved, you will need to send out change-of-address cards and tell the post office where to forward your mail. Also, contact your bank, credit-card companies, and the Social Security Administration if you have legally changed your name. Bring your wedding gown and veil to a trusted dry cleaner to clean and preserve them, then store your bridal ensemble in a cool, dry spot.
As soon as the film is developed, you will want to start working with your photographer on creating albums for you and your groom and for both sets of parents.
The final task of writing thank-you notes is one you can complete alone -- or share it with your groom, anticipating the many collaborations the two of you have to look forward to in the future.
Popular in the Community