There aren't many brides out there who would genuinely be okay with a guest popping the question at her wedding. But bride Chelsea Pulse is one of those rare souls.
Not only was she supportive of her friend Brett Davidson proposing to her cousin Megan Creal at the reception, it was actually her idea in the first place. This is how it went down: At the April 2015 nuptials in Excelsior Springs, Missouri, Chelsea pretended like she was going to toss the bouquet. At the last minute, she handed it off to Megan instead and prompted her to turn around, where Brett was waiting.
"When we told [Brett and Megan] the date we had set for the wedding, they mentioned that it was the same day as their anniversary," Chelsea told The Huffington Post. "I couldn't resist having something special for them on our day. After a couple months of pondering, the idea came to me that he should propose at our wedding! I messaged him about it and he, of course, did not want to steal our thunder. But my husband and I both assured him that would not be the case and that we would be honored to have him do it on our day."
"She was completely speechless!" Chelsea told HuffPost of Megan's reaction. "She had no idea and was noticeably confused as Brett dropped to one knee. It really caught her off-guard and her reaction was priceless."
The bride also said that she didn't realize how unusual it was for her to be on-board with a mid-wedding proposal until the video started going viral.
"That was a complete afterthought to us," she said. "Not one ounce of us wanted to hold back from allowing this occasion to happen!"
Watch the sweet moment unfold in the video above.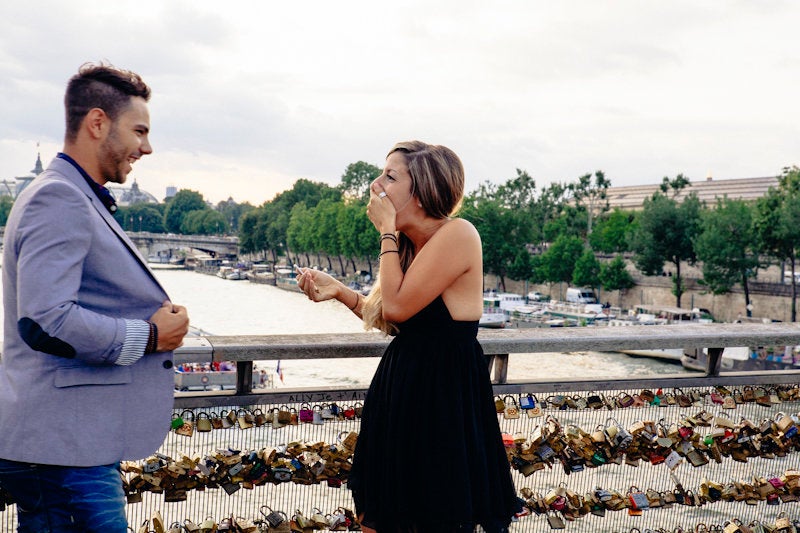 Surprised Proposal Reactions