A Chicago woman got "Rexed" up before her wedding, and the groom's face was priceless.
When Elizabeth Rex Hundley married Tom Gardner in Bald Head Island, North Carolina, in November, she wanted to make it unforgettable for him.
Spoiler alert: She succeeded.
The beautiful bride showed up to the first look in a T. rex costume while the groom's back was turned. The look on the groom's face when he saw his future wife dressed like an extra from "Jurassic Park" was priceless ― and it's going viral.
Elizabeth, 30, got in the wacky costume in part so she could see the groom's face when he first saw her on their wedding day, but for a more personal reason as well.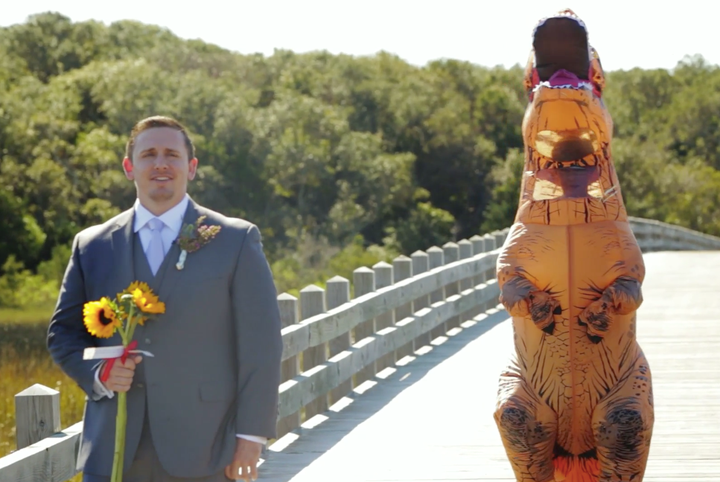 "My mother's maiden name, and my middle name, is Rex," she told The Huffington Post. "So, I thought it would be funny to wear the costume on the day I would go from a Rex/Hundley to a Gardner.
"I even had my bridesmaids take pictures of me the day before the wedding holding a sign that said: 'Today a Rex, tomorrow a Gardner.'"
Elizabeth admits being nervous about how her future husband might react at the thought of marrying a woman in a T. rex costume.
"I was a little worried, which is why you can hear me saying, 'Are you freaking mad that I did this?' in the video," she said. "But he has always encouraged me to be myself, so I took a shot in the dark."
Luckily, Tom aced the first challenge of his marriage with his reaction.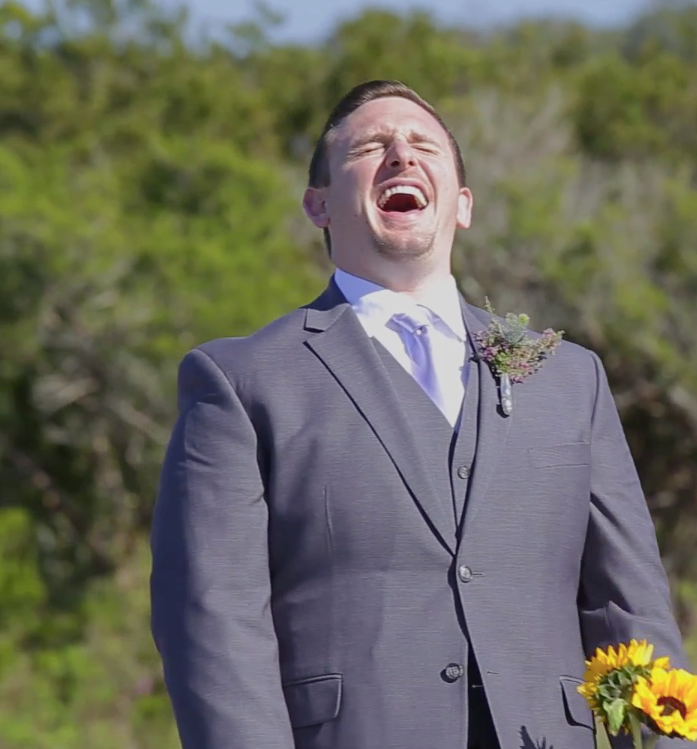 Tom Gardner admits he was shocked by what he saw.
"I was floored, completely and utterly surprised at what she did," he told HuffPost. "I was totally disarmed and could not stop from bursting with laughter. It was just so her."
He did have reason to suspect something was up.
"Some residents of the island drove by a few times with giant smiles on their faces and laughing, but I didn't have a clue as to why," he said.
The happy groom said the T. rex costume was the perfect start to their life together.
"It validated for me all the planning that went into that day and started things off right and kept it lighthearted," he said. "I knew I was marrying my partner in life."
Surprisingly, wearing a T. rex costume on top of a wedding dress didn't give Elizabeth heat stroke.
"My gown was made of a very light silk and once the costume was inflated there was a ton of extra room inside," she said. "We got married on a November day, so it was in the low 60s. I'd say the dress and the costume made it about 10 degrees warmer."
Moving in the outfit was a different story.
"Walking and moving in it was the hardest part," she said. "This is why in the video you can see me half hopping, half skipping toward Tom."
The video also shows her getting out of the costume before taking her vows.
Costumes have played a significant part in their relationship. Elizabeth was wearing a Captain America dress when she first met Tom in 2012 in a Chicago bar. They started dating two years after that, and got engaged in August 2015.
Many brides save their wedding dresses, but Elizabeth also intends to save her dinosaur costume. She also says that if she has a daughter, she wouldn't mind continuing this new wedding tradition.
"I would never force it on her but if she wanted to I would love to see that happen," she laughed.
Take a look at the complete highlights from the wedding in the Facebook video below.
Related
Before You Go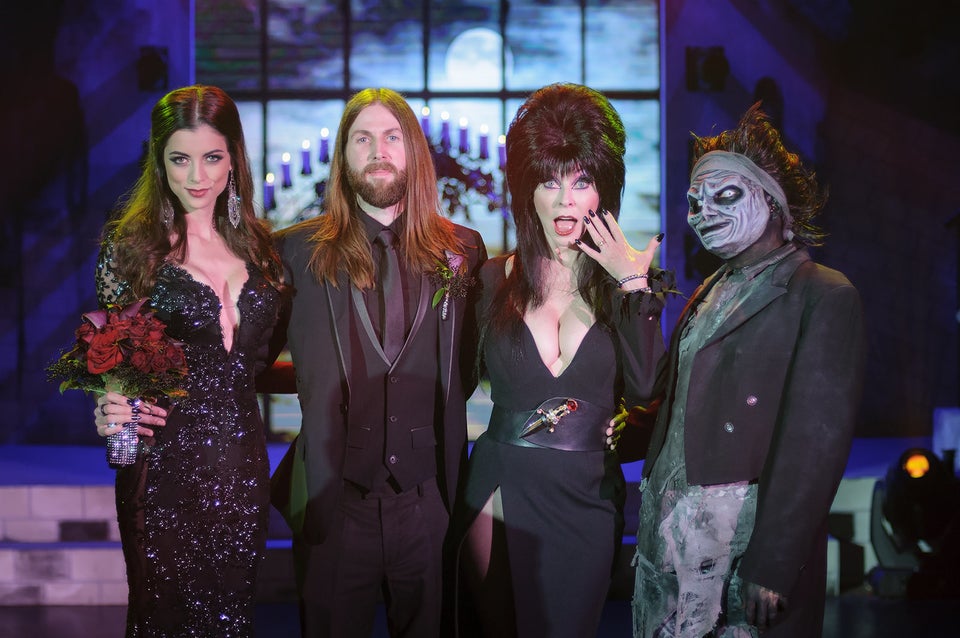 Wacky Weddings and Proposals