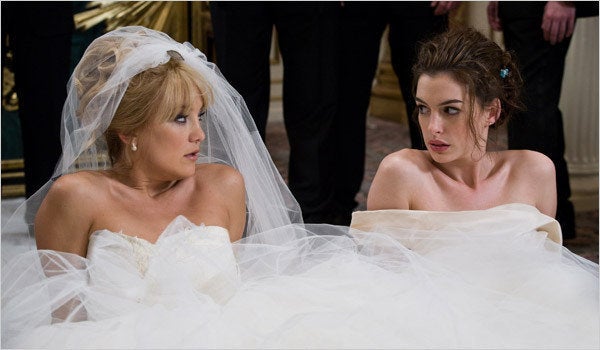 "Bride Wars" is opening to reviews that range from bad to terrible. The Kate Hudson and Anne Hathaway film, also produced by Hudson, opens today nationwide. The film has been registering just 11% on Rotten Tomatoes.
The New York Times ended its Bride Wars review with "Die, Bridezilla, die!" in one of the less-scathing reviews out there, calling the film "a dopey if largely painless romantic comedy." The review also singled out Hudson's work of late, calling it "often as inconsequential as almost every other Kate Hudson movie of the last decade."

More typical was the NY Post's Bride Wars review. The paper gave it just one star and singles out Hudson:
GARY Winick's exceedingly lame "Bride Wars," a truly inauspicious start to 2009 at the movies, is interesting only - and very slightly, at that - as a cautionary tale about Hollywood stardom.

It's a minor blip on the soaring career of Anne Hathaway, who should be receiving an Oscar nomination for her work in the infinitely superior marital comedy "Rachel Getting Married" in a couple of weeks.

But it's another nail in the coffin for Kate Hudson, whose career has long been headed in the other direction... I've seen funnier direct-to-video comedies.
Gary Winick's new comedy offers a handy guide to the ever-mysterious fairer sex. We are, according to "Bride Wars," "obnoxious," "overbearing," "crazy," "pathetic," "bitchy," and "basket cases."

Then again, who could blame us? Judging from this January time-waster, it's not easy being a woman... it would be depressing to think that people like this might actually exist. But it's also a little depressing to think that movies like this actually exist, so you can never be too sure.

Though "Wars" is the sort of superficial fluff Kate Hudson is too often drawn to, it's surprising that she's joined by Anne Hathaway -- who's likely to earn an Oscar nomination for "Rachel Getting Married," a wedding film that is this one's opposite in every way.
Even the climactic catfight in chiffon doesn't pay off in "Bride Wars," a shrill, mechanical comedy dedicated to the proposition that a wedding that doesn't take place at the Plaza Hotel is scarcely worth having at all. As top-billed Kate Hudson takes a producer credit here, she can no longer blame anyone else for poor scripts she accepts with uncanny consistency -- 10 in a row at this point -- whereas co-star Anne Hathaway can chalk it up to a well-accoutered payday.
The Hollywood Reporter's one sentence "Bottom Line" in its Bride Wars review echoes every other:
It's about a catfight, but this movie's a dog.
REAL LIFE. REAL NEWS. REAL VOICES.
Help us tell more of the stories that matter from voices that too often remain unheard.