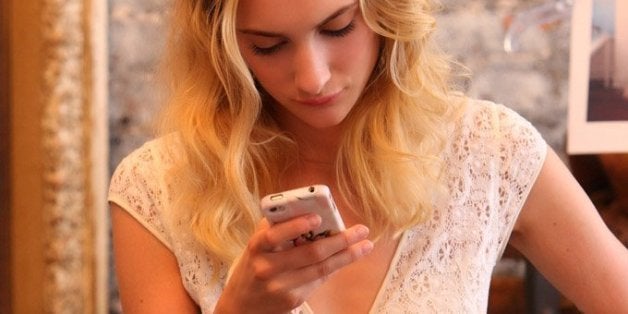 So, you're engaged! The moment is finally here, and you are about to start searching for a wedding dress. Chances are, you've already been stalking Pinterest, Instagram and countless blogs, in anticipation of this day. Now that it's here for real, the first thing you're going to do (after posting shots of that ring!) is go online, and get serious about shopping. You can virtually find anything and everything for your wedding day online, and you can invite your friends' opinions by tagging away on Instagram! So awesome, right? Yes, and No.
Social media can help brides gather ideas, inspiration, and plan, but it's also causing indecision overload. We're finding that brides-to-be start out feeling excited, thrilled to finally be designing the day they have been dreaming of, but that exhilaration can quickly meld into anxiety, stress, and confusion.
In my experience, our brides love the access to information about my collection before they even step foot in a bridal salon to try on dresses. Photos of a gown from every angle, real brides and runway shots, more, more, more! Brides use the internet to research everything from the perfect flowers, to bridesmaid dresses, décor, and wedding gowns. But the flipside is sometimes too much information is just too much, when it causes you to start questioning each and every decision.
After a few weeks/months of looking at every last option, the mundane to the really important all kind of blur and sometimes get flipped. Does it really matter that my bouquet ribbon matches the napkins? Probably not, but making sure grandma is seated properly, yes. Have I seen every gown that exists and/or will be designed up to the day before my wedding? Maybe it's ok if you don't, because at some point, you've got to stop looking, and make decisions!
Bridal salons across the globe are all saying that brides are taking longer than ever to decide on the dress. Where it used to be 2 visits, maybe first with a friend, and then back with mom for the final purchase, now it's 3, 4, even 5 appointments before our bride is ready to commit! Why this hesitation? I don't think it's because she hasn't found a dress she loves, but the fear that she might be missing something...that something better might be around the corner or on tomorrow's feed.
Solution: Trust your heart, but the only way you can hear your heart, is by turning off some of the noise around you. You have to be in the moment, and although taking selfies and counting likes feels like you are, that's more external. I'm talking about actually experiencing the process as it is happening...not for a post or for sharing, but actually being in it. Feeling the fabric, imagining your fiancée seeing you in this dress, tasting the cake, yes, smelling the roses, as the saying goes.
Once you make a choice because you feel it's the right one for you, then let it go. Don't let the temptation to second-guess, or keep looking, creep in. You don't keep dating after you've chosen your partner, right?!
How are you finding balance in the planning? Have you found social media and online resources to be your saving grace, a curse, or a little of both?
Wishing you a productive and joyful lead-up to the big day, and hoping you allow yourself to enjoy the experience. The truth is, you've found a partner to share your life with, so try to remember, this is just one day that will be very beautiful and very meaningful, followed by a lifetime together. It's up to you, will you run yourself (and maybe your friends) ragged by trying on 200 dresses, obsessing over every last detail? Or trust yourself, include some family and friends, laugh, sip some champagne, be kind to yourself, and trust your gut...now put down that phone, and go get 'em!
Claire Pettibone