Bridesmaid dresses come in very many shades of chiffon (and charmeuse and satin and taffeta ...) and present almost as many mysteries.
The main one? Why these dresses have to be ordered months and months in advance.
It turns out, it's because of all the options, explained Alan Dessy, president of the eponymously named dress company Dessy Group. Unlike dresses bought from the mall or other regular retail outlets, bridesmaid dresses aren't ready-to-wear. They are available in hundreds of styles and colors and sizes ranging from 0 to 30, so they aren't pre-made but are "cut-to-order" instead, Dessy said.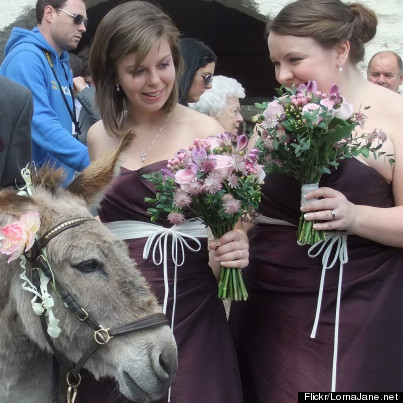 Another mystery is what's going on in this photo? We can't answer that question, though we have the sense this wedding was probably a lot of fun.
Flickr photo by LornaJane.net
, used under a Creative Commons license.
"An average bridal party might be somewhere between, say, three to seven bridesmaid dresses. We'll accumulate 50 or 100 orders like that, or sometimes more, and issue one cutting order to the factory for all of that merchandise," he said. "Then the lead time that it takes from there is cutting the goods, sewing the goods, getting the goods in transit back to the United States from Asia."
According to Dessy, bridesmaid dresses have a "lead time" of eight to 12 weeks, with a buffer built into the recommended ordering time of around four months.
Some retailers like J. Crew and Ann Taylor are catering to the less patient among us, offering bridesmaid dresses that ship within a regular online-shopping time frame. And Dessy's now offers some dresses that can be bought online and shipped within days, too. The tradeoff is that these dresses are available in fewer colors, styles and sizes than you'd get if you ordered through a boutique months in advance.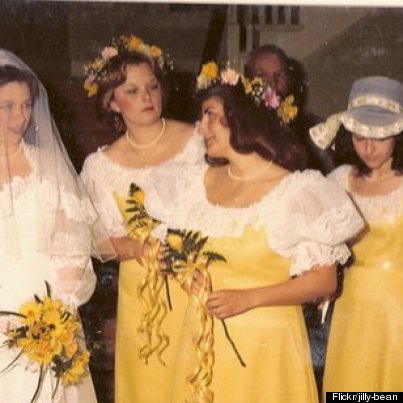 One last note on bridesmaid dresses, while you're here.
Another recurring issue in the bridesmaid dress department is brides insisting that their bridesmaids will be able to wear their dresses again. There's even a book of bridesmaid photos called "You Can Wear It Again, A Celebration Of Bridesmaid Dresses," dedicated to the "selfless women everywhere who help the bride's dreams come true" -- and likely don't ever don the dresses again.
Dessy agrees. "I think it depends on the style and color," he said. "I think the reality though is that most often the dresses are retired after [the] first use."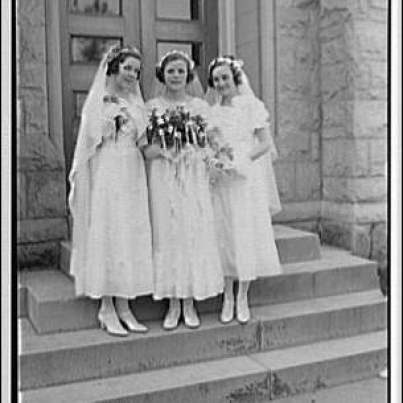 A D.C. wedding party from the Library of Congress' Theodor Horydczak Collection. The photo, according to LOC records, was taken sometime between 1920 and 1950.
One 2013 wedding report shows aggregate spending on bridesmaid dresses as almost $100,000,000 less in 2012 than it was in 2011, which suggests that some bridesmaids aren't being asked to wear the dresses even once. And the Wall Street Journal concluded earlier this month that some bridal parties moving away from the more traditional bridesmaid-style dresses and toward more unique gowns.
A bridal shop owner in Northern Virginia -- Linda Fairall of Fabulous Frocks -- told HuffPost that the brides she works with still like "a uniform look" and lean toward dresses that are purchased from clothing lines specifically for bridesmaids. However, she is seeing more dresses in these lines that are intended for more than one use.
(Ironically, perhaps, as she was displaying the bridesmaid dresses, a woman walked into the store asking if she could buy a dress to wear to a wedding that was a week away. The woman was told no.)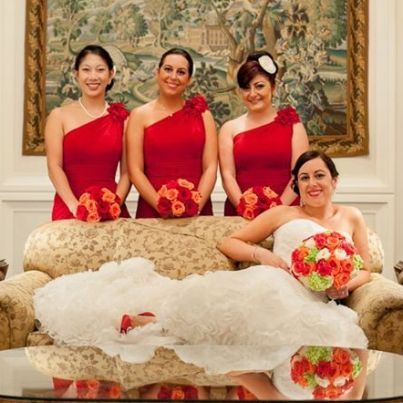 But there's hope yet; Ladan Nowrasteh, the bride pictured above, asked her bridesmaids to wear matching dresses when she tied the knot last year in Washington D.C. Why? She wanted to "be sure they matched the tone of the wedding and the color scheme" and differentiate her bridesmaids from the rest of the wedding guests.
And sure enough, one of Nowrasteh's bridesmaids -- her twin sister -- told us that she not only loved the dress, but that she did, in fact, quickly wear it again.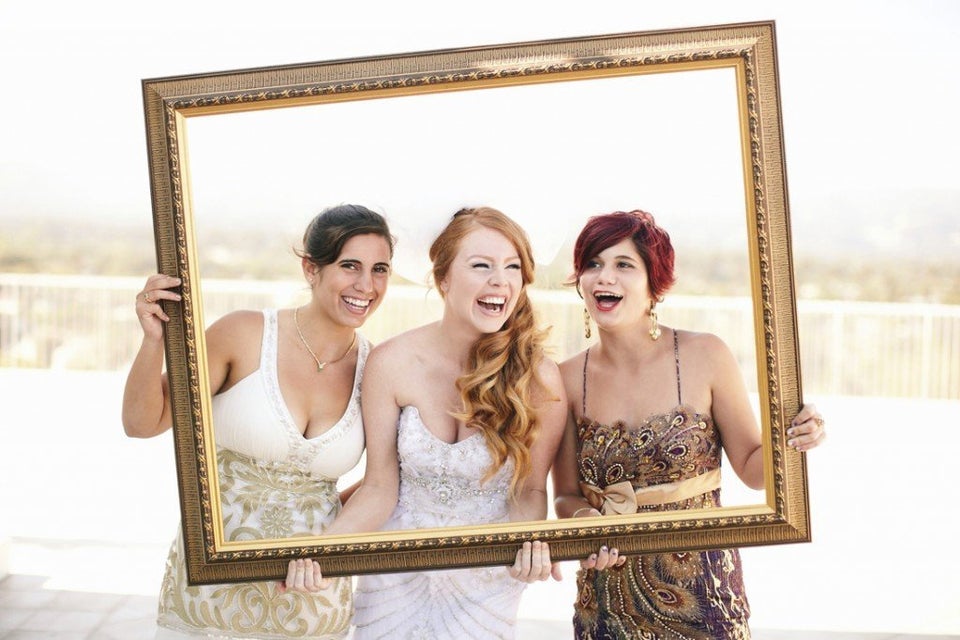 Sparkly Bridesmaid Dresses