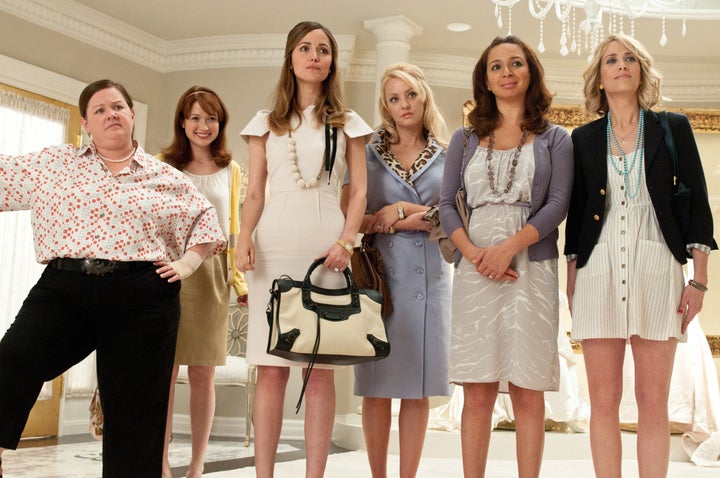 The newest, big budget comedy to come from the cool comedy club stars funny ladies, Kristen Wiig, Annie Mumolo, Melissa McCarthy, Maya Rudolph, Ellie Kemper, Rose Byrne and Wendi McClendon-Covey, and is directed by the magnificent, Paul Feig (Freaks & Geeks).
And it's F#$%@@ING HILARIOUS.
Bridesmaids is not a "chick flick". It's a "flick" that happens to have chicks in it. And it's honestly for everyone. The same way female and male audiences alike roared with laughter at Knocked Up and Superbad and every other quality blockbuster comedy from the past ten years. I am confident that audiences will react to Bridesmaids with similar enthusiasm, even though it's humans with ladyparts predominantly creating the onscreen comedy here.
They are calling it the "female version" of The Hangover. Which is kind of funny, because it really isn't as much the female version of another funny movie, as much as a funny movie all by itself. But if everyone needs that as a reference point, so be it. There are certainly worse comparisons. I found Bridesmaids as funny, perhaps even funnier, than The Hangover. Truly. In fact the only thing funnier than both films individually would be a future road or apocalypse movie starring the Melissa McCarthy and Zach Galifianakis characters. (Are you listening, Universal?)
But here's why it's actually important to see Bridesmaids. On opening weekend. (Twice if you can afford the admission, time and babysitters). I don't know a female screenwriter, TV writer, actor or comedienne who hasn't heard this statement in the past few months with regards to future projects: "Well, we'll see how Bridesmaids does..."
That sentence means that every creative, brilliant, funny woman in Hollywood is (unfairly) being held hostage to a single film's opening weekend box office. Meaning no studio is likely to take any sort of chance on any new projects perceived to be "female driven comedy" unless they have proof that it can perform. And perform well. (Breathe, Kristen.)
Just for the record, the audience I saw Bridesmaids with at SXSW was at least 50% dudes. So you don't have to listen to my chick opinion -- just ask Simon Pegg, Nick Frost, Doug Benson, Dave Foley and a ton of other guys who know funny. They were laughing their ball sacs off a few rows behind me.
When a super hero movie flops, studios never seem to stop making them. Nor do I see do or die pressure applied to what's considered to be regular (male?) comedy. If a big comedy flops, they don't just stop making comedies. So why all this focus on Bridesmaids?
Well, that's a whole can of worms about women and comedy, Tina Fey and Katherine Heigl, what male and female audiences will and won't see, how vaginas are mysterious but penises look like bananas, how When Harry Met Sally was the last romantic comedy men saw without being labeled gay, how they used to make movies starring Shelley Long and so on and so on.
I realize we aren't going to solve the problem of what studios think audiences want to see versus what they actually want to see in one weekend box office take. (Though I will gently point out here that Private Benjamin was a monster hit with audiences -- not just audiences with uteri. You also didn't have to be in the army to enjoy it.)
But if you support Bridesmaids on opening weekend, you may very well soon have a whole bunch more options to entertain you in the very near future. Because there will be undeniable, financial proof that chicks can be funny to everyone.
Trust me, there are a lot of smart, filthy, fucked up, delightful comedic projects written by women, about women and starring women just waiting on the bench, chomping at the bit and dying to get in the game. Hungover Bridesmaids Getting Knocked Up by 40 Year-Old Virgins, anyone?
Bridesmaids opens May 13th. Go and laugh all of your respective bodyparts off.