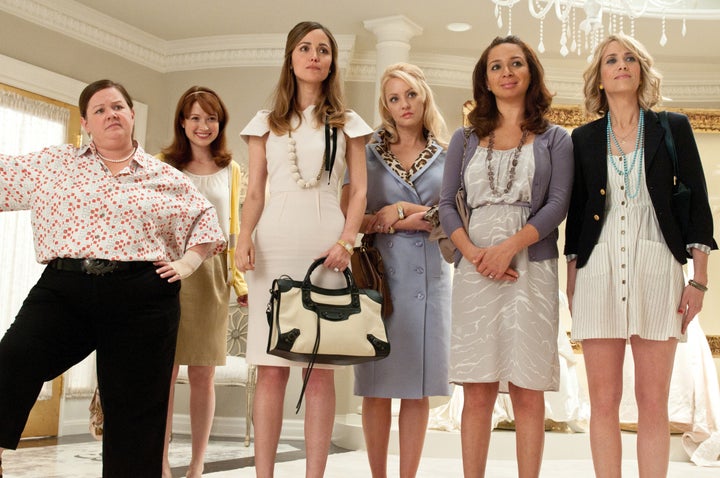 There are few things guaranteed in the upside down, always changing world of Hollywood, but here's one thing you can bank on: a successful film, if at all possible, will get a sequel.
And as the summer moves forward, "Bridesmaids" is becoming more than just a success.
A big opening weekend got the speculation started, but having just passed "Sex and the City" as the highest grossing R-rated female-driven comedy of all time, there's little doubt that Universal will be hungry for another helping of the Kristen Wiig-starring, Paul Feig-directed and Judd Apatow-produced laugh factory (with names like those, was there any doubt it'd be a hit?).
Thus far, no green light has been given, but Feig already is licking his chops to get it made -- if the script is worthwhile.
"It's not officially been moved toward, but I'd be very open to it," he told Movieline. "It would just have to be as good or better than this one. What you don't want to do is the one that ruins the memory of the first one. But nothing would make me happier if we could make another one with this amazing cast, and people go, 'That's awesome!'"
Feig made similar comments back in May, when he wasn't quite sure how well the film would do at the box office.
"Who knows? I mean, it depends how we do in the next couple weeks, but I know there's definitely ... it's already been brought up," he told NY Magazine. "So, um, you know, when you get a group that's this deep and this good, it's a crime to not use them again. You just want to make sure that you do it as well as you did the first one and try to make it better, even. So, we're up for the challenge."
"I'm very excited about that project," he told Movieline. "I'm writing with them in mind, and it's just a love story that I've always wanted to write, that I think will be really funny, but will play much more real than most quote-unquote romantic comedies. Fingers crossed, I get them to do it."
Popular in the Community