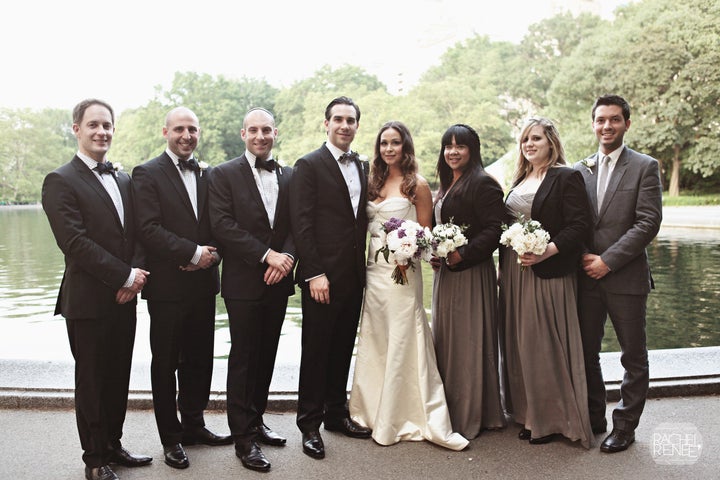 It's that defining moment in a man's life when his best girlfriend chooses to go against society's rules and asks him to be in her wedding... on HER side of the altar. A few questions briskly crossed my mind when asked to be a bridesman: "With whom am I walking down the aisle?" and "Am I throwing the bachelorette party?" But, as one of the industry's leading wardrobe stylists, the most important question to hit my brainwaves was, "What will I wear?"

Let's face the facts, the female members of the wedding party have always had it easier than the fellas. While the men are all melting under their black and white penguin suits, the girls float leisurely through the day in something strapless and breezy. I was sure to make it my goal to look smart and handsome, while fitting in perfectly with the comforts of the bridal party.

The theme of a wedding revolves entirely around one major factor: the wedding dress. The first step toward putting my look together was to jump head first into the wedding dress search. After flipping through an extensive encyclopedia of bridal magazine tear sheets the bride had compiled, we established a theme: Deconstructed Hollywood Glamour. Think Taylor Swift stars in the re-make of "Gone with the Wind." Tattered edges, frayed bustiers and asymmetrical draping were all a must. "Creme" and "ivory" took precedence over "porcelain" and "eggshell." Finally she found what she was looking for in a boutique stocked with the finest bridal samples: a tattered bustier, a long silk mermaid skirt, and a couple yards of vintage, ribbon-strung rhinestones. With her look finalized, we could conquer the remainder of the wedding territory.

The next stop on the bridesman journey: Bridesmaids dresses. With "charcoal grey" and "deep navy" holding the highest positions on the list of colors, the group shopping trips commenced. Typically, the bridal party would hop from one bridal boutique to another, but not the party belonging to THIS bride. As particular as a Hollywood starlet, she insisted that we find the dresses organically. Covering the lower coast of California by BMW, we flicked through hanger upon hanger, hoping that the winning look would reveal itself. During the entire planning process, the bride-to-be had her eye on a floor-length, sheer, empire waist, charcoal grey number. It had the silhouette of an Oscar gown with the ease of a resort dress. Knowing in my heart-of-hearts that this frock would trump anything else we encountered, I began to imagine what I would wear. With the knowledge that the groomsmen would be in black suits with gingham check shirts and bow ties, I felt it was important to take the casual route; a route that would look sleek, sophisticated and most importantly, comfortable.

With this in mind, I sourced every reasonably-priced grey suit in Los Angeles. Nothing appeared casually smart without looking like a hand-me-down from my father's law school years. Often, grey suits will appear dumpy unless they are heavily structured and purposely formal. I hit a stylist-block when my attempt to look cohesive with the bridesmaids was keeping me from looking sharp, yet effortless.

A few weeks before the big day, in a fit of rage, I turned my closet upside down searching for an answer. Whether it would end up being a piece to incorporate in the final look or simply just inspiration, I knew that I needed to venture within. Flicking through hangers as I did while shopping with the hens, I found the winner! A skinny, charcoal grey, linen suit that I had only worn once the year prior. It found a safe home in the back of my closet because it grew the day I wore it. Linen is a summer fabric and is loosely constructed of cotton. It will often stretch out and grow to be a size larger. But, as the wedding was scheduled for Memorial Day Weekend, the breathable fabric was perfect. Confident that I could make it work, I called my favorite seamstress and stressed the importance of these alterations. I decided to simply alter the jacket and pants to fit like Dior, since Dior wasn't giving me what I needed. Paired with a skinny linen tie in a lighter shade of grey and a textured white shirt, the look was almost complete.

Shoes! What shoes go well with linen that are also appropriate for a wedding? Patent leather is too flashy, while most flat leather looked too casual. After days of sticking my right foot in dress shoes, I found the perfect pair: A charcoal grey leather lace up with laser-cut detail and an asymmetrical toe. I officially had what it took to look the part of a bridesman.

With the suit perfectly altered and safely protected in a garment bag, I flew to New York City to celebrate what this journey was all about. While the other walking-partners were male/female, I walked with one of the groomsmen (we did not hold arms) and looked editorially perfect in between the girls. As I suspected, they ended up in the floor-length grey dresses along with black skinny blazers. Before we knew it, the vows were complete, and the look was a success.

As I ventured into the night, I was pulled aside by a girlfriend of over 10 years. She asked me to be a bridesman in her wedding next year. Let the mayhem commence!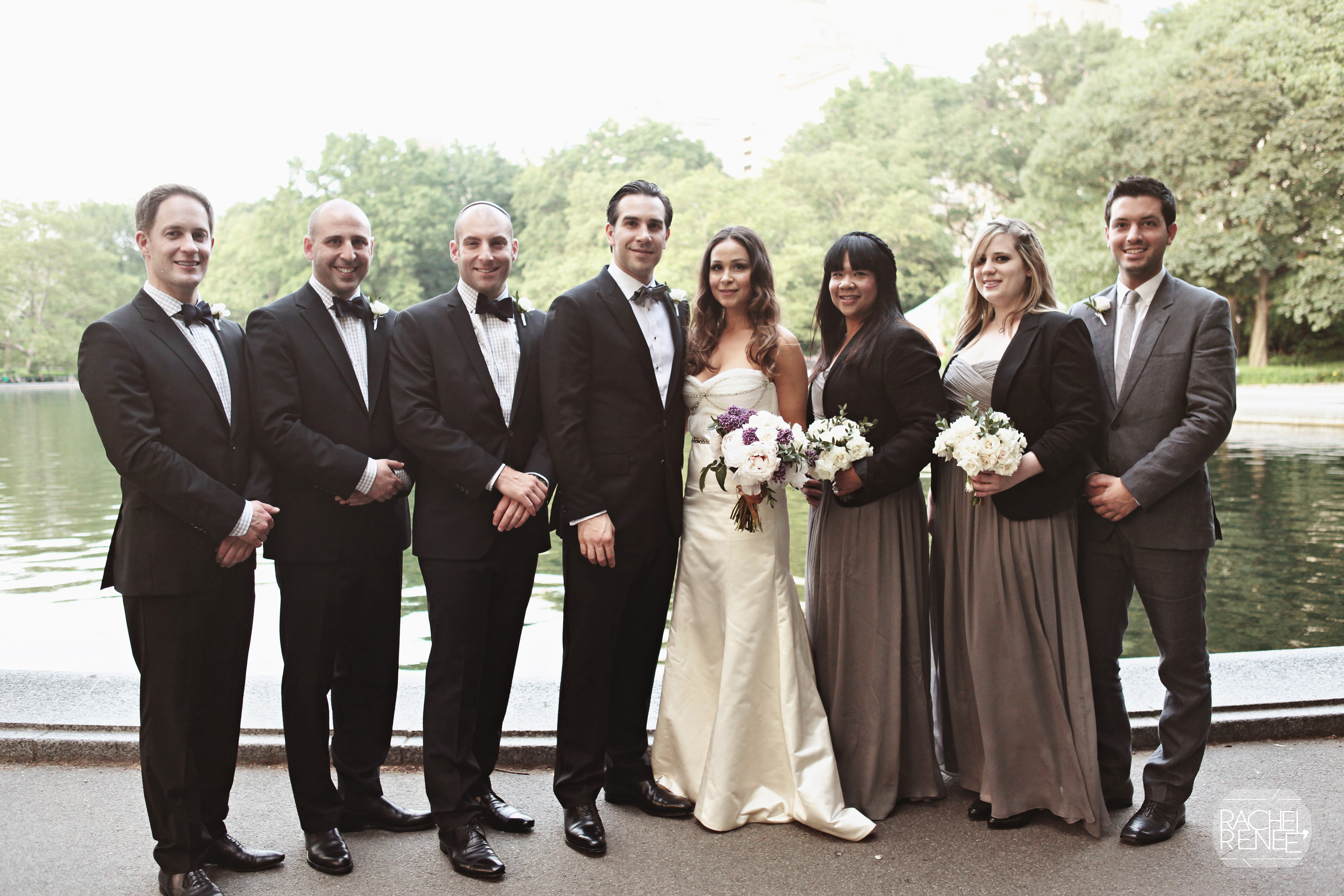 The bridal party.