There was a time when going global meant simply sending a few people in different countries than your own. We are entering now a new stage of globalization, when we have to establish genuine relationships between nations, ethnicities and organizations. These are not possible without understanding the crucial influence of our -mostly unconscious- cultural values and beliefs on our choices and decisions.

The inaugural Alianța Gala Awards, held at the National Museum of Women in the Arts in Washington, DC, was a great opportunity to explore, together with fellow Americans and Romanians, ways of establishing authentic and meaningful intercultural relationships. Alianta -the Romanian word for Alliance- is a non-profit, non-partisan alliance of organizations and professionals, working together to empower Romanian and American institutions and individuals through education, networking and facilitation opportunities that benefits the citizens of both countries. It has its roots in The Society of Friends of Romania, founded in 1920 by William Nelson Cromwell and was originally headquartered at 36 West 44th St. in New York. In 1926, Cromwell hosted Queen Marie of Romania during her U.S. tour in New York and Washington, DC. A key member of the Romanian Legation in Washington at the time was Mr. Dimitri Dimancescu, father of the current Romanian Honorary Consul in Boston and co-founder of today's Alianta, Dan Dimancescu.
The main purpose of any multicultural initiative is to optimize the way people from different cultures connect and interact. During the Alianta event I set out to identify a few themes around which two diverse cultures can build an authentic intercultural relationship. The word bridge was suggested by Matthew Cross, Founder and President of Leadership Alliance, who co-authored together with Diana Doroftei the bestselling Little Book of Romanian Wisdom, which was presented to all Gala participants. Like Alianta, the bilingual Romanian-English book was created to be a bridge between cultures, similar to the ancient bridge built over the Danube river in 101 A.D. in the southern part of Dacia (the pre-Roman territory of Romania), by the Roman Emperor Trajan.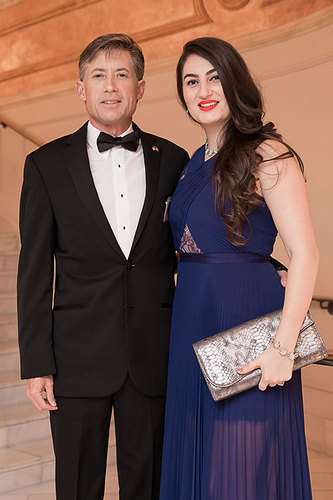 Mathew Cross and Diana Doroftei. Copyright Tony Brown/imijphoto.com, used with permission.
The evening was opened by an exquisite performance of For A Barbarian Woman, written by award-winning Romanian playwright Saviana Stanescu and directed by Romanian theatre artist and researcher Cristina Bejan. It was living proof, if we ever needed it, that art and aesthetics are transcultural, for emotion is what makes us all human.
The 2014 Alianta Awards were gracefully and humorously presented by renowned broadcast journalist Sheilah Kast (Maryland Morning, WYPR). The three recipients of this year's award were:
- Daniela Rus, Professor and Director of the Computer Sciences and Artificial Intelligence Laboratory (CSAIL) at MIT, the first woman to serve in this position. Daniela is the leader of a team of researchers at the Distributed Robotics Lab that develops robot networks and self-reconfiguring robots.
- Ileana Orlich, President's Professor and Professor of Romanian Studies, English and Comparative Literature, at Arizona State University (ASU). Ileana is also the honorary Consul of Romania in Arizona.
- Mike Carroll, founder and current President of Romanian Children's Relief and their Romanian partner charity, Fundatia Inocenti.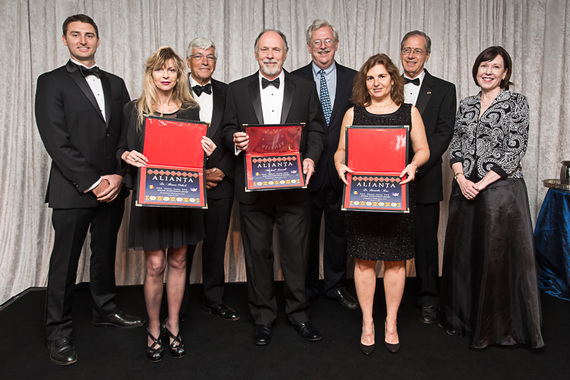 Left to right: Chris Fontanesi, Ileana Orlich, Dan Dimancescu, James Rosapepe, Daniela Rus, Mark Gitenstein, Eileen McHenry. Copyright Tony Brown/imijphoto.com, used with permission
There are many other notable people who made this alliance and bridge between cultures possible: His Excellency Iulian Buga; Ambassador of Romania to the United States; Ambassador Mark Gitenstein (Ret.); Ambassador James Rosapepe (Ret.); Eileen McHenry, Executive Director of Romanian Children's Relief; Ana Popescu, Actress; Sarah O'Neil Gerwin, and Chris Fontanesi, Peace Corps; Allan Cruse Professor Emeritus, University of San Francisco; Fenton R. Fenton-May, Co-Founder & CEO CarrierWeb and Director of Fullbright Association; Elias Wexler, President of Romanian-American Chamber of Commerce, NY Chapter.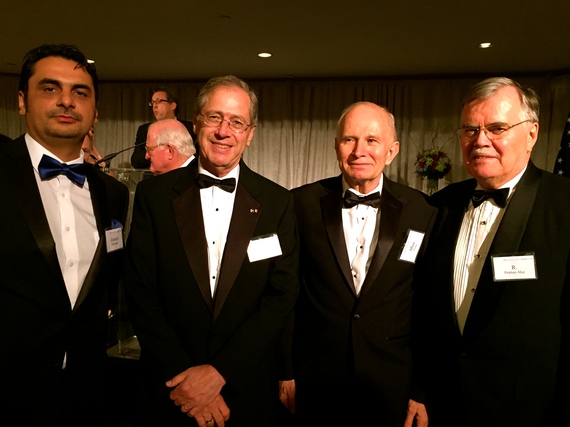 Right to left: Fenton May, Allan Cruse, Mark Gitenstein, Cosmin Gheorghe.
Copyright Cosmin Gheorghe.
The launch of the annual Alianța Awards Gala was a meaningful step in the continuing journey of appreciation and collaboration between two diverse yet allied cultures. It provided a rich forum and opportunities for creating a collectively brighter future. A quote from The Little Book of Romanian Wisdom sums up this bridge-building spirit: "an expanded awareness is the first step to freedom".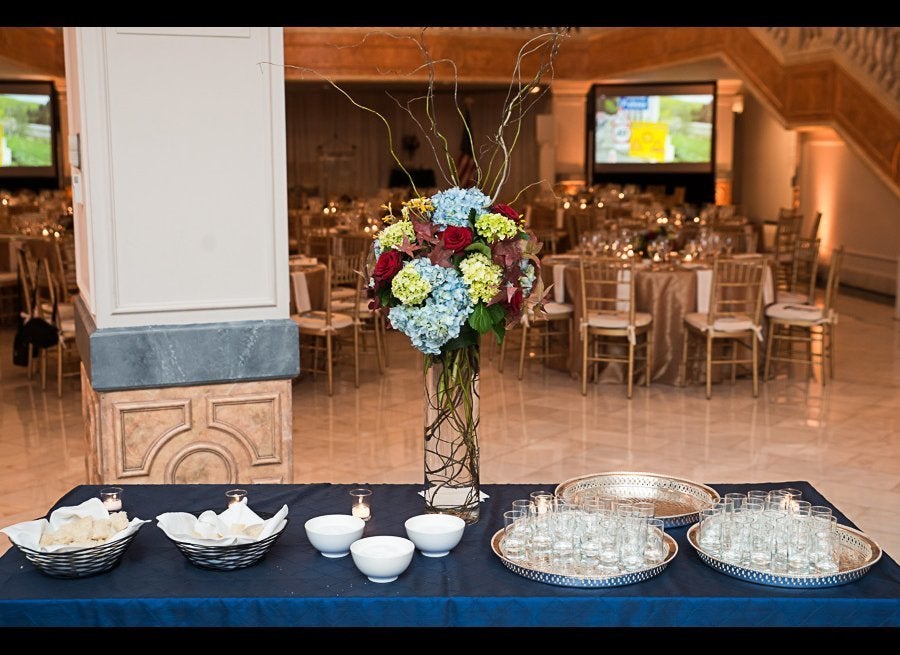 ALIANTA GALA AWARDS 2014
Support HuffPost
The Stakes Have Never Been Higher
Related
Popular in the Community