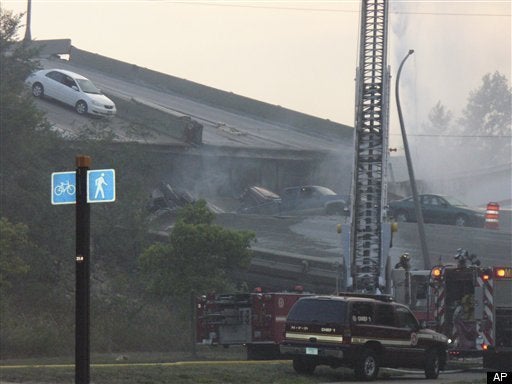 Amid the national hand-wringing after the Minnesota bridge collapse of 2007, members of Congress earmarked 10 times more money for new transportation projects than for bridge repair, according to a new report by the U.S. Public Interest Research Group.
In the transportation appropriations bill for fiscal 2008, approved just months after the I-35 bridge collapse killed 13 people, members of Congress included more than 700 earmarks worth $574 million in Federal Highway Administration spending. Seventy-four of those earmarks sent just under $60 million to bridge repair -- even though one out of every four bridges in the United States needs work, according to a 2009 report by the American Society of Civil Engineers.
The total amount earmarked for the federal highway program "could have been used to bring approximately 20 structurally deficient bridges per state or two bridges per Congressional district into a state of good repair," says PIRG's report. The good-government group attributes the lack of earmark funds for deficient bridges entirely to elected representatives' insatiable hunger for campaign cash.
"In a political system in which elected officials must raise huge sums of campaign contributions from major donors to win reelection, spending may be skewed toward road widening and new highway projects favored by developers, road builders and other interests," says the report, co-authored by PIRG's Lisa Gilbert and John Krieger.
"Deferring maintenance to build new capacity may seem senseless -- much like a family with a leaky roof who instead builds a new addition -- but it makes sense in Congress if money and politics favor those choices."
Using data from the Center for Responsive Politics, PIRG reports that "highway interests from the construction and transportation industry" contributed $80 million to federal campaigns during the 2008 election cycle.
Sen. Charles Schumer (D-N.Y.) is one senator who doesn't seem to have put his money where his mouth was after the I-35 collapse, at least according to a review of earmarks in the transportation bill by the Huffington Post.
''For too long, the federal government has focused on building new bridges at the expense of fixing old ones, and now we are living with the consequences,'' Schumer said in August 2007, according to the New York Times. ''Robbing Peter to pay Paul is no way to keep America's drivers safe.''
Schumer's name appears on a dozen earmarks worth $10 million for various transportation projects in New York, only one of which involved fixing up an old bridge. His office did not immediately respond to a request for comment from the Huffington Post.
State legislators in Albany joined a rally on Tuesday to draw attention to the state's aging bridges after the Crown Point Bridge was deemed unsafe and shut down. The New York Department of Transportation has estimated that 1,526 bridges will be deficient within the next five years.
Schumer's remark about the federal government's spending priorities did not refer to earmarks, but U.S. PIRG's report calls them a "clear demonstration of the influence and prioritization of members of Congress, because their project requests circumvent agency review."

"Earmarking is kind of the one place where members of Congress actually choose" where money goes, said transportation policy expert Mark Stout in an interview with HuffPost. Stout, who lent his expertise to the report, spent 25 years working for the New Jersey Department of Transportation. "I've spent a lot of time in the weeds and in the mechanics of the funding of the industry."
In their report, U.S. PIRG did not call out any specific members of Congress but they did have some sharp words for the entire Mississippi delegation, one of several to designate zero earmarks to old bridges:
"The delegation from Mississippi," the report says, "secured funding for 19 earmarked projects at a cost of $29,414,000, and despite having a backlog of over 3,000 structurally-deficient bridges in the state, none of their earmarks went to bridge repair."
U.S. PIRG's report, titled "Greasing the Wheels," is available here.
REAL LIFE. REAL NEWS. REAL VOICES.
Help us tell more of the stories that matter from voices that too often remain unheard.