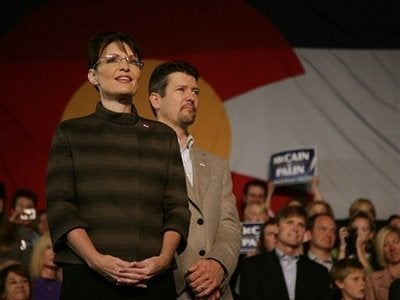 Campaign fact-checkers were back to work on Monday, criticizing Gov. Sarah Palin for restating a false claim about the notorious "Bridge to Nowhere" that had been removed from her stump speech over the weekend. "I did tell Congress, 'Thanks, but no thanks' -- if we wanted a bridge up there we were going to build it ourselves," she said, repeating the line for the 10th time since being selected by John McCain 18 days ago.
In fact, the son of the "Bridge to Nowhere" is still alive and kicking in Alaska. Moreover, state officials are currently reworking designs for the project to allow for federal funds to cover a larger share of the total cost.
(In other words, Palin's administration has actually said "thanks" to congressional spending for the project and is now figuring out how to avoid "building it ourselves.")
In a process begun this past winter, Alaska's Department of Transportation "is currently considering a number of alternative solutions (five other possible bridges or three different ferry routes) to link Ketchikan and Gravina Island," ProPublica's Paul Kiel reported last week, citing an interview with Alaska DOT spokesperson Roger Wetherell.
In a separate interview with the Huffington Post, Wetherell went into more detail about the potential future of the project. While he noted that the various plans are still undergoing environmental impact surveys and other federal reviews, Wetherell said the decision rests with the governor.
"Currently we have $73 million set aside for use on the project," he said, adding "those are federal dollars" appropriated as part of the original "Bridge to Nowhere" project that Palin once supported, but now rejects. Still, Wetherell made clear, the final decision of whether to build a more modest project with the federal dollars rests with her -- and the process is moving forward with her consent.
Explaining her shift to ABC's Charles Gibson last week, Palin said: "What I supported was the link between a community and its airport. And we have found that link now."
Wetherell confirms, however, that those federal dollars already appropriated will be the first funds spent on any approved plan.
"Those funds will be incorporated into the overall costs, once a decision is made on final [environmental impact]," Wetherell said. "Then we'll offer that proposal to the Federal Highway Administration, and they will go forward with their recommendations. That'll give us the guidance as to which option is the viable one. ... Of course the governor will have the final say in the matter. If she chooses not to go forward at all, that's her decision. We will continue to keep the governor appraised of what direction we in the department would like to go under her administration."
And does the department want another bridge -- or some kind of infrastructure -- between Gravina Island and the Ketchikan airport?
"I think what is best is having that transportation infrastructure," Wetherell said, "to allow those people the ability to transit to and from the airport."
Popular in the Community