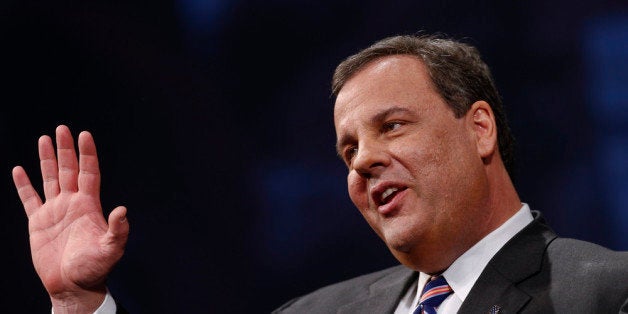 WASHINGTON -- Weeks after the Bridgegate scandal gained national attention, tea party groups scattered around New Jersey say the controversy is helping them bring in new people who are frustrated with the state's political system.
Although individuals affiliated with the tea party make up a small demographic in Democratic New Jersey, any boost in membership helps raise the profile of their candidates, several groups told The Huffington Post.
Barbara Gonzalez, founder of the Bayshore Tea Party Group in central New Jersey, said her members are staunch backers of Anna Little, a former mayor of Highlands, N.J., who is vying for the congressional seat held by Rep. Frank Pallone (D-N.J.).
Little lost bids to unseat Pallone in 2010 and 2012, but Gonzalez expects the new tea party members to increase the challenger's chances this time around.
"If you don't get someone in who would be totally willing to fight the establishment, it will never change," Gonzalez told HuffPost. "Until we have a Constitutional redistricting map, the odds of a Republican winning that district are very low. If Little does decide to challenge him, I would say, with confidence, that our group would support her."
Republican Gov. Chris Christie's relationship with New Jersey's tea party activists is complicated. Christie lost favor with the more extreme wing of his party when he praised the Obama administration's response to Hurricane Sandy during the final days of the 2012 presidential election. He endorsed tea party-backed Steve Lonegan's unsuccessful campaign against Democrat Cory Booker in the race to fill a U.S. Senate seat last fall, but he has publicly criticized other tea party figures. Christie has an ongoing feud with tea party darling Sen. Rand Paul (R-Ky.), calling Paul's brand of politics "dangerous" for the country.
Gonzalez said her membership is growing steadily -- a few dozen new members since earlier this month, when documents revealed that Christie's top aides were involved in a decision that caused massive traffic jams in Fort Lee, N.J., in what appeared to be political payback.
Overall, Gonzalez's group has nearly 1,000 members, most of whom are frustrated with the federal government's spending priorities and the rollout of Obamacare. She started the group in 2008 and said the last time membership saw a spike was last year over concerns with the more than $50 billion in Hurricane Sandy relief that Congress backed. Tea party leaders in New Jersey contend that those disaster funds are not entirely going to recovery efforts.
Indeed, although Christie received bipartisan praise for his immediate Sandy response, the furor over Bridgegate has helped prompt investigations into his administration's handling of Sandy relief funds. At the urging of Democratic lawmakers, led by Rep. Pallone, the U.S. Department of Housing and Urban Development's inspector general announced it would review a federally funded ad campaign featuring the governor prior to his reelection. Pallone suggested that the "Stronger Than the Storm" ads provided Christie with an advantage during his campaign for a second term.
Meanwhile, the FBI has been looking into the claim by Hoboken Mayor Dawn Zimmer (D) that the Christie administration threatened to cut off Sandy funds if she did not back certain development projects in her city. Christie's office has disputed the mayor's claim.
People affiliated with tea party groups across New Jersey also told HuffPost that Bridgegate has sparked interest in their efforts among those who dislike or disagree with the governor.

"The scandal is showing the people of this state, people in this country, that the tea party is right to call for a smaller government and the GOP establishment is wrong. Christie's people were able to orchestrate the traffic nightmare in Fort Lee because the government is so big and the governor here has a lot of power," said Mitchell Simpson of South Amboy, who belongs to several tea party groups. "With a smaller government, there's less likelihood something like 'Bridgegate' would happen."
"We've been calling out the Christie administration since day one, and now people are starting to agree he's not a true Republican," said David Walker, a member of an Ocean County tea party group.
Lonegan, a former mayor of Bogota, N.J., was backed by the tea party during his unsuccessful bid for the U.S. Senate last year. He lost to Booker, the former mayor of Newark. This month, Lonegan announced he would seek the 3rd Congressional District seat being vacated by Rep. Jon Runyan (R-N.J.). His campaign is again backed by the tea party.
"We like Lonegan and candidates like him who could be different and add a new perspective to the state political brand," Walker said.
Observers of New Jersey politics agree that Bridgegate is benefiting some of these local tea party chapters by prompting Republican voters to opt for alternative candidates.
"There is some dissatisfaction by ultra-conservatives members of the Republican Party in the state with Christie's behavior," said Brigid Callahan Harrison, a professor of political science and law at Montclair State University. "Anything that damages the moderate standard-bearer helps the more ideological candidates."
Joseph Patten, a political science professor at Monmouth University, said the tea party could get a shot in the arm in this year's primaries, but he cautioned that would "not necessarily be good news for the Republican Party because, as we've seen nationally, some tea party candidates have knocked off some traditionally moderate Republicans, only to go on and lose the general election where a moderate Republican would've won."
Calling all HuffPost superfans!
Sign up for membership to become a founding member and help shape HuffPost's next chapter
BEFORE YOU GO
PHOTO GALLERY
Chris Christie Is Absolutely Shocked