Two of the officers are listed in a separate police brutality complaint stemming from a different incident.
The lawsuit, which seeks $1 million in damages, could potentially be buoyed by a video recently posted to YouTube that appears to show Bridgeport officers Joseph Lawlor, Elson Morales and Clive Higgins kicking and stomping Lopez-Soto in Beardsley Park on May 2011 after a car chase. A portion of the GRAPHIC video can be seen above. The suit claims Lopez-Soto lay motionless while the officers beat him.
Lopez-Soto didn't file a complaint at the time of the incident.
Morales' lawyer, Michael Fitzpatrick, told the AP his client did nothing wrong and everything on the video can be explained.
Lawlor's attorney declined to comment and Higgins may not have a lawyer, according to the AP.
Berke said Lopez-Soto needed six stitches on his face after the beating.
The alleged incident took place just three days after Lopez-Soto's encounter.
The report claims officer Christina Arroyo stopped Sierra for questioning on May 23, 2011. Morales arrived soon after.
"The next thing I knew, officer Morales and an officer later identified as officer (Joseph) Lawlor both threw me violently to the ground," Lopez-Soto said in court documents.
"On the way down, the left side of my face struck one of the police cars on the scene, causing a bad laceration."
Sierra said that one of the officers told him to put his hands behind his back, but because he has limited use of his right arm, he couldn't comply.
"I told the officers this, but they continued to assault me violently, finally handcuffing my hands in front of my body,'' Sierra claims in the complaint.
Bridgeport police spokesman William Kaempffer told the Courant that an internal affairs investigation is pending and declined further comment.
CORRECTION: A headline and caption in a previous version of this story misidentified the police department involved in these two incidents.

Related
Before You Go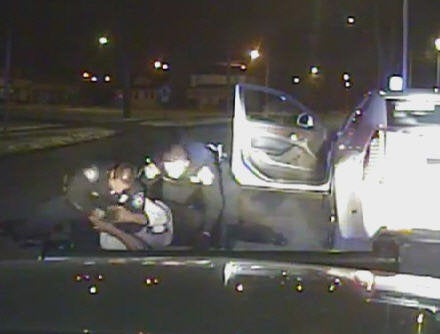 Police Brutality Incidents
Popular in the Community