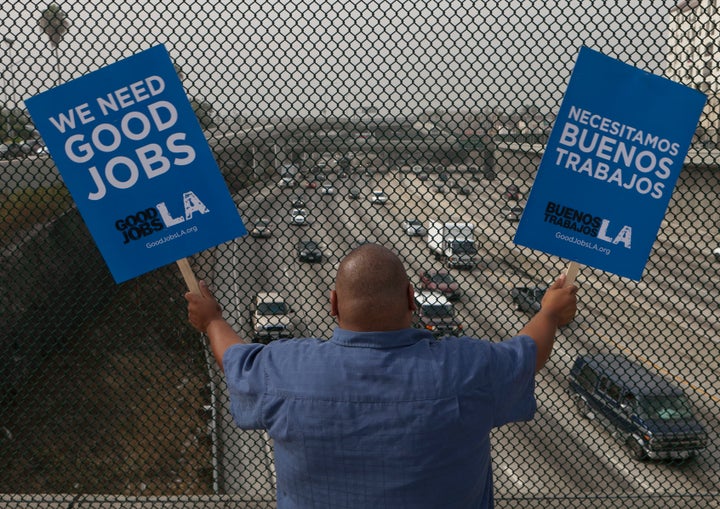 The bridges of Michigan, Minnesota and Mississippi are crumbling. Much may divide these three states, but they share a problem that vexes all of America: decaying infrastructure. In each of these three states, small bridges are falling apart.
The American Society of Civil Engineers gave our nation's bridges a grade of "C" in its 2009 report card. Another recent report from ASCE estimated that substandard bridges and deteriorating pavement already cost Americans $10 billion in 2010 -- a number that will rise to $58 billion by 2020.
Bridges are actually in better shape than many other infrastructure sectors, in part because state and federal authorities made fixing them a priority after the collapse of the I-35W bridge in Minnesota. But many are still in need of repair. And state transportation agencies say small bridge repairs, which sometimes don't require the extensive environmental reviews that newer and larger infrastructure projects do, are a good way to quickly put people to work.
President Obama has pointed to structurally deficient or obsolete bridges as a reason to pass his proposed American Jobs Act. Now labor unions like the Service Employees International Union (SEIU) and liberal organizations like the American Dream Movement are latching onto local infrastructure problems with "Work That Needs Doing," a new website that lets ordinary people upload photos of broken roads and bridges in their neighborhoods.
In Pittsburgh, 37-year-old Shawn Wygant talks about the website at bus stops and in meetings for a community advocacy group. Wygant lost his job at an industrial laundry plant in May. Since then, he estimated, he has sent out some 300 resumes. To stretch their dollars, he and his in-laws split batches of spaghetti, and Wygant sometimes skips taking the insulin he needs to control his diabetes.
When he can't find temp work, Wygant hits the streets to talk about infrastructure.
"Around Pittsburgh, we're known for our bridges," he said. "A lot of these bridges, you pretty much take your life in your own hands."
Conservatives and libertarians at places like the Mercatus Center argue that it is difficult "for Keynesian job creation to work in a modern, expertise-based economy: even in a weak economy, organizations hired the employed about as often as the unemployed."
Wygant, who has only entry-level experience in construction, doesn't buy that argument. He believes the American Jobs Act would create "jobs that could be done by people that are unemployed like me. I would take that job in a minute."
"This is going back to the blue-collar American job. We lost the steel industry," said Wygant, whose father once worked in one of Pittsburgh's plants. "These are the jobs that can't be outsourced."
To get a sense of how deteriorating small bridges affect the fabric of smaller towns, HuffPost reached out to people who have posted pictures of problems in their areas to the Work That Needs Doing website.
Harry Johnson of Redwood Falls, Minn. said a bridge over the Redwood River was in trouble. The span uses an unusual swayback design and dates back to another economic downturn -- the Great Depression, when members of the Works Progress Administration found employment building it.
"The bridge is located in Ramsey City Park and effectively divides that attraction into two parts. In this region of flatness and extensive corn and soybean fields, Ramsey Park is a veritable oasis," Johnson said in an email. "Having it closed essentially cuts the area in two."
The bridge is off-limits to vehicle traffic for now, and the Redwood Falls Gazette has reported that the "process of repair is moving forward" on the bridge, relying in large part on money from the state.
Another bridge through a park, this one in Hazelhurst, Miss., has also divided a community. Daphine Foster of Hazlehurst said a bridge in her town on the road to Hazlehurst Park has just been closed. That makes it harder for people who don't own a car to get to the local Wal-Mart.
"Hazlehurst has a poverty rate of 36 percent, which means that the city is not collecting enough money to repair the bridge," Foster told HuffPost in an email.
"While this is not a big deal for drivers, it is for walkers," she continued. Instead of walking through the park, they now have to head to a nearby highway, which "has quite a bit of traffic is not safe for anyone attempting to walk from their neighborhood to the shopping center."
In the city of Rochester Hills, Mich., a well-off suburb a half-hour north of Detroit, two bridges near the intersection of Avon and Livernois Roads need emergency repairs. Things have gotten so bad that the intersection even has its own mayor on Foursquare.
"Cars crawl in all four directions as drivers watch the lights turn green and red and green and red and green again," reported the Rochester-Rochester Hills Patch. "But what these motorists don't see is what's underneath Avon and Livernois at the spots where they cross over the Clinton River. The bridges are cracking and deteriorating."
Rochester Hills is spending some of its own money to assist the county in speeding up repairs to the bridges. Fealk said that while his conservative neighbors may wince at paying for tax increases, "I think they get it when it affects their commute."
"I don't think people get it until it does affect them personally," Fealk said. "When you talk about it in the abstract, about trying to fix our bridges on the roads, it's just those darn liberals trying to spend more money."
Popular in the Community