🎶I'm ready for this, there's no denying🎶
That lyric ― from Jess Glynne's song "Hold My Hand" ― has been appropriately featured in the trailers for "Bridget Jones's Baby," and pretty much explains our feelings on the new installment of the beloved film franchise finally coming out. The rom-com is definitely worth the wait, and, let us assure you, it will make you belly laugh from beginning to end.
"It was pretty selfishly motivated, actually," Zellweger told AOL Build host Ricky Camilleri of reviving the character. "She's kind of fun. She's really fun to play!"
Thinking back, Zellweger beat out a competitive list of actresses to nab the coveted role of Bridget, an accident-prone, self-conscious, love-hungry British book publisher turned television producer, in 2001's "Bridget Jones's Diary." Considering she was born and raised in Texas, Zellweger being cast over stars like Kate Winslet, Toni Collette and Cate Blanchett was a huge deal.
Despite some controversy, she ended up capturing the character perfectly and even received an Academy Award nomination for her work. Now, with 12 years passing since the release of the not-so-great "Bridget Jones: The Edge of Reason," bringing Bridget back to the big screen is scary but beyond fulfilling for Zellweger. She's aware that the return of the franchise could fail, but tried her best to ensure that wouldn't happen during production. "[I was] just participating and making sure that what we were doing was going to be worthwhile and not just 'good enough.' 'Cause just 'good enough' is not good enough," she said on Build.
Well, with the addition of Patrick Dempsey and the always memorable Emma Thompson, combined with the return of Zellweger, Colin Firth and "Diary" director Sharon Maguire, the franchise is back to its hilarious, slapstick roots.
Although Hugh Grant is not in the third installment (apparently he "didn't think the script completely worked"), newcomer Dempsey does a great job rivaling fan-favorite Firth in the movie, which finds Bridget pregnant and unsure of who the father is. Dempsey plays Jack Qwant, the charming founder of an online dating site whom Bridget meets at a music festival. Firth revives his role as Bridget's longtime love, Mark Darcy, who still has feelings for his quirky, lovable ex despite their up-and-down history. Both guys are good men, trying to do the right thing ― the opposite of the previous iterations, which saw Grant's character, playboy Daniel Cleaver, always letting Bridget down.
"I never thought she had a weight issue," Zellweger told "Today" when discussing the idea that the character reached her "ideal weight." "But I had long conversations with Sharon Maguire, the director, about that and she said, 'No, in deciding how we show that she's evolved, let's have her have that one thing, that one thing that she's always obsessed about, that she's always presumed was the golden ticket to her happiness and let it have no bearing on her life at all.' And I kind of liked the message in that."
But although she's more comfortable in her own skin, in this movie, Bridget is still tackling her work life, friendships, family drama and heartbreak, all while trying to prepare for motherhood without knowing which man is her baby's daddy. So yes, Ms. Jones (and her thought bubbles and wacky wardrobe) are back in full effect.
One of the best scenes comes at the end of "Baby," when, after months of contemplating who the father is, Bridget's water breaks. Both men try to get her to the hospital in the best way they know how: by carrying her down the streets of London.
"That was one of my favorite sequences in the movie," Dempsey said on Build.
"I carry a baby quite a bit in this film and that gets really heavy after 10 hours, I can't imagine carrying me for two or three days," Zellweger added of the prosthetic baby bump she had to wear, which Dempsey said "must have been 60 pounds of just all plastic."
Aside from fake bumps, we see familiar faces, new faces, Ed Sheeran and a whole lot of comedy. All in all, "Baby" truly embraces the rom-com way while bringing Bridget Jones ― and all her perfect insecurities ― back to life.
"It's sort of a coming-of-age story for people at a different stage of their lives," Zellweger said. "It subverts the myth that you're supposed to have it all together by a certain time in your life. It's just not true. We're always kids trying to figure it out."
Yup, and some of it involves him 😉 ...
"Bridget Jones's Baby" hits theaters on Friday.
Watch the full AOL Build interview with Zellweger and Dempsey below.
Before You Go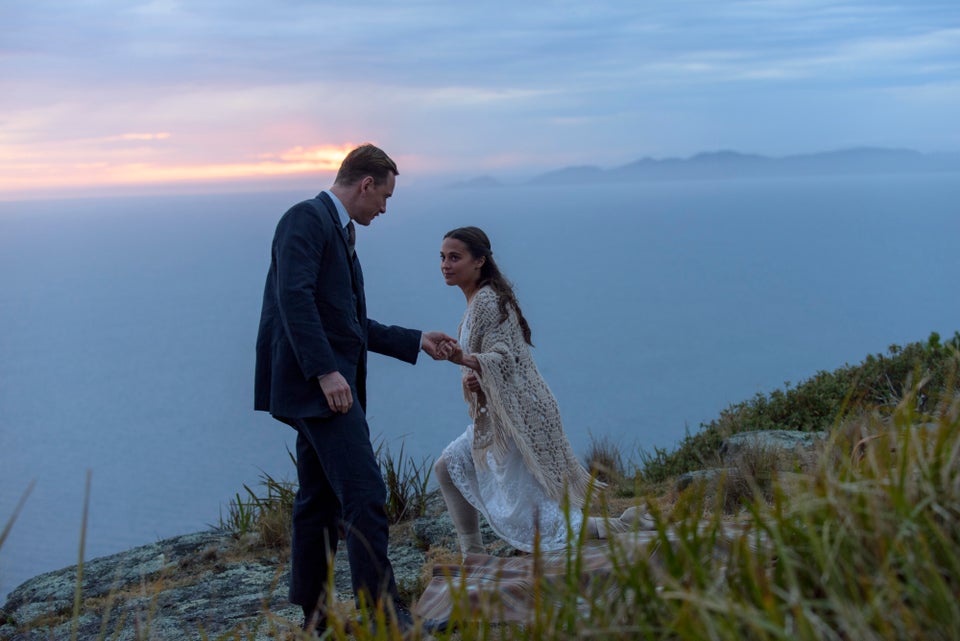 Fall/Winter Movie Preview 2016
Popular in the Community