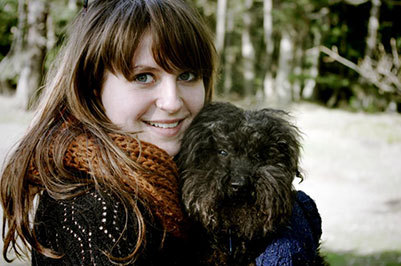 I came across Andrea MacDonald's work through her blog about yoga and social justice, moonlitmoth. Her yoga practice started 7 years ago when she was suffering from panic attacks and had recently survived being sexually assaulted. Yoga became a refuge for her and "continues to help me feel safe in my body, and heal."
From 2007 to 2011 Andrea served as an activist against climate change. She eventually left her role as a community organizer against the Enbridge Gateway pipeline in British Columbia and started yoga teacher training.
While working on a degree in social justice at University of British Columbia, she and her close friend Kandace started offering by-donation yoga classes that were also grounded in community building and social justice values. Together, they started Community Yoga Vancouver.

Rob: What originally motivated you to do this work, and what continues to motivate you? How, if at all, has that motivation changed over time?
Kula Annex in Toronto has been a huge inspiration for me in building Community Yoga Vancouver. I found out about it while researching yoga and anti-oppression when I started blogging. Seeing the work they've done to cultivate safer space at their studio made me see that combining anti-oppression and yoga is entirely possible--and that I wasn't alone in seeing the connection. It was eye-opening for me at the beginning of this process and helped me dream big from the start. I got to teach a sacred justice workshop at Kula this summer and I feel so blessed to have been welcomed into its community.

Originally I was motivated by connections that I saw between my two worlds--yoga and activism--but now I feel motivated by the movement I see growing around me and by the community of teachers that I work with. I'm lucky in that I have a lot of role models and support from the yoga community in the work I do. I care deeply about social justice issues and I feel that my practice and my politics are linked. When I feel lost or unsure of how to move forward I am always encouraged by other teachers who do similar work; there is great community in that way.
How have you been developing a stable yoga studio business through community development and yoga service?
Community Yoga Vancouver began less as a business and more as a community organizing project. We keep our costs as low as possible. We don't have a fancy space or a marketing budget. We use social media, personal relationships, events, workshops, and workshops and conferences to get our name out there. Much of our initial set-up was done through trades, like our logo, promotional videos, and photos.

Now our community and our ambition are outgrowing our current space, so we're using crowd funding to give us the opportunity to open our very own studio. It's our intention to split the profits we make from the studio evenly amongst all the teachers who offer classes there. This means that we will sink or swim together, and no one will be pocketing money because they had the ability to own or bank-roll the project.

What, in your mind, is the relationship between a practice of mindfulness and greater social change?

Sometimes I feel like my yoga practice runs completely counter to my politics. Often I see things in a very black and white way politically and in a very fluid and accepting way from a spiritual perspective, but I think this seeming duality is a good thing because it provides balance. The deeper I go into my practice the more I open myself to my capacity to feel--to fully exist in my body as a sensing organism. When I stand in a forest that was clear-cut or think about factory farming I can feel in my body the disconnect between humanity and the earth, the disconnect between myself and the living beings around me. The practice then can become about reconnecting. I believe that's why yoga is so powerful in healing trauma--because of its capacity to reconnect.

What advice would you give to anyone who is going to provide yoga outreach from a studio in support of community development?
It's important to grapple with what your studio means by "community." Who is in your studio, and what are the conditions that allow them to come? How does their presence reinforce or resist power structures like racism, sexism, ableism, and homophobia? If all the people in your studio belong to a homogeneous group you might want to offer classes and hire teachers that can meet a more diverse clientele.
What are some of your ideas about, or hopes for, the future of "service yoga" in Canada in the next decade?
Are you a yoga instructor giving back to underserved populations? E-mail Executive Director Rob Schware if you're interested in being interviewed for this series. Thank you for all that you do in the name of service!