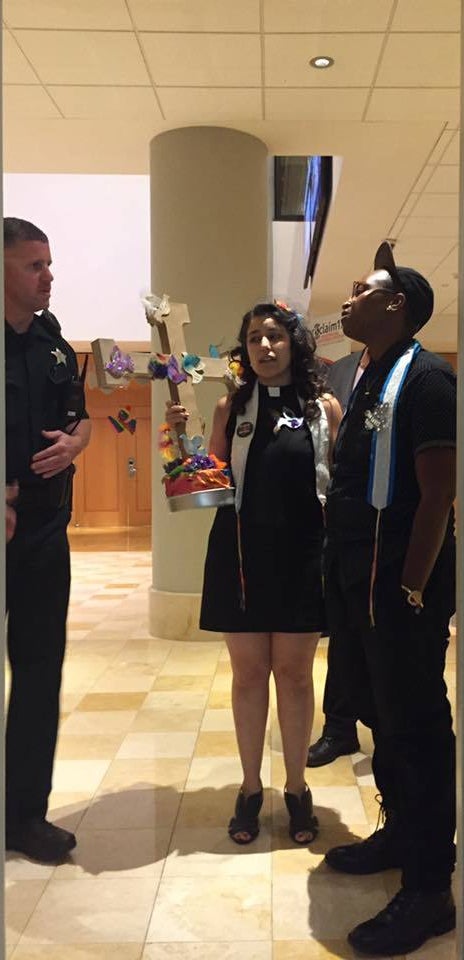 Today's political and religious climate is fraught with the politics and practices of hate that shows up in everyday examples of racism, misogyny, male dominance, hetero-patriarchy, Christian supremacy, homophobia, transphobia, and so many other forms and nuances of hate that perpetuate the insidiousness of the logic of dominance. In much of the work I have been doing across the country as I travel and discuss the importance of bridging with difference, I am learning that we are failing to be human with one another, because we are unable to be unified in our deepest differences. The call for unity is not a call for sameness or homogeneity, but it is a cry to acknowledge the center of our own difference and learn ways to bridge with the center of each other's differences. Sometimes this work, though, is met by an overwhelming reality of resistance in the form of the trappings of the logic of dominance.
Because most of my work is focused on eradicating violence that stems from multi-system oppressions through the work of bridging with difference, I work hard to enflesh an ethics of resistance that fortifies an imagination for radical difference. But! When resistance is met with a logic that is death-dealing to the least of these, it is important to be wise as serpents, and gentle as doves.
On June 12th, 2016, 49 LGBTQI, mostly Latinx, were massacred in Orlando, FL by Omar Mateen. It was the deadliest act of violence against the LGBTQI community to date in the United States. These 49 folks became ancestors far too soon, and many of us in the LGBTQI community continue to grieve this atrocity and fear that we, too, may be victims of a deadly act of violence.
In an age where religiously motivated violence is guiding our nation's policies and politics, we must realize that much of what is emerging is stemming from institutionalized religion in the form of Christian supremacy. This week, Soulforce, an organization that is strategically working to end the political and religious oppression of lesbian, gay, bisexual, transgender, queer and intersex people through relentless nonviolent resistance and sabotaging Christian supremacy, are holding an 86 hour vigil in Orlando, FL during the National Religious Broadcasters Convention, who is meeting less than a mile from the site of the Pulse Massacre.
The National Religious Broadcasters (NRB) is a Right-Wing communications media network with 1400+ member stations broadcasting around the world. Their annual meeting is being hosted this year in Orlando, FL during which thousands of members and supporters will convene to strategize, network, and gain skills to further their aggressive anti-LGBTQI and anti-Muslim agenda that broadcasts to the world. This communications media network not only exports Christian supremacy, homophobia, and transphobia to the Global South, it also mobilizes messages of hate and indifference here in this country, and much of the messaging is informing our national politics and policies. The NRB serves as a significant strategy arm of the Christian Right for bolstering violent institutional practices like targeted "religious freedom" laws and anti-transgender policy creation through a faith-based rhetoric. This media spreads pervasive messaging which denies the humanity and divinity of our queer, trans, intersex, immigrant, Muslim, Black, and otherwise marginalized families.
This week, as Soulforce began their 86-hour vigil that was accompanied by a nonviolent direct action to honor the lives who were massacred last June and resist the Christian Right, they were met with an enormous police presence at the World Center Marriott in Orlando, FL, were informed that they were at risk of being sited for trespassing, despite having developed a plan with the hotel to hold their nonviolent direct action. While witnessing the overwhelming police presence and antagonism, it became clear that two of the folks participating in the nonvioent direction action would risk being arrested. That, indeed, happened.
Rev. Alba Onofrio, spiritual strategist at Soulforce, and D.J. Hudson, nonviolent direct action consultant at Soulforce, were subsequently arrested for their ethics of resistance. They both were resisting the politics of hate and attempting to honor the lives who were lost last June at the Pulse night club.
What seemed like a nonissue in arresting protesters, turned into an all-night affair with the Orlando PD. Not only did the Orlando PD double the bail required for Alba and D.J., but the police held them in custody until after 5 a.m. the following morning. They were arrested at approximately 8 p.m. EST. What is insidious about the politics of hate is that systems of power are deeply entangled with the current rhetoric of power and hate that re-inscribes the logic of dominance that is expressed in this instance in silencing folks participating in a nonviolent direct action through arrest and removing the others who were participating in the action that night.
Important here is that we must not only acknowledge the center of our own difference, but seek to build coalitional strategies that will build the interpersonal and relational infrastructure to solidify the politics of radical difference. We do this by engaging difference and unhinging from systems, politics, and practices that are death-dealing. Soulforce is one organization that is attempting to do this work, as is Faith Matters Network. This week, Soulforce and Faith Matters Network joined together in the radical act of bridging with difference and attempting to enflesh an ethics of resistance by utilizing a multi-pronged approach of bridging. Not only did we join Soulforce in keeping vigil, but we also mobilized our own network to join in the vigil and alert our audience to the work that Soulforce is doing in Orlando. We believe that this sort of collaboration and coaltional building will not only help raise people's awareness to the needs of those most impacted by religious and spiritual violence, but offer an approach in being radically unified in our deepest differences.
For more information on the 86-hour vigil, please see this link on the Soulforce website.
Related
Popular in the Community