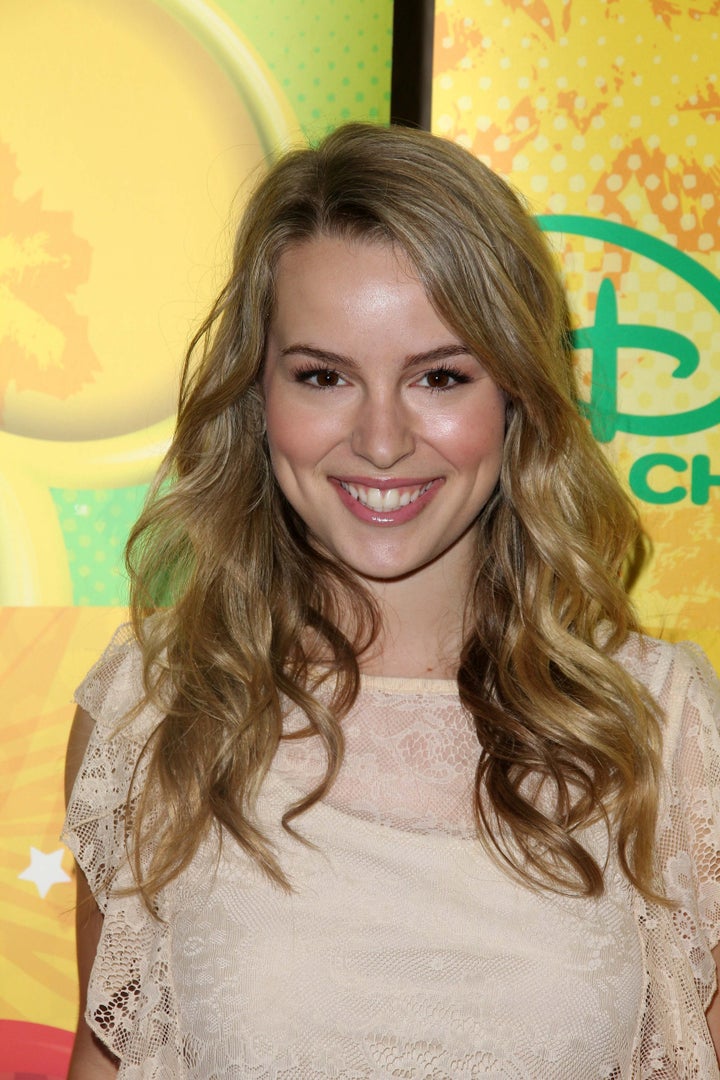 When I walked into the HuffPost Live green room to meet Bridgit Mendler, for a split second, I thought, "Taylor Swift has a secret twin?!"
With her blonde, wavy hair and almond-shaped eyes, at first glance, it might be easy to mistake Bridgit for one of the world's biggest country-pop sensations. But while they may look similar and radiate the kind of friendliness that makes you instantly want to be BFFs with them, we shouldn't be so quick to compare. After sitting down with the "Hurricane" singer, make no mistake -- this Disney star-turned-songstress is paving her own path to success.
Best known for her role as big sister Teddy Duncan on "Good Luck Charlie," the 20-year-old opened up to HuffPost Teen on balancing Teddy with her new music career, the artist she'd love to collaborate with and most importantly, whether she's on Team Gale or Team Peeta.
Congrats on your new album -- I love the title ["Hello My Name Is... "]! How does it feel to go from being a star on a Disney show to having a music video with over 25 million views?
It's really cool. Working on "Good Luck Charlie" has been an awesome experience and it's so crazy to build a fan base and have all those people tune into the show. Globally, it's been really awesome to see. So to make the transition to music is awesome -- seeing who relates to it from the people who already know me as well as [new] people I wind up meeting through my music.
How has it been balancing being Teddy on the show with your music career? Has the show wrapped up yet?
We're shooting the fourth season -- we're right in it. We've shot maybe seven episodes at this point. It's good... I really wanted to keep my music and my acting separate. I really wanted Teddy to just be a normal girl, so this music is really [about] me. I think that's fun. I love being somebody else on "Good Luck Charlie" and telling Teddy's story, and then sharing my love of music [as] myself.
We love the folksy-pop sound on your album. Who are your musical influences? What was the inspiration in creating this album?
Well, I really do love bluesy-jazzy music, so I love Etta James, B.B. King and Billie Holiday. I love that they have soul in their voices -- I think that's something important is having. I love Beyonce. She's so fierce. I also love Lily Allen and she was an influence on my music. And Bob Dylan. He was the first [musician] I got into where I paid attention to songwriting. He has a way of writing songs that's really playful with lyrics, but at the same time he's saying something that people feel is important and that they relate to. He spoke for a whole generation.
... and you both have "Hurricane" in common!
I know! That was actually the first song I listened to, so it's so funny to be putting out a song called "Hurricane" now.
If you could collaborate with one artist today, who would it be?
Hmmm, I really do like Bruno Mars. I think he's very good. And I love Maroon 5.
As actresses who have had really successful singing careers, do you plan to follow in the footsteps of Disney stars like Demi, Miley or Selena?
I think it's tricky because they've been obviously very successful, but I think you always want to be your own person and not be categorized by doing the same thing. So I mean, it's such an honor... they've done so much and they're so talented, so it's great [to be compared to them]. Sometimes it's hard to walk the boundary of [being] both [an actress and singer]. Jamie Foxx [also] does it very well.
What was it like to hear your song on the radio for the first time?
I was in Washington, D.C. -- the land of my birth. I was driving along in the car 'cause we were going Baltimore to do another radio visit, and I heard my song playing. I freaked out. It feels like it's not real, like the radio guy just popped the CD in.... instead of actually playing it for tons of people to listen to.
We heard that you co-wrote the majority of the songs on your album. Is there a song that's particularly special to you?
"Hurricane" is really special to me because I think it's such an emotional song. It has a cool structure to it and I love the rapping -- it's really fun and sassy. It's a fun, funky song, but at the same time, the girl in the story is really sad. She's really suffering.
We have some questions from our awesome subscribers on Pheed. First, from juliannahenderson: Where do you shop? What are your favorite stores?
Well, I just did a little shopping at Top Shop when I was in London [filming the "Hurricane" music video]. That was a must. I also like Zara. There's this store in L.A. called Wasteland -- I really like how they have original pieces. It's a second-hand store where they have really cool, special things there. And I like wearing one thing in the outfit that's the "statement" part of it. It
s unique, and then you make the colors all work together with the rest of the outfit.
From lilyviolet: What's the craziest thing a fan has done for you?
There's one fan that asked me to write down something on a piece of paper so they could get tattooed.
Did you ever see the end result?
No, I mean it's their choice if they wanted it tattooed, but hopefully I wrote it well. Hopefully, I had good handwriting that day.
From CatherineKien: Team Edward or Team Jacob?
Oh my gosh, "Twilight"... I was a Team Jacob fan. I like that he's always stuck it out as a friend. He was always there for her.
Team Peeta or Team Gale?
You know, I like the people that stick it out like Peeta. He's the friend there too. I think that it's such a sweet thing.
How do you de-stress when you're feeling overwhelmed and stressed out?

I think it's nice to go on walks, maybe listen to music and just move around a bit get out of the house. I also like to cook and read. I think it's nice to have one task and to focus on that. Having some personal time -- I think that's important.
Check out Bridgit's interview on HuffPost Live here:

Popular in the Community