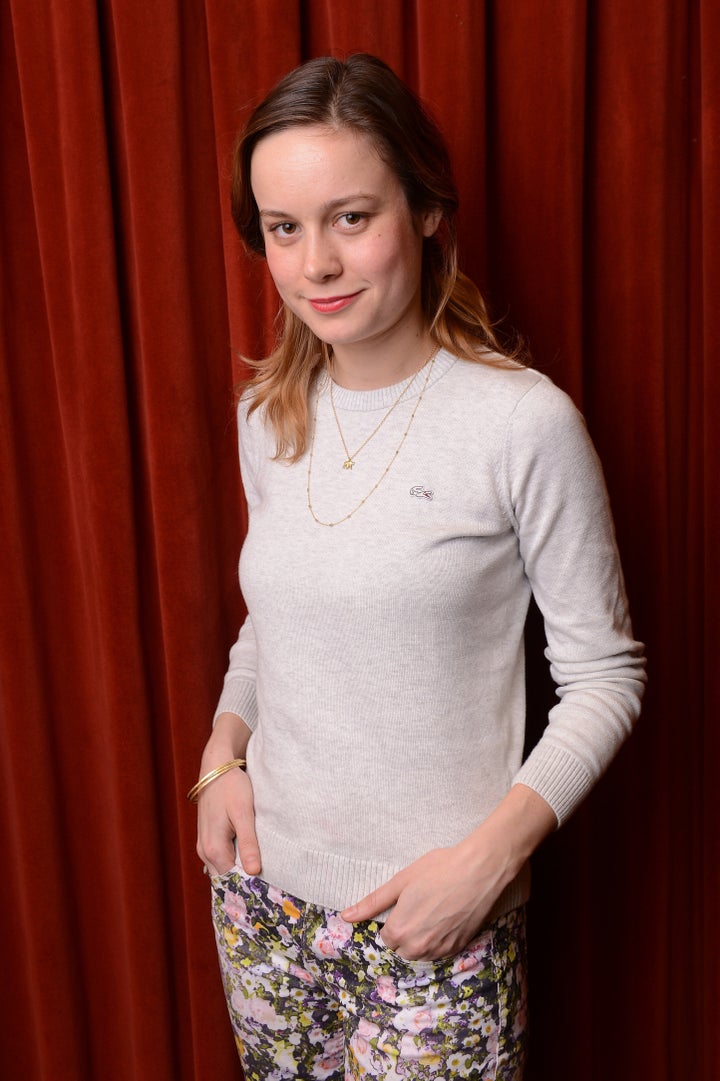 Festival favorites like "Before Midnight," "Don Jon," "Spring Breakers" and "The Spectacular Now" have made lots of noise at the 2013 SXSW Film Festival, but one film exclusive to the Austin gathering that has many whispering notes of praise is "Short Term 12."
Directed by Destin Daniel Cretton, "Short Term 12" focuses on a young woman named Grace (Brie Larson), who is fighting as many demons as some of the children she takes care of in a foster care facility (standouts among the supporting cast include actress Kaitlyn Dever and newcomer Keith Stanfield). After the world premiere screening at SXSW on Sunday morning, Cretton cited "One Flew Over The Cuckoo's Nest" as inspiration; with Larson carrying such a heavy burden in the leading role, though, "Short Term 12" often recalls the Ryan Gosling film "Half Nelson" in the best ways possible. (Gosling, for what it's worth, received a Best Actor nomination for depicting his troubled educator.)
Thanks to her revelatory performance in "Short Term 12," wildly different supporting roles in "Don Jon" and "The Spectacular Now," and a short film to her name, Larson is the unofficial queen of this year's SXSW. Following the premiere of "Short Term 12," HuffPost Entertainment spoke with the breakout actress about the emotional toll of playing Grace and where her career can go next.
You looked pretty emotional after the premiere on Sunday morning. I cried a lot yesterday; I went to the bathroom many times and cried. I felt like I was finally relived. I feel like I hadn't admitted to myself that I had finished. It was a lot of work. I had never done it before -- I had never had that kind of workload before as an actor. When you're shooting something like this, which is so subtle, so much about this internal struggle is watching it crack open. To shoot something like that out of order and have that much of a workload was crazy. Usually my performance onscreen, when I watch it, doesn't mean anything. The emotion doesn't translate. There are obviously so many other amazing performances that make this movie entertaining for me to watch, but it's so much through Grace's eyes that it was hard for me the first two times I watched to feel what other people were feeling. Now, I just feel so proud. I feel so much pride in the piece that we all made. It was the most loving experience I've ever had. I've been on movies that have been awesome, and a great crew, and I had exciting periods of time. This was one that I specifically loved. We all love each other. We lucked out.
You mention the hard work here, and it certainly pays off onscreen. But were you worried about being the lead of a film like this? It was a story and a character that I wanted to explore and one I knew that I could. I've been questioning this whole time what my ultimate goal is; what is it I want out of this industry and out of my career. I kept bumping up against this weird thing where I couldn't imagine myself being the lead of something. I didn't buy it, so I didn't think anybody else would. Then when I got this script I realized that it's just like anything else. It's a really great feeling when you feel like you're doing something that nobody else can do. That you have a take on it that's completely unique. Once that was the case, it was all downhill. I had ambition in my eyes. There was no fear. That's why I think I cried so much yesterday. I realized I had been "tough girl."
"Short Term 12" features a lot of young actors; what was it like working with them while also trying to lock-in on Grace? I felt it was an important thing to do, in order to create this environment for these kids, for me to be Grace all the time. I had much more love; I wasn't hard on them. I wasn't struggling when the cameras were rolling, but we were playing games. These were kids that it was their first job. I wanted to show them that there is a way. I have been on a lot of sets with a lot of jerks who dictate an entire day. These kids were so young and impressionable -- they want it so bad -- I would never do that. It was also important to spread that mindset. To show them at a young age and have them understand that it's more than just getting it on camera. Just be a good person. Understand that everybody else wants to go home and see their family. We all love making art, but family is the most important thing. Be prepared, be on time, be excited and ready. Please and thank you.
Just be a human being. But we lose that, strangely, in an art that's about being human. That's the one thing that goes first. People become a droid within two seconds. One person gives them a compliment and they become a robot. I don't know how it happens, but it's one thing that I don't want to get into at all.
Do you think that will happen to you in the future? I don't think so, but we'll see. Let me know, though. I've been telling everybody. If we run into each other and I go, "Hmm." Smack me in the face.
Grace is an incredible character, but these types of roles for women are few and far between. Does that frustrate you? There's certainly some negotiating that's done in my head; that's the one power that I have as an actor. In a position that I'm in now, where I'm auditioning, I don't get to say, "And now I'm going to do this; and now I'm going to do that." That would be great, I hope that happens some time. People think I have this power. "Wow, you've chosen these films." I didn't chose; the director chose me. I happened to be good on that Tuesday at 3 o'clock. But you can't do a "Short Term 12" four times a year. It loses the magic. There is something about a rare story and rare insight into somebody that makes it special. We can't oversaturate any one thing. I do think that it's such an interesting movie about this struggling strong female. I don't think that's something that I've really seen before. I've seen it a lot in foreign films. I haven't really seen it in a lot of American-made films.
You did a lot of research with foster care facilities for this. What was the takeaway from that experience? The main thing for me was finding that firm voice with the kids. That I picked up on from the foster care place I shadowed at. That was a very lucky opportunity, because I don't know if I should have been able to do that. I was supposed to only go for a couple of hours, but I ended up being there for 10 hours, or something crazy like that. I sobbed a lot. I came home really, really upset. Really shaken up. Really confused and really gung-ho about trying to fix the system. Then you sit there and do the math and realize that this is a system that's doing the best that it can. These incredible caretakers of these kids all have a hobby. They go home and do that. They don't linger on this. They come, they negotiate with these kids -- just like in the movie. That is what an average day is. They said I saw a light day. I saw doors being slammed in peoples' faces. Kids having meltdowns. Kids throwing things, pushing each other. Three kids got kicked out of school. It was crazy.
I liked that about the film; giving Grace and Mason (co-star John Gallagher Jr.) a life beyond the work. In order for you to do that job, you have to decompress and leave something for yourself. Even seeing Grace and Mason draw portraits and cook dinner. That is what you have to do. That is what I had to do in my life: Take care of these kids, take care of this material, try and navigate Grace's internal emotion. Then, go home, and play "Iron Chef" with my boyfriend using ingredients I brought home from the set lunch. We'd watch "SNL" and laugh and didn't talk about the movie as much as possible. That was the best balance that I've ever created in a work environment. I had never done that before. I love getting into the depression. I love the release of it all. Then I love it so much and I'm still doing it. It's really hard. Your brain latches on. "Doesn't darkness feel so good? Stick in that a little longer." Then you get angry and become a hateful person. So, it was a new thing for me to go home and say "I did my work and now I'm going to watch 'South Park' and I don't want anyone to talk to me right now. I just want to laugh."
After the initial publication of this article, "Short Term 12" won the Grand Jury prize at the 2013 SXSW Film Festival.
PHOTO GALLERY
Stars At SXSW 2013
Calling all HuffPost superfans!
Sign up for membership to become a founding member and help shape HuffPost's next chapter
BEFORE YOU GO