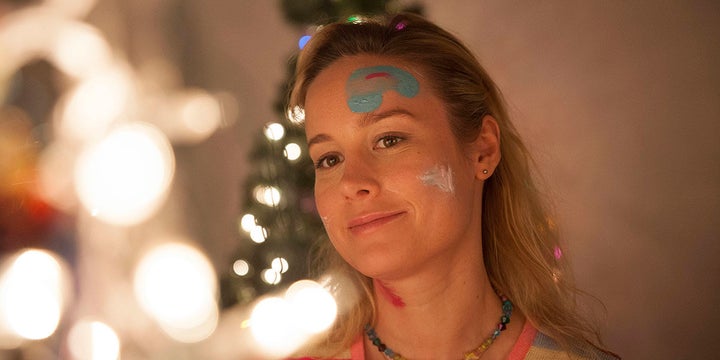 Brie Larson's directorial debut, "Unicorn Store," is a replica of your teenage mood board: It has glitter, splashes of pink, annoying parents, vibrant ribbons and, of course, a shiny white mythological beast.
Larson always wanted a unicorn. It was her childhood wish, which helps to explain her attraction to this movie. She first auditioned for "Unicorn Store" five years ago, before "Short Term 12″ provided her breakout flash and long before "Room" made her an Oscar winner. Rebel Wilson got the role instead. But, in typical Hollywood fashion, the project fell apart ― until about two years ago, when producers approached Larson with an offer to direct it herself. Now, Larson wants to embrace the anything-is-possible phase of her career.
After spending a year shaping Samantha McIntyre's script using inspiration from Joseph Campbell's theories about the archetypal hero's journey, Larson cast herself in the lead role. (She initially wanted to find an unknown actress.) Larson plays Kit, an emotionally stunted 20-something with splintered dreams of becoming an accomplished artist. "You guys still like me, right?" Kit asks the teddy bears in her childhood bedroom.
After moving back in with her parents (Joan Cusack and Bradley Whitford), Kit finds a dull desk job at a marketing agency. It's there that she receives a mysterious envelope containing an invitation to something called The Store, where a pink-suited Samuel L. Jackson offers Kit the chance to own her very own unicorn.
"When I was coming up I would scare people at auditions because I would be too intense."
"The main thing was thinking about the metaphor of the unicorn and allowing the story to read as many different interpretations," Larson told HuffPost last week at the Toronto Film Festival, where "Unicorn Store" premiered. "So, what is the unicorn? Is it your ultimate dream? Is it connecting to your childhood self? Is it almost spiritual? Because the unicorn does have almost a religious connotation to it. It's the third eye and a vortex, and pure light is the color of the rainbow."
As Kit gets closer and closer to that unicorn ― Jackson's industrial genie has a lot of prerequisites before it can be hers ― her borderline pervy boss (Hamish Linklater) takes a liking to her. She is given a chance to pitch an ad campaign for a vacuum cleaner. Finally, an avenue to artistic glory! During her noisy presentation, Kit splashes the boardroom with glitter and, in a supervisor's words, "rainbow-magicalness." It is, simply, a lot ― which is something else Larson relates to.
"It was somewhat metaphorically autobiographical because when I was coming up I would scare people at auditions because I would be too intense," she said. "I'd be too much and push things too hard. I was so interested in doing things real that it was a lot. I look back on it and I think it's kind of like a superhero origin story. You have the powers, but you might accidentally hurt someone. You can't quite form your fireball right, and everything blows up in your face. When I look back on it, it was like that — I had something, but it wasn't refined. It was much more animalistic. I think that was hard for me. It was a very painful thing to come to terms with: 'Oh, I'm too much for people. I have so much I want to give to this, but it's too much.'"
Now that Larson has calmed down enough to become an A-list actress-turned-director ― she's also helmed a couple of short films ― it's only up from here. She's embracing a superhero origin story of her own, playing the title role in 2019′s "Captain Marvel."
How about directing one of those little comic-book ditties next?
"Oh yeah, that's my plan," she said. "Why not? My new life philosophy is I'm not going to tell myself no. I'm just going to do stuff until someone else tells me no."
Popular in the Community