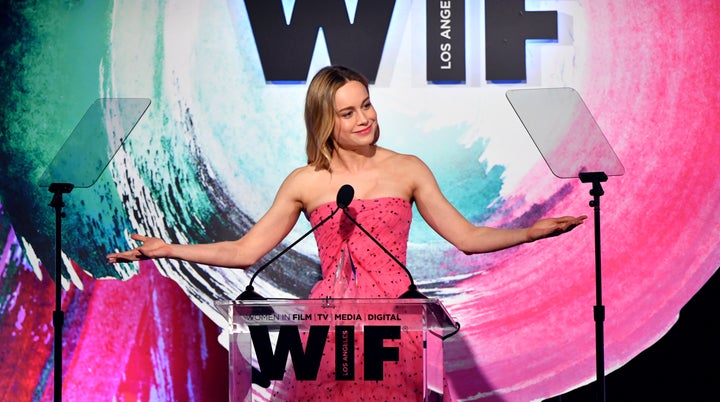 Brie Larson wants more underrepresented groups to be among the journalists and film critics at movie screenings.
The Oscar winner issued her call for action Wednesday night while accepting the Crystal Award for Excellence in Film at the Women In Film Crystal + Lucy Awards in Beverly Hills, California. Larson, 28, was met with applause as she stressed the need to include more women and people of color in press screenings and on film junkets.
"Female and underrepresented critics can't review what they don't see, and many are denied accreditation or access to press screenings," she said. "So, if you are in this room, or if you know someone who is a gatekeeper, please make sure that these invites and credentials find their way to more underrepresented journalists and critics, many of whom are freelancers."
Larson clarified that she doesn't hate white men, she just wants a diverse audience of people to watch and write about her films.
"Am I saying that I hate white dudes? No, I'm not," she said. "But what I am saying is if you make a movie that is a love letter to a woman of color, there is an insanely low chance that a woman of color will have a chance to see your movie and review your movie... It really sucks that reviews matter, but reviews matter."
She discussed the disconnect between moviegoers and many film critics.
"I don't need a white dude to tell me what didn't work for him in 'A Wrinkle In Time.' It wasn't made for him," she said to a round of applause. "I want to know what that film meant to women of color, to biracial women, to teen women of color, to teens that are biracial. And, for the third time, I don't hate white dudes. These are just facts. These are not my feelings."
Larson said that marketing executives and high-level journalists need to commit to an inclusive press plan. She also said that the film industry needs to help "feed the pipeline."
Asserting that 41 percent of recent bachelor's degrees in journalism communications go to white women and 22 percent to women of color, she said, "The talent is there but the access and opportunity are not."
Larson, who won the Best Actress Academy Award for 2015′s "Room," announced that the Toronto and Sundance Film Festivals have committed to giving at least 20 percent of their credentials to underrepresented journalists.
"A Wrinkle In Time" director Ava DuVernay applauded Larson on Twitter with a subtle nod to the film: "Brie Larson is a warrior. Much respect."