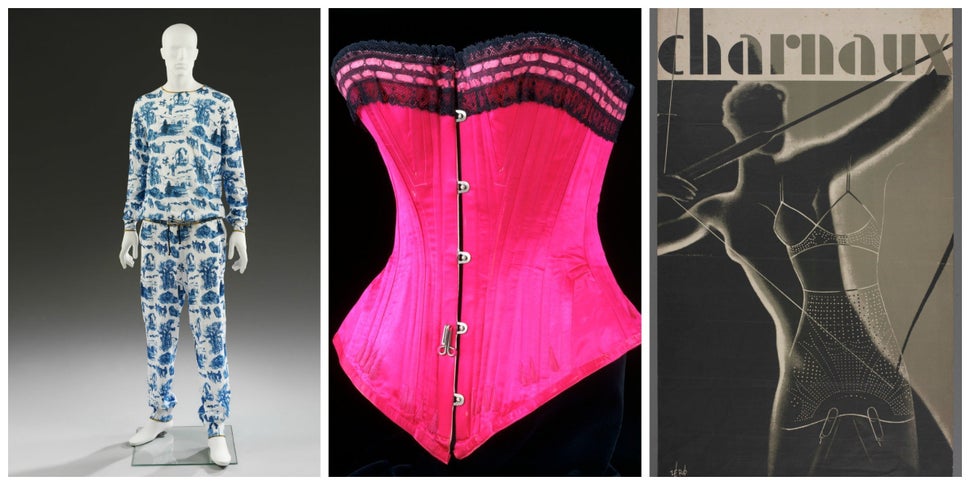 They're hidden in drawers. They're tucked away at the bottoms of bins. They're the open secret of the sartorial world: Underthings, those articles of clothing that shape the way our jeans and shirts look and feel on our bodies.
Today, there are trainers and push-up bras, Spanx and boxers, all serving different purposes for their wearers. Certain underthings may be meant to boost the confidence of the wearer, while others ― looking at you, thongs ― are purely aesthetic.
A new exhibit at the Victoria and Albert Museum titled "Undressed: A Brief History of Underwear," reminds us that underwear wasn't always a form of comfy loungewear. On the contrary, it mainly forced its wearers to conform to desired shapes, sometimes with medical costs attached.
The show begins with underwear from the mid-1800s, including a pair of cotton drawers worn by Queen Victoria along with a waist belt from 1842 that a man wore on his wedding day, demonstrating the moral implications of some underthings.
However, the show is less a condemnation of the ways underwear can enforce gender stereotypes and more a celebration of one taboo corner of the fashion world. A vibrant pink corset from 1890 is displayed as an example of how underwear has helped people explore fantasies in the past. A pair of chiffon knickers from 1930 is shown as an example of how underwear transitioned from form-shaping to shapeless, comfy getups to wear around the home.
One of the most recent underthing artifacts on display is a pair of gender-neutral briefs, designed by Acne Studios, showing that underwear, once a hush-hush element of everyday dressing, is sometimes a way to outwardly display your views on social issues, like gender fluidity.
All of which is to say: We've come a long way from whalebone girdles.
REAL LIFE. REAL NEWS. REAL VOICES.
Help us tell more of the stories that matter from voices that too often remain unheard.