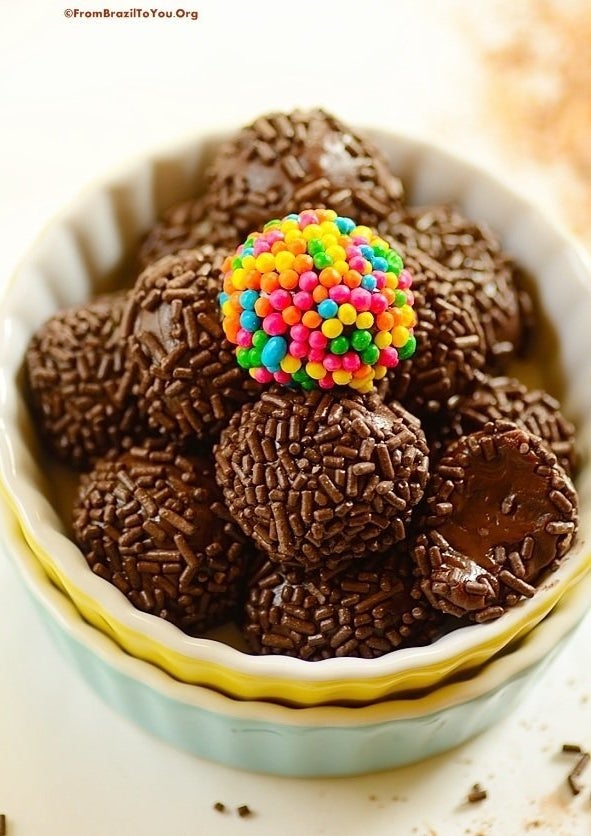 The simple brigadeiro ― pronounced bree-ga-DAY-ro ― might be made up of nothing more than a handful of ingredients, but it is a quintessential part of any Brazilian childhood. It makes an appearance at practically every birthday party ― for children and adults alike, actually. And it's served at almost every other celebration, too. It's enjoyed all over the country, and crosses all socio-economic borders. The brigadeiro is basically love translated into a dessert.
While it's often made with sprinkles, brigadeiro can be rolled in just about anything. Brigadeiro boutiques exist in Brazil where over 50 variations of this treat can be found, featuring ingredients such as pistachio, almonds and hazelnuts.
But if you're not planning any trips to this country in the Southern Hemisphere any time soon, you can still get your hands on these sweets by making them yourself. They're super easy to create in your own home kitchen; with just five ingredients, a pan, and a little bit of patience you can be biting into one of these in no time.
Food blogger From Brazil To You has a recipe we love, cooking sweetened condensed milk, chocolate, butter and vanilla together to reach that perfect brigadeiro consistency. At this point you can choose to eat this concoction with a spoon, use it to layer in a cake, or let it cool and roll it into truffles covered in sprinkles. Head on over to her site for the recipe (and you can watch how she makes them in the video below).
Related