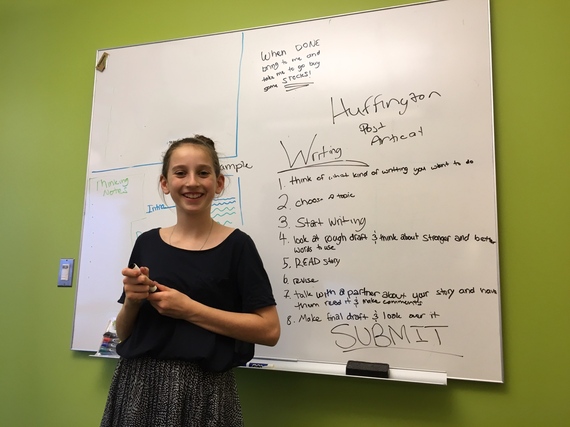 My daughter, Anna, outlining this article on Take Our Daughters and Sons to Work Day. I appreciate her help! Photo Credit: John Sweeney
Before she goes to sleep at night my 10-year-old daughter, Anna, likes to have her mom or me settle in next to her with a book to read independently before she heads to bed. This time together is a nice way to extend a cherished bedtime ritual when she no longer needs or wants us to read aloud together.
One busy evening around tax time I was crunching numbers on my computer, scanning through the year-end summary of expenses to look for expenses and charitable donations as her bedtime approached. When I told her, apologetically, that I needed to keep working, she suggested I bring my laptop to her room. So I did just that and continued scrolling through a spreadsheet with expenses from last year. Soon Anna lost interest in her book and started scrutinizing expenses along with me.
What started as a mundane chore became an entertaining walk down memory lane with Anna by my side. Reviewing the year's credit card charges sparked memories of our family vacation last summer. "That was a nice hotel," Anna noted as we looked at one charge. And "Oh, yeah!" she said, "I remember that restaurant" as we clicked through another charge.
Told by the numbers, the year's story wasn't as exciting as a good book, but it gave Anna the opportunity to see how much we spend on things big and small, from groceries and school supplies to occasional splurges. ("Wow, Dad, your winter coat cost that much?") It also sparked a conversation about how much we might spend on summer vacation this year and how we can adjust our budget and trim expenses overall. For instance, Anna knows it's smart for me to take public transit to work so I don't have to pay outrageous parking prices in the city.
Many parents don't want to burden or bore their children with the dollars and cents of everyday life. My wife and I, however, believe exposing our kids to budgeting, saving, and financial planning for expenses large and small will help them become money smart. Since making this practical decision some years ago, a body of research has emerged that shows a correlation between financial knowledge and outcomes like higher credit scores and better financial behaviors such as investing for retirement and avoiding paying interest on credit card debt.(1) But finding ways to model and teach money management as an essential life skill is especially important in raising girls.
Why? Too many women--as many as 8 in 10, according to Fidelity's 2015 Money Fit Women study--hold back when it's time to discuss money with friends and family.(2) Many also feel uneasy or lack confidence when it comes to making big financial decisions, with about 50% admitting they are often nervous about the financial choices they make.(3)
Although this is troubling considering that women live longer than men and are increasingly likely to be the primary breadwinners in their households, the confidence gap should narrow as our daughters mature. Women can expect to have greater influence on the U.S. economy, exercising more authority over financial decisions and planning for retirement. In fact, the Federal Reserve estimates that women will control two-thirds of the nation's wealth by 2020.(4)
Fortunately, girls feel up to the challenge. Having it All: Girls and Financial Literacy, a report issued in 2013 by the Girl Scout Research Institute, reveals that "most girls expect to be independent and financially empowered, see few gender barriers in their way, and have high expectations for their future financial lives." The survey was based on a national sample of 1,043 girls aged 8−17 and their parents. (5)
Among its findings: "Nearly all girls say it is likely that they will have a job or career they enjoy (98%); be able to provide for their families (96%); and own a home one day (95%). They are similarly optimistic about obtaining a college degree (96%); being able to retire comfortably (92%); being able to save a lot of money (90%); and making a lot of money (87%)." However, the respondents also "admit to lacking the financial confidence and knowledge to achieve their dreams."
How do we help young girls grow up to be financially confident women? Early lessons in financial literacy that teach budgeting, saving, and planning can start at home. Over the course of any week there are many ways to instill economic thinking, build numerical acumen, and reinforce a practical understanding of the value of money. Looking over credit card statements, comparing cellular service plans, doing cost-per-weight comparisons at the grocery store, and discussing savings plans for big purchases in life are great opportunities to show our kids how to handle money. These moments can help give our daughters the foundation to make better money decisions when they're older and there is more at stake.
The opportunity Anna and I had that evening to review and discuss what the family spent was unplanned but not out of the blue. My wife and I have found the best time to talk about money is as we live our lives together and ask our kids to weigh in on small financial tasks and decisions. When I was growing up, my father would hand me the bill at restaurants and ask me to add up the tab to make sure it was correct. Today, although the bills are often tabulated by computer and addition mistakes are less frequent, I ask Anna to double check the math to ensure that all the items on the bill are ones we ordered. She also figures out the tip. We'll ask her: "What's 10% of the bill? What's 20%? Figure out the number in the middle (e.g. 15%) and round it up a bit." And when my wife, who runs her own small business, tallies quarterly expenses, she asks Anna to sort and plug in expenses for office supplies, business meals and taxi receipts in a spreadsheet.
The day will come when Anna handles money on her own and she no longer wants us reading by her side at night. In fact, one day down the road my wife and I may need Anna and her brothers' help in managing more than household expenses. When that time comes, we hope all of our children will pitch in, but one of them may grow up to be especially financially-oriented and take the lead. Perhaps it will be Anna.
Sources:
http://councilforeconed.org/wp/wp-content/uploads/2016/03/2016.03_Research-Page_pdf-attachment.pdf
https://www.fidelity.com/bin-public/060_www_fidelity_com/documents/women-fit-money-study.pdf
https://www.fidelity.com/bin-public/060_www_fidelity_com/documents/women-fit-money-study.pdf
https://www.fidelity.com/viewpoints/personal-finance/women-doing-right
http://www.girlscouts.org/content/dam/girlscouts-gsusa/forms-and-documents/about-girl-scouts/research/GSRI_Having_It_All_report.pdf
About the author: John Sweeney is executive vice president, Retirement and Investing Strategies for Personal Investing, a unit of Fidelity Investments, in Boston. Follow him on Twitter @SweeneyFidelity.

Views expressed are as of the date indicated and may change based on market and other conditions. Unless otherwise noted, the opinions provided are those of the speaker or author, as applicable, and not necessarily those of Fidelity Investments.

Fidelity Investments and Fidelity are registered service marks of FMR LLC.

Fidelity Brokerage Services LLC, Member NYSE, SIPC
900 Salem Street, Smithfield, RI 02917

Fidelity Investments Institutional Services Company, Inc.
500 Salem Street, Smithfield, RI 02917

National Financial Services LLC, Member NYSE, SIPC
200 Seaport Boulevard, Boston, MA 02110
763621.1.0