When you walk into a public school in some of New York City's poorest neighborhoods the obvious problems are so overwhelming that it's easy to see why the so-called "reformers" want to shut it down and start over. But there is value in a neighborhood school. Maybe closing it down is throwing the baby out with the bathwater. So, if you wanted to save the school, where would you begin? That can be a daunting question.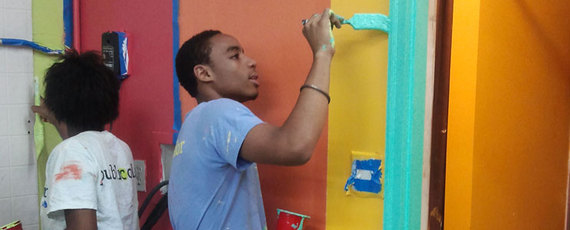 Where to begin, however, was very clear for Ruth Lande Shuman more than twenty years ago when she was completing her master's thesis in industrial design with special interest in the psychological effect of color. She took one look at a grim, deteriorating building and figured the place could be spruced up with a little paint. How about getting some bright colors and designing some simple patterns that could liven up some public spaces in the school? How about getting the students to do the painting? How about getting the teachers, or the public, or even the local police to volunteer to help? Play some lively music while everyone is working. Here's how she describes her epiphany:
"When you go into our public schools they look and feel like prisons. What is being sent, subliminally, is a message of profound disrespect. So when we change an environment, we change attitudes and behavior. And it's not just on the part of the kids who paint the school, who develop a strong sense of ownership and a strong sense of pride, along with multiple strong work habits including marketable skills in commercial painting, but teachers and students overwhelmingly reported feeling safer. When I read this in the first report, it was as if a light bulb went off.

"First they have to feel physically safe. Then they have to feel psychologically safe; safe to take risks, and make mistakes and that it's okay to mess up and try again.

"Imagine children going to school and their minds are frozen. Imagine a teacher in front of a class and her mind is frozen. You're not going to get any effective teaching or learning. So if we can remove this fear factor, right away we are turning on the spigot that allows real learning to take place."
Ruth founded a nonprofit organization, Publicolor, with an afterschool program in middle schools and high schools called "Paint Club." Students sign up for a number of reasons: A lot of them have nothing to do. Many afterschool programs charge the kids a fee, an insurmountable obstacle for some. Publicolor's Paint Club is free. They even raise money for Metrocards so that students can come three times a week. Some kids just like the idea of painting. Many come because they like the staffers who came to their classrooms to introduce the program. Ruth says:
"We play fabulous music while we work and we quickly become a second family. I've had kids join who are in gangs. I ask them, 'Name two good things your gang has done in the past year.' Of course, they have nothing to say. Then I tell them, 'Now go and ask any one of my kids two good things they've done in the past month. So let us be your gang.'"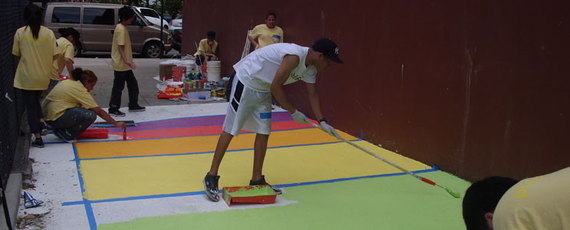 It turns out that there is a lot more to painting than slapping on paint. There is planning the project. There is technique that must be learned. The Publicolor staff leads by example. It is incredibly hard work. There is a work ethic embedded in just showing up at the job. It has become a catalyst for change.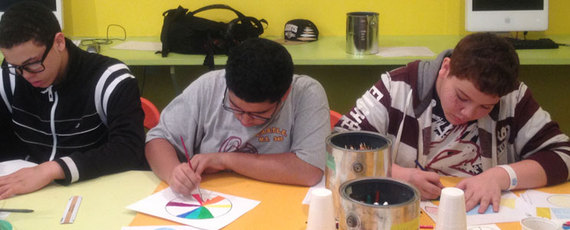 Publicolor was founded in 1996. Since its inception it has decorated and revived about 165 schools and another 250 community facilities, including police stations. But the program goes way beyond the physical improvement of public facilities. One hundred percent of Publicolor high school students remain enrolled in school and become positive role models for their peers. Last year, 94% of Publicolor students graduated high school on time (compared to 42% of their peers) and 94% went on to college. And because they pair college-bound students and college freshmen with mentors, they ensure a high (94%) college retention rate which compares nationally with a 31% rate fore similar first generation college students. The motto of the Paint Club is "From paint to college."
Today Publicolor has 41 employees, of whom 14 grew up in the program, went to college and returned to make Publicolor their careers. (They are well-compensated for their work.) Publicolor's programs are not just about improving public environments. The students stay with the program a minimum of 3 days a week and 4-6 years before college. It's a long term, intensive commitment that focuses on the most struggling students in the lowest performing schools. Read the statement written by student Aaron Lewis, who went from being a special needs student to an articulate college-bound senior because of his work with Publicolor.
In this blog, one of my missions is to remind people of what quality education looks like. I'm always looking for excellent examples. It astounds me that I've only just discovered the work of Ruth Shuman and Publicolor. Here's why it is so powerfully effective:
• The results of the work are public, positive and obvious to everyone.
• It's easy to get started. Painting is not a difficult craft and produces immediate results.
• As work progresses, painters get better at the craft and see their own improvement. Quality work takes time and effort to develop.
• It's incredibly hard work. The painters experience it and learn its value. They become invested in their labor and take pride in it.
• It is a gateway to learning other difficult skills that relate to the painting projects including math and reading.
• The work habits for painting translate into better work habits in academics.
• It breeds respect and honor for hard work, for discipline and for excellence.
• Once you give a disaffected, disadvantaged student a taste of real success, s/he will work diligently to replicate the experience in other areas.
Best of all, it builds bridges in communities between engaged and motivated students, between teachers and parents, students and police, the public and the schools. It's a win-win for everyone involved. Why not try this program in other inner city schools before mandating their wholesale closing and replacement by unproven start-ups?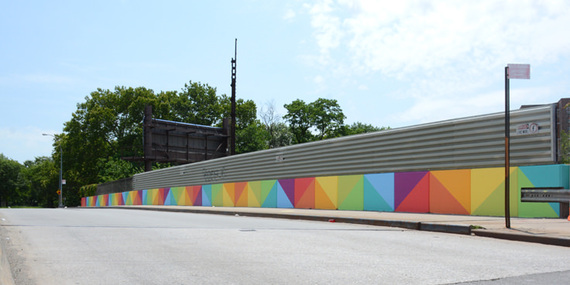 Calling all HuffPost superfans!
Sign up for membership to become a founding member and help shape HuffPost's next chapter