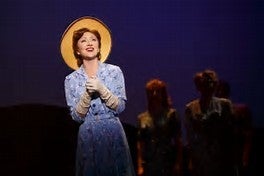 This collaboration of Steve Martin and Edie Brickell, along with a stellar performance by Carmen Cusack, make for a tender and engaging story of love, loss and redemption. Inspired by the folk song Iron Mountain Baby, the musical tells the story of the wild and restless Alice Murphy (Cusack) and the love of her life, Jimmy Ray Dobbs (Patrick Cummings).
Alice and Jimmy Ray fall in love as teenagers and dream of a happy future until Alice gets pregnant and is forced by their parents to give up the baby for adoption. What Alice does not discover until years later is that the baby was thrown off a train by Jimmy Ray's father (Jeff Austin) and is presumed to have died.
Soon after giving up their baby, the couple is torn apart until a reunion many years later. In the meantime, Alice has turned her life around and is now the editor of a prestigious literary journal that employs talented young writers, including the fresh-faced Billy Cane (A.J. Shively). In a series of flashbacks and flashforwards, Alice discovers Billy's true identity.
The story is sweet and old-fashioned, with plenty of melodramatic touches. Music and lyrics by Martin and Brickell are sparkling and mostly upbeat, if rarely memorable. While there are a number of fine performances – including by Cummings and Shively, as well as by Jeff Blumenkrantz and Kaitlyn Davidson as witty assistant to Alice, and Maddie Shea Baldwin as Billy's girlfriend, Cusack is the clear standout. Nominated for multiple awards on Broadway and in regional theater for this performance, Cusack explores the multiple layers and depths of the character that help to transcend the often melodramatic storyline.
Direction by Walter Bobbie is crisp and solid, as is the bluegrass music performed by the orchestra under the direction of Anthony De Angelis. While the country music genre doesn't evoke the stirring passion of the typical musical theater score, it does provide a steady dose of stirring tunes.
Related
Popular in the Community