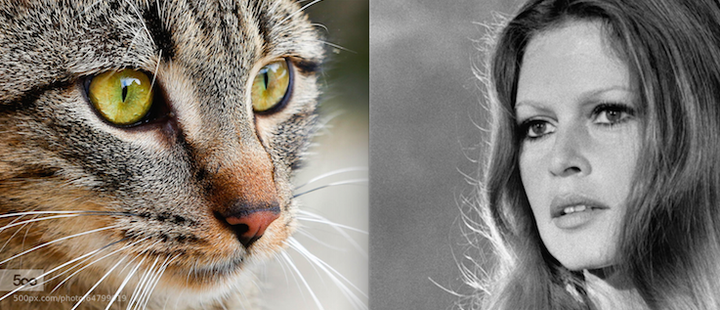 Australia's "war on cats" has met a new foe -- French former screen siren-turned-animal welfare activist Brigitte Bardot.
Bardot condemned the country's plans to exterminate 2 million feral cats, which environmental officials say threaten Australia's endangered small mammals and birds. She called the plan "inhumane and ridiculous" in an open letter to Environment Minister Greg Hunt, published last week.
"The 6 million dollars you plan to spend in destroying these animals would be much better spent in setting up a large-scale sterilization campaign," she wrote.
Hunt announced the five-year anti-feral cat campaign at a Melbourne zoo on July 16, according to The Guardian. The strategy is to poison, trap or shoot some 2 million feral cats. Hunt said the effort would "halt and reverse the threats to our magnificent endemic species."
Cats were introduced to the continent around 200 years ago, and the feral feline population has since exploded. "Feral" cats, which live on their own and are not socialized to interact with people, are notably different from "stray" cats, which are socialized and simply lack homes. Stray cats can be re-homed with humans, while feral cats typically cannot.
Feline welfare aside, there's some evidence to suggest that the program just won't work.
When members of an animal population are killed off, the animals missed by the cull tend to reproduce at a higher rate to restore the population, according to Alley Cat Allies, a U.S. feral cat advocacy group. Additionally, in a phenomenon known as the "vacuum effect," neighboring populations expand and move into the newly vacant habitat.
However, if the animals are spayed or neutered and returned to their original area, there is no immediate vacancy. The population is stabilized, and the neutered cats will eventually die off. Alley Cat Allies cites two studies that suggest this method -- known as Trap-Neuter-Return -- causes feral cat populations to decrease over time.
Even Kelly O'Shanassy, chief executive of the Australian Conservation Foundation, who called the planned cat cull "commendable," criticized the program for not addressing an even bigger threat to endangered species -- habitat loss.
"The strategy … fails to meaningfully address the biggest threat to threatened species and ecological communities -- the loss and fragmentation of habitat -- either through investment in new protected areas or by safeguarding existing critical places," she told The Guardian.
Though the bulk of the plan's $6.6 million will be spent on culling cats, the budget does include efforts to "revegetate" habitats for endangered species. However, such habitats will not be off-limits to development, according to The Guardian.
It's unclear how many feral cats currently roam Australia. Hunt estimated in November that the country was home to "up to 20 million feral cats taking up to four native Australian animals a night," resulting in 20 billion deaths of birds and small mammals each year. However, the Australian Broadcasting Corporation called those figures into question, quoting scientists as saying there could be anywhere from 5 million to 18 million cats. 
Contact Hilary Hanson here.
Calling all HuffPost superfans!
Sign up for membership to become a founding member and help shape HuffPost's next chapter