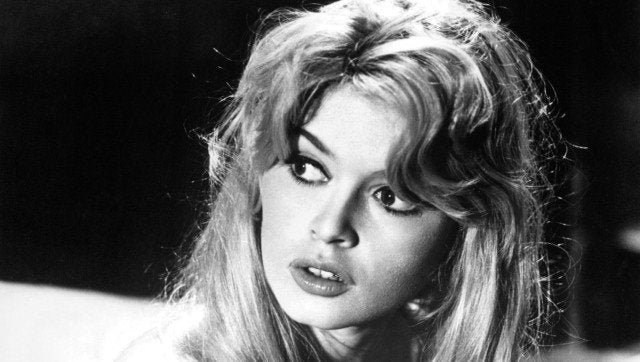 "FAME BROUGHT me so much unhappiness!"
That was Brigitte Bardot, years after she retired at the age of 39, mulling her experiences as one of the world's great symbols. (She had allegedly attempted suicide at the age of 25.)
After Bardot left films, she devoted herself to animal causes. More recently, and less pleasantly, she has become politically conservative, raving against Muslims and others. This latter image, of an angry Bardot, who eschewed plastic surgery and looks like a woman of 78, isn't the way movie fans wish to remember her.
Those who want to recall B.B. in her prime should take in the coming tribute to the star at The French Institute Alliance Francaise. The new Cinema Tuesdays series -- at Florence Gould Hall on E. 59th Street -- spotlights a number of Bardot's most famous films, including (but of course!) Roger Vadim's And God Created Woman ... Jean-Luc Godard's Contempt and Rene Clair's The Grand Maneuver. (This last is a comedy, shot in 1955, one year before Bardot conquered the world with the image Vadim created for her. She is startlingly fresh and charming.)
This happens in conjunction with a photo exhibit, "BB Forever" at the Sofitel Hotel in NYC. The film series runs December 4-18, the exhibit will be on display till the 20th.
Whatever one thinks of her politics now, Bardot was a smart cookie, despite her sufferings during her halcyon days. She resisted all attempts to bring her to the United States and to sign with a major American studio. She knew her fame extended far beyond France and did not see the need to leave her country and become even more famous, more beleaguered.
AFTER HER retirement, in the early 1970s Bardot commented that had she continued in films or had allowed herself to be tempted to America, she felt sure she would have ended up like Marilyn Monroe. (Monroe and Bardot met once, in England, in 1956, at a film gala. Monroe was at her peak, Bardot just beginning. They ran into each other in the ladies room. B.B. recalls M.M. as "very beautiful, as charming as could be.")
Bardot, like Kim Novak, was one of the few who got out while the getting was good. She had one child, whom she rarely saw. Wisely, she knew, "I was a child myself. I couldn't bring up a child properly." The boy lived with his father, Jacques Charrier. After three unsuccessful marriages (the first to her Pygmalion, Vadim) Bardot seems content with industrialist Bernard d'Ormale, who allows her passion for animals and shares her far-right political views.
Brigitte was probably the sexiest of all the sex symbols -- she didn't tease, she wasn't a cartoon or a caricature of femininity. She pouted, sure. But she delivered what her pout promised.
My personal favorite photo of B.B. is her sitting, relaxed, in a go-cart. Some wise-cracker has provided a balloon over her disgusted face, saying "Show business!"
I'm a little late with this, but I had one of the best Thanksgiving holidays ever -- over five days I had dinner at Mr. K's in a private Chinese room above Lexington Avenue in the '60s... the morning of the Thanksgiving Day Parade I saw lots of TV... turkey and trimmings at John Studzinski's lovely apartment above the MOMA skyline... the Rockettes at Radio City Music Hall... Lunch in the private Charlie Chaplin room at Circo hosted by Michael and Heidi Greene of Redding, Connecticut and with the restaurant's Bruno in attendance... Lincoln, the movie in the afternoon ...the new musical version of Annie with its magical book and music by Martin Charnin and Charles Strouse and Thomas Meehan... supper at Orso's on West 46th street with every seat taken and my pet two-times Oscar-winner Jessica Lange, just one celebrity in the crowd... lunch at the amazing Fishtale in the 60's off Park with calamari pizza... Anna Karenina, the Tolstoy masterpiece with the beautiful Keira Knightley as Anna, reinterpreting Greta Garbo and Vivien Leigh on the big screen... Lifetime's self-interrupting Liz & Dick, which wasn't enough of anything to be a downer after all of that... finally, seeing Tommy Tune sing and dance on a tiny stage at Feinsteins at the Regency. Tommy is a "Living Landmark" and I sat with two other LL's for the show -- Louise and Lewis Cullman. Prof. Iris of the archaeology Loves took our pictures on her iPhone.
AS USUAL, I find myself over-indulged, over-fed, over-sated, over-whelmed and I can never be over-thankful enough for the blessings of New York City.
Plus all this, you can read me writing about Mayor Michael Bloomberg in the current
Quest
magazine which is a 25th anniversary experience with marvelous photos throughout the magazine.
ALL KINDS of anniversaries seem to be overtaking us. But one of the most interesting to meis La Grenouille restaurant's 50th celebration on Monday night at the world-famous place whereit all was started by a handsome man named Charles Masson. M. Masson had the magic touch for elegance and he gave New York a place that was more beautiful and French than France itself. His son Charles has carried on brilliantly and that will all be celebrated at East 52 Street off 5th Avenue on Dec. 3 from 5-8, by invitation. La Grenouille is in a class by itself, the last of the best descending from the Henri Soule inheritance that began in New York after the 1964 World's Fair drew the world's attention to fine dining. 'Tis said La Grenouille (the frog) spends $250,000 annually on flowers alone and M. Charles re-works these day after day and keeps his place ever-green. In the years when Women's Wear Daily's John Fairchild was a bigger "king" than even the frog itself, this restaurant drew world fashion attention. It was also where Ivana Trump emerged from an all-girls luncheon during the early days of her severance from The Donald, to be besieged with reporters and paparazzi in a scene like Days of the Locus in Hollywood. La Grenouille has made its mark while keeping its elegance and cool.
But Monday is not all. On Tuesday, the "Living Landmark" decorator Bunny Williams and Mr. John Rosselli invite the elite to come view Charles Masson's beautiful paintings at their Treillage emporium, 418 East 75 Street, 6 to 8. These paintings are a real treat.
CONGRATULATIONS TO LA GRENOUILLE ON BEING 50. Remember, after the Middle Ages comes the Renaissance!
Popular in the Community