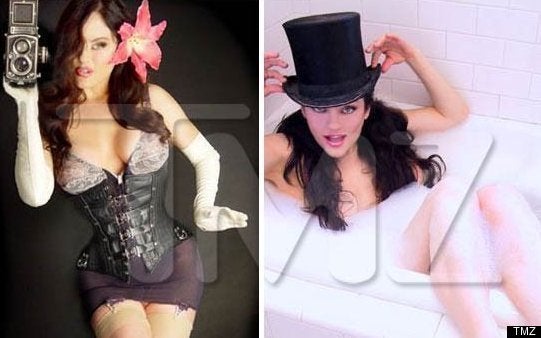 Brigitte Daguerre has emerged as mistress #3 of Jesse James, reports TMZ. This follows Michelle McGee and Melissa Smith. Brigitte, 40, is apparently marketing some graphic texts from Sandra Bullock's husband, and she says he's a DUD in bed.
Brigitte Daguerre -- a Los Angeles photographer -- claims Jesse hired her in 2008 to do styling work for a West Coast Chopper photo shoot. She says the two emailed and texted each other for a year, but claims they only had sex 4 times before she cut it off.

Daguerre has 195 text messages between her and Jesse (the cell phone numbers sync up) ... many of them extremely graphic -- Among the milder ...Jesse says, "I'll be your monkey."
Jesse fired Brigitte from the West Coast Choppers shop when she refused to continue having sex with him, her former boss told Hollywood Life . He added that Jesse would "kick her out" immediately after sex and he never wore a wedding ring around the shop.
Radar adds that she says Jesse is not a fun time in bed.
L.A.-based fetish model and photographer Brigitte Daguerre, 40, the latest woman who allegedly claims she too had a sexual affair with James, is saying he was a "dud in bed.. who only cared about himself."

A source exclusively tells RadarOnline.com that Daguerre said James only cared about his own sexual needs being fulfilled, and that he wasn't a giving partner.
Popular in the Community