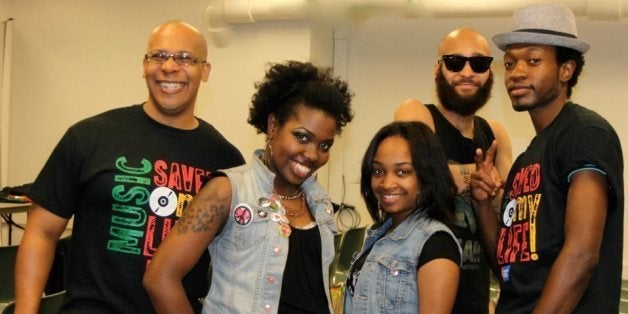 Bril Barrett was just 5 years old -- or 4, according to his mother -- when he met the love of his life: tap dance.
And It's clear from speaking to Barrett, the founder of M.A.D.D. Rhythms, a Chicago-based tap dancing collective and academy, that his romance is still very much alive today, some 30 years later.
Growing up on the West Side of Chicago, Barrett hadn't even started kindergarten when he first encountered tap thanks to a Better Boys Foundation theater program his mother encouraged him to try as a means of keeping him busy and out of trouble.
The program, he told The Huffington Post, included voice, drama and dance training, but the tap lessons are what truly captured him. "I was in love with it," he says. "I tried a lot of different things, but tap spoke to me."
Barrett remained committed to his tap lessons; he dreamed of one day becoming a professional dancer. At the age of 11, he says, he met a man named Mr. Taps who danced for change at subway stations. Barrett was so intrigued, he asked if he could perform alongside Mr. Taps, which he proceeded to do until the age of 15.
As he continued to develop his skills, he began to teach tap while in high school and auditioned for whatever theatrical productions passing through town required tap dancers. Before long, he joined the touring cast of "The Tap Dance Kid" musical and later toured with "Riverdance."
He had, in his mind, made it, but finding work between gigs wasn't always so easy, and he began to brainstorm an initiative that could serve as a foundation that he could occasionally leave for a tour and later return to.
That foundation eventually became M.A.D.D. Rhythms, which Barrett formed in 2001 and initially financed with his own money.
From the start, Barrett explains, the company's mission extended beyond just offering dance lessons. Having grown up with little money or resources, he watched as many of his peers "ended up on drugs, in jail or dead -- or a combination that led to the third one." That's not a future he wanted for others, especially his younger brother, who was among his company's first students.
"It unofficially started it as a volunteer program for young black men to have someone like me who had been in a situation like them and had found their way out, so I could be an example to them," he says. "Coming from the community that I came from, there weren't a lot of people sharing opportunities like that."
After his little sister objected, the program expanded to include female students. Today, M.A.D.D. Rhythms offers classes for youth, adults and families and continues to participate with the Better Boys Foundation, After School Matters and additional programs inside Chicago schools.
Barrett is also the director of the Chicago Tap Summit, which performs throughout Chicago and the nation. Last year, the company performed at the Kennedy Center, and this spring, the group made an appearance on the "Steve Harvey Show."
Barrett says he's aware that life could have turned out very differently for him -- which is why he says his program's community focus has "never been an option for me."
"Tap saved my life. If someone hadn't exposed me to the art form, I could have very well wound up a statistic like a lot of the guys who grew up around me," he said.
"Kids in underserved communities aren't exposed to as much different stuff so they don't understand you have all these options to choose from," he continued. "I really wanted to be someone who brought new options. It's a big part of what drives me -- to make sure they have other choices in front of them so that the drugs or the gangbangers on the corner are not the only options they see."
Chicagoans will be seeing more of M.A.D.D. Rhythms on Friday, as the company performs downtown as part of the summerlong Living Loop Fest, which Barrett sees as another opportunity to expose the public to a sometimes misunderstood art form.
Barrett, who says he's become an accidental tap "advocate," wants to set the record straight. He points to the success of the Beyoncé-approved Syncopated Ladies on "So You Think You Can Dance" as another example of how tap is much more than Old Hollywood actors dancing in black-and-white movies.
"People think tap is such an everyman's dance form. People refer to it as a dying art form, but it's not dead, and it's not old-fashioned," he says. "It's here, it's now, it's current, and it always will be."
Calling all HuffPost superfans!
Sign up for membership to become a founding member and help shape HuffPost's next chapter