Normally we are not promoters of museum vandalism, but in this case we are making an exception. The Rijksmuseum Amsterdam underwent an artistic hijacking cleverly dubbed "Paint Job." Viewers downloaded a smartphone app for the exhibition that revealed commentary or hidden messages on the classical works. For those who find classical museums somewhat of a yawn, the interactive experiment brought works from stuffy to snarky, adding lines like "Also available in a placemat" or Photoshopping in a Diet Coke.
The culprits, Brilliant After Breakfast, describe themselves as a "cheeky agency" concerned with bridging commerce and creativity to see what emerges. Deriving playful and unexpected plots to connect historical art with the modern world, Brilliant After Breakfast takes cues from social media and fast-paced technology to remix the traditional art experience. We asked the team some questions about the concept behind their beautiful prank.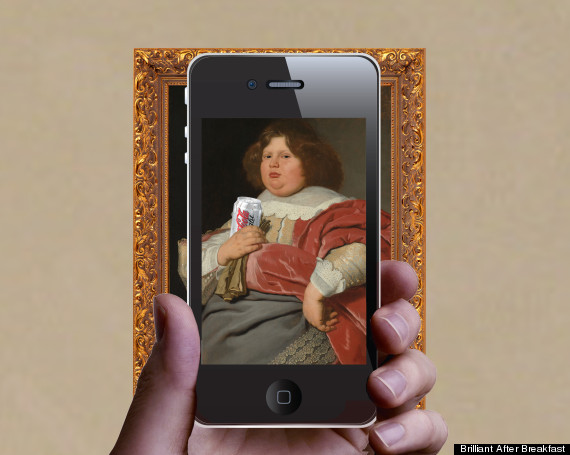 HP: How did you come up with the idea to "hijack" a museum?

BAB: We were bored with visiting a museum and finding the experience more and more not in tune with the rest of the interactive, social-media lived world we live in. We wanted to make it all a little more interesting. It's difficult to see a famous painting as if you are seeing it for the first time when its image has been part of your education, and your ideas on art. By developing Paint Job we wanted to make the audience aware of the fact that 'The Nightwatch' is more than just an old painting in an old museum, it's also very much part of our modern day world.
HP: You are an advertising team that considers yourself at the forefront of "augmented reality." What do you mean by that?

BAB: To us augmented reality is bringing home what we have been experiencing in movies for years. We have grown up playing computer games, have been able to go on the internet to find any significant or insignificant fact, yet in advertising it's still very much all about print, tv or social media, social media being a sort of extension of print and tv. We strongly believe that nowadays, audiences need to experience more to feel commited to a brand. Social media works in the sense that it enables you to share your experiences, but it is now time for the next step. Augmented reality is a way to make, construct and define those experiences that we all love to share.
HP: How can this interactive viewing experience increase the accessibility and relevance of classical art in the modern world?
BAB: We are all trained to multi-task these days, calling our moms and checking our email at the same time, while remembering to upload our holiday pictures on Facebook. In a way, that's how we deal with new information, too. In order to notice what's happening, we can no longer be told its relevant for us to know. We decide when to watch a certain show on TV, when to read the newspaper and how long we will take to respond on an email. However, when we visit a museum, we are forced to watch what's already on display, walk a certain line and please do not forget the giftshop. To a new generation, this no longer works. We need to feel that we are part of the experience, being able to fast forward, rewind or pause. To a new generation, the new language is that art is a remix of creativity, and culture is not only out there in a museum, but always within reach via our phone, ipad or computer. In this way, classical art is brought to our present-day lives.
HP: How does the advertising world interact with the art world? Do you see a division between the fields and how do you envision them cooperating?
BAB: We feel good art is a physical way of showing good concepts, being it the concept of love, wealth, fear or death. These concepts, or themes, are also used in advertising. Art inspires us to think about ourselves, advertising inspires us to buy stuff, based on who we are and what we might think we need. In a creative sense, art shows us the language of image, in advertising, the way images are used is essential too. With Andy Warhol making art of images of Campbell soup cans, we feel that he made a giant leap in bridging the gap between the art world and the world of advertising. Nowadays artists like Jeff Koons or Damien Hirst have shown us that its increasingly difficult to tell those two worlds apart. Art and Advertising are two worlds that are constantly revolving around each other, sometimes easy to tell apart, sometimes not.
Check out the remixed museum exhibition below:
PHOTO GALLERY
Brilliant After Breakfast
Calling all HuffPost superfans!
Sign up for membership to become a founding member and help shape HuffPost's next chapter
BEFORE YOU GO