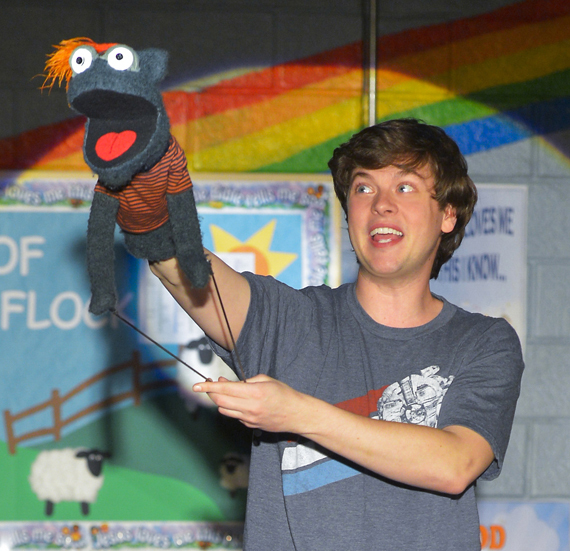 Michael Doherty as Jason/Tyrone in one of the play's lighter moments

Photos by Kevin Berne

Puppetry goes to the devil in Berkeley Rep's Hand to God, and the fire it generates delivers a heavenly -- or hellish -- explosion of hilarity.
A Broadway hit and a Tony nominee, the 2011 romp by Robert Askins had first-nighters in the Peet's Theatre roaring like no show I can recall since the opening of Noises Off, way back in the '80s.
For all its wackiness and its use of sock puppets as principal characters, though, this is definitely not a show for kids. Hand to God is raunchy, blasphemous and at times ferociously violent. Under David Ivers' brilliant direction, it is also phenomenally adept at exploiting those qualities for gales of laughter.
Askins, a Texan who grew up in the Houston suburb of Cypress, admits in an interview that's carried in the show program that much of the play was drawn from his own experience. It doesn't sound rosy.
The dark romp is set in a Texas church basement, where a distressed young widow is trying her best to bring a group of teens to Jesus through puppetry. The teens have other things on their minds, especially sex. At times, so do their elders: widow Margery (Laura Odeh) and Pastor Greg (David Kelly).
Central among the youngsters is Margery's timid son, Jason, who has been traumatized into virtual silence by his father's death a few months earlier. The thoughts and emotions that he can't express have another outlet, though: a goggle-eyed sock puppet with orange hair and a bright-red heart in the center of his tongue. He's named Tyrone, and he revels in saying and doing everything that Jason can't, verbally and physically.
Despite the dark undercurrents, the thin-voiced Jason and robust-sounding Tyrone at times challenge each other in light repartee, including a crackling rendition of Abbott and Costello's classic "Who's on first?" routine. But that's only comic relief.
Tyrone's forceful personality takes its shots at everyone in sight, but especially the church group's two other teens, an oversexed bully named Timothy and a sweet girl who has attracted Jason's ardor, Jessica. When it becomes apparent that Timothy is making a play for Jessica, sparks fly.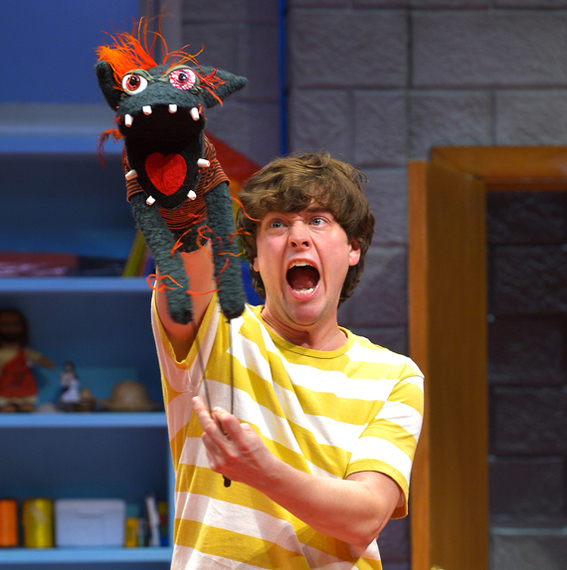 Jason and his bug-eyed alter ego don't always see eye-to-eye.
Michael Doherty discharges an awesome range of traits, emotions and vocal nuances as Jason/Tyrone, topping a cast that is solid throughout. Michael McIntire creates a scary bully in Timothy and Carolina Sanchez is an appealing Jessica. Unmentioned in the cast list is Jessica's blonde and boobsy puppet, Jolene, who deserves notice.
She and Tyrone connect with abandon in what may be the show's most unforgettable scene, a sexual romp that I'll leave to your imagination, if it's vivid enough. Although humans also do their part to carry "Hand to God" into X-rated territory, they can't match puppets for erotic athleticism.
Running well under two hours including an intermission, the play rockets through a taut deluge of events that close on a horrifically bloody climax that leaves no one unscarred, and raises questions about gods, devils and the human need for both.
In conception and execution this Hand to God is an astonishing theater work. If you can handle the material, don't miss it.
Hand to God runs through March 19 in Berkeley Repertory Theatre's Peet'sTheatre, 2025 Addison St.,Berkeley.Tickets are $29-$97, from 510-647-2949 or berkeleyrep.org
Related
Popular in the Community