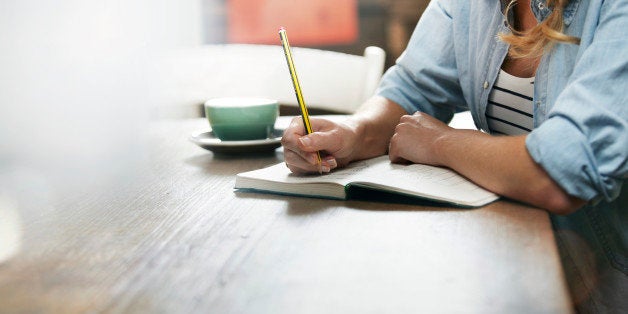 A couple of weeks ago, The Huffington Post published a piece called "Here's How the World's Most Brilliant People Scheduled Their Days." Because I'm a writer -- a creative person -- I began to peruse the poster of "creative routines" to see how my schedule stacked up against those of brilliant people. I quickly saw that I fell short.
Victor Hugo visited his barber daily; I haven't had a haircut in 15 months. Balzac consumed as many as 50 cups of coffee per day; I recently switched to iced green tea. Every day, Charles Darwin built in three walks and some idleness; I forgot to exercise this week. The visualizations of others' schedules marked so much "real work" in dark green that I wondered whether my "real work" is writing, teaching or a mish-mash of loosely-related life tasks that includes laundry. I posted the link on Facebook so that I could go back to it after I'd recovered from my initial discouragement over being not very brilliant, mismanaging my time or both.
Within minutes of the link appearing on my timeline, my writer friend Emily Gray Tedrowe pointed out that, of the 16 "most brilliant people," just one was a woman. How had I not noticed that? How had the likes of Wolfgang Amadeus Mozart and Benjamin Franklin seemed like natural comparisons for me? That poster of "Creative Routines" is, in actuality, "Creative Routines of Dead White Men and Maya Angelou."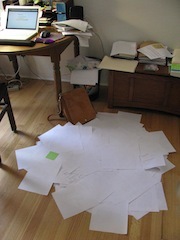 That Angelou is a woman alive in the 21st century amid the morass of men who died decades or centuries ago probably makes a significant difference. Thomas Mann took a walk in the evening, whereas Angelou has a commute. The brilliant men ate, sometimes extravagantly and socially, whereas Angelou prepares dinner. Hugo read a letter from his mistress each morning, whereas Angelou reads what she's written -- her brilliant creative work -- to her husband in the evenings.
All this sorting through of schedules made me think about my own and made me curious about the schedules of other women -- poets and fiction writers -- whose work I find magnificent. So I sent an email to my friend Emily and several other women who have published at least one book. Cathy Day has already written about the math of her schedule as a writer and professor. I asked several others to share their typical daily schedules too.
My own typical schedule works something like this during the academic semester:
9:30 a.m. - breakfast of a banana and toast with peanut butter, email and social media
10:30 a.m. -teaching preparation, literary journal editorial work, reading series event planning, editing of my scholarly work, AWP board work, meeting planning, blog writing, laundry, and so on
1:00 p.m. - lunch woven with tasks that overflow from the morning
1:30 p.m. - teaching, grading, meetings, etc. / Occasionally, I write
5:30 p.m. - catch up, required reading, exercise, revision, and so on
8:00 p.m. - dinner, Netflix, bills, dishes, sometimes revision
11:00 p.m. - read in bed
midnight - sleep, unless there's a lunar eclipse or an ISS pass to watch
As I looked at this daily timeline and waited for my peers to share their schedules, I worried that 1) I don't spend enough time writing poetry and creative nonfiction, 2) I don't read as much as I should or as much as I want to read and 3) I sleep too much.
Of course, teaching and service to my university rightly feel like immediate day-to-day tasks for my paycheck. But when I'm considered for a raise or promotion, the university where I teach weighs my scholarly and creative production at 50% of the evaluation, with teaching following closely at 40% and service at a mere 10%. I'm not spending 50% of my time or effort writing and reading, at least not during the semester (and my schedule during academic breaks is not as radically different as most people assume). In other words, I'm not scheduling myself to be brilliant enough.
It turns out, though, that most other women writers probably aren't able to have a "brilliant" schedule like Balzac's or Mozart's either.
Paulette Livers reports eight hours of writing time per day, so no wonder her new novel is just out with good reviews from the likes of Publishers Weekly, Kirkus Review and Booklist. But that's deceiving because, like most of us, her so-called writing time is woven through with all sorts of other tasks, like gardening, home repair and household chores as well as activities like reading that are related to writing.
Among the nine of us, three hours per day is the average time spent on writing, with a couple of writers seemingly not writing at all. These non-writing writers, like Victoria Chang, probably write during snippets in their days, on weekends or perhaps at artist residencies -- on days during which their typical schedule doesn't hold. And for those of us who are also professors, like Claudia Emerson and Aimee Nezhukumatathil, we tend to alternate class preparation and writing days, so we have two different versions of a "typical" weekday.
Most of us read for an hour or so per day. Mary Biddinger, who actually reads a lot as an editor, reported evening reading time with her son, not to her son, but an hour during which they each read their own books. Several of us, including Rebecca Makkai and Leslie Pietrzyk, read before bed, after nothing else is so pressing that it can't wait for tomorrow or after our energy is so spent that we can't produce sentences ourselves but can still focus our eyes. For me, reading at bedtime immerses my mind in words and paragraphs, instead of my things-to-do list, and I drift off wanting to write.
Surprisingly, none of the writers with whom I corresponded, severely deprive themselves of sleep. But neither did the brilliant dead white men. Of course, one of the mothers of young children reported six hours of sleep, only occasionally more. As I suspected, I sleep the most -- usually 9.5 hours, though that now includes frequent perimenopausal insomnia and occasional sky-gazing. Most of us get roughly the tried-and-true seven or eight hours of nightly rest, and studies show that sleep matters over the long haul of a writing -- or any other -- life.
I'm still trying to figure out the relationship between brilliance and daily routine and how gender fits in. What I have concluded already is that I'm not a dead white man of days gone by, and neither are eight of my women writer friends. We aren't Maya Angelou either, but we're making it work in ways that resemble her schedule a bit more closely. Our schedules, though, are more like each other's than anyone on the poster of creative routines. Writing for publication is hard, rewarding work and not our only work. I'm happy to have a life into which this work fits -- in which it matters at all -- and to be in this company of brilliantly mis-scheduled women.
Popular in the Community