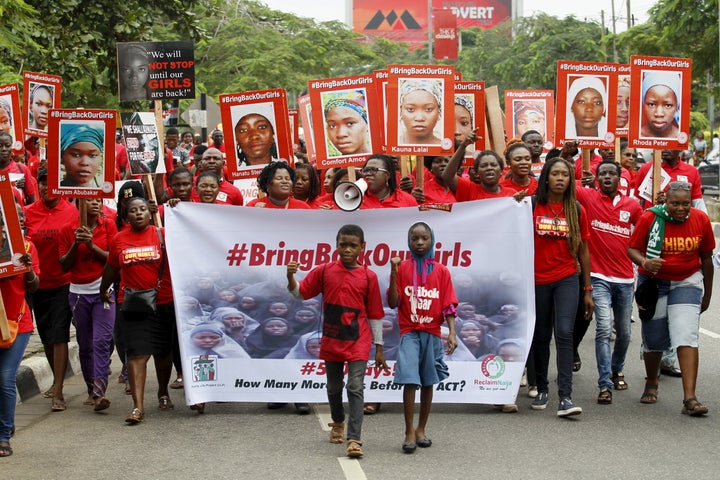 Every week, we bring you one overlooked aspect of the stories that made news in recent days. You noticed the media forgot all about another story's basic facts? Tweet @TheWorldPost or let us know on our Facebook page.
A young girl strapped with explosives was apprehended in Cameroon last month, one of dozens of children sent by Boko Haram to carry out suicide attacks in the past year.
She had another disturbing claim: she was one of the missing schoolgirls from Chibok, Nigeria.
It was the closest that Nigeria had come to recovering any of some 200 girls kidnapped on April 14, 2014. But the Nigerian military soon determined that she was not actually from Chibok.
She is instead one of the other girls captured by Boko Haram -- the countless number of child captives whose names and stories are unknown outside of their isolated and marginalized communities.
The few details known about her were provided by the Nigerian military: She is 12 years old and was abducted around a year ago by Boko Haram in Bama, Nigeria, a town about 120 miles from Chibok.
"Bama is now deserted -- when those abductions took place, a lot of people were killed and fled," said Aisha Oyebode, the CEO of Nigerian nonprofit Murtala Muhammed Foundation, which is trying to get custody of the girl from the Nigerian military and track down her family. 
"We are hoping someone, somewhere knows this girl," she said.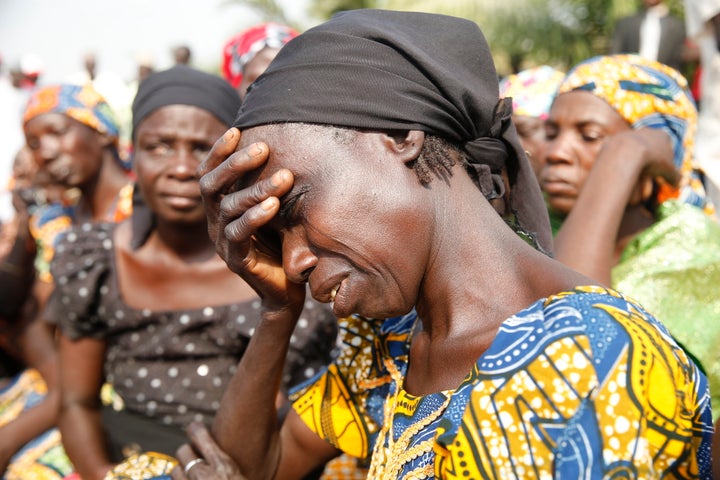 Human rights groups estimate that some 2,000 people, most of them women and girls, have been kidnapped by Boko Haram since 2009. But there is no comprehensive tally of the disappeared, and some research suggests the total number could be much higher.
The news trickling out of northeast Nigeria makes one thing clear: many, many other girls have been kidnapped since Chibok. 
And so the kidnappings continued, on and on. Despite military progress against Boko Haram in the past year, reports of kidnappings have not stopped. Just last month, local police told Agence France-Presse that 14 women and two girls were kidnapped by Boko Haram fighters when they were out collecting firewood and fishing near the village of Madagali.
"The Chibok girls are only a tiny percentage of the thousands of children and women abducted by the insurgents," Nnamdi Obasi, the International Crisis Group's Nigeria analyst, wrote this week. "But there have been countless other incidents where unnamed thousands have been abducted, brutalized, sexually violated and shared out as 'wives' to insurgents."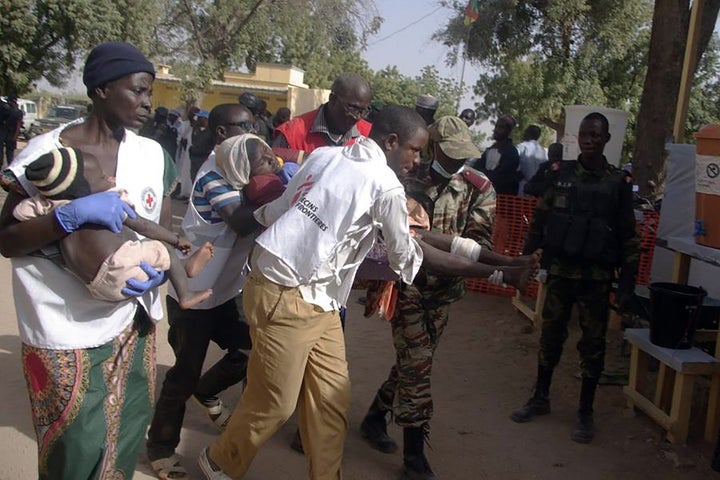 Researchers say it's incredibly hard to establish a comprehensive figure of all Boko Haram abductions. Local officials, witnesses and media reports often provide widely varying numbers. Many abductions are not reported at all, in part due to the poor communications infrastructure, and the political and geographic isolation of Nigeria's northeast. On several occasions, parents also said they were too afraid to contradict the government after authorities denied a kidnapping had taken place.
Nigerian authorities are much more keen to make it known when they recover kidnap victims. While they infrequently acknowledge the missing, Nigeria's military regularly reports rescuing hundreds and even thousands of captives from Boko Haram custody.
Part of the reason for the inconsistent figures may also lie in the chaotic nature of the Boko Haram insurgency.  In 2014, the group tore through northeast Nigeria, capturing villages and towns, and taking their inhabitants hostage. The armies of Nigeria and its neighbors have retaken much of this territory, but have not been as effective at securing it from further attack. Some areas have reportedly changed hands several times. Much of the population is scattered in camps in the region and in neighboring countries. Tallies of the captured, the missing, the hostages and the dead may get conflated amid the chaos.
But International Crisis Group's Obasi argues that the Nigerian government has a responsibility to establish the fate of its citizens. "Nigeria urgently needs detailed documentation of all those seized over the years – indeed, of all missing persons – and government must accept that it has a responsibility to account for them," he wrote.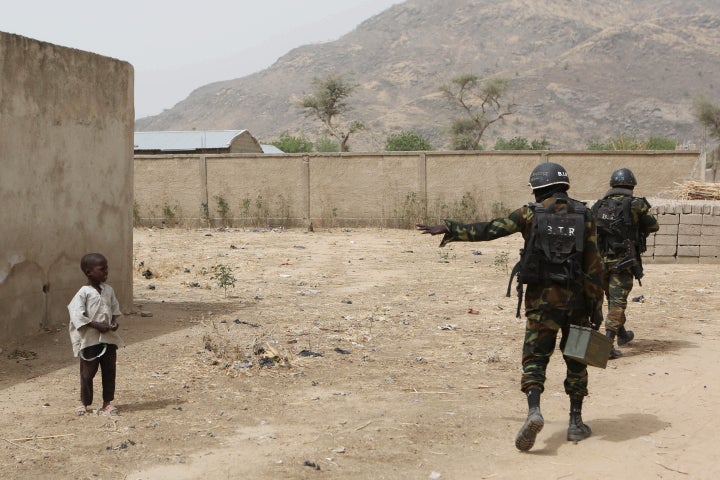 Chibok wasn't the only, or even the largest, Boko Haram kidnapping, but it was unique in certain ways. The girls captured from their dormitories at the Chibok boarding school that night came from communities around the region, many whose own schools had shuttered due to Boko Haram threats and attacks. The school in Chibok had opened specifically so they could take their exams.
The lackluster reaction of former Nigerian President Goodluck Jonathan to an abduction of such scale prompted outraged Nigerians to take to the streets demanding the government "Bring Back Our Girls." The protests eventually caught international attention, prompting pledges of support.
The Chibok girls became a symbol of even greater problems: for the international community, the necessity of supporting girls' education in the face of religious extremism; for many Nigerians, the government's failure to protect its most vulnerable citizens from Boko Haram.
And the Chibok girls appear to have become a crucial propaganda and bargaining tool for Boko Haram itself, which is reportedly in talks with the government to free the girls in exchange for captured fighters.  
"There have been several other abductions, but none is as symbolic and taken as seriously, even by the captors, as those of the Chibok girls," Ahmad Salkida, a Nigerian journalist reported to have strong sources inside Boko Haram, wrote on Twitter. He said Boko Haram regards the Chibok girls and a few dozen others as their "real captives," while the others can be abandoned when under attack. Several women who escaped Boko Haram have reported that the Chibok girls were well-known and given special status among the captives.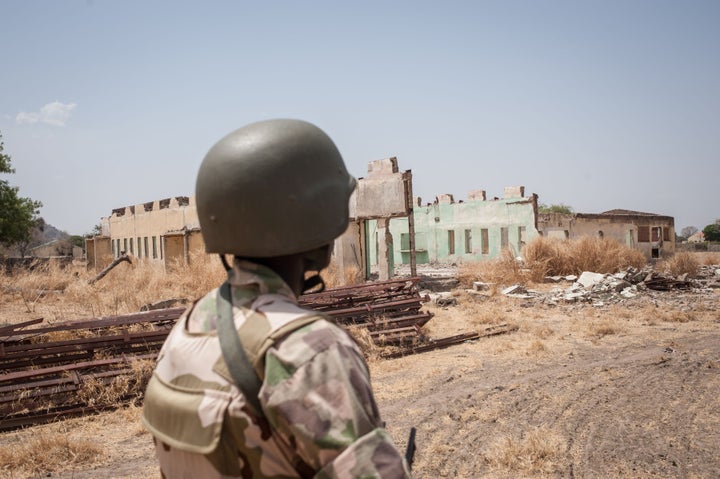 The parents of the Chibok girls had conflicting emotions when the girl stopped in Cameroon last month turned out not to be one of their missing children, Oyebode, whose organization works with the families, told The WorldPost.
"It was very, very traumatic for the Chibok parents," she said. "There was both disappointment and relief, as they can still hope that their daughters are not among those being used as suicide bombers."
This week, some parents of the Chibok girls caught sight of their daughters for the first time since 2014, after CNN obtained a "proof of life" video of 15 girls apparently recorded in December.
As the families begin a third year without their daughters, they "get a feeling of sadness, as they count the days and are confronted with the reality of the daughters' absence," Oyebode said.
Beyond Chibok, many other parents in northeast Nigeria are dealing with the same grief.
More Coverage Of Bring Back Our Girls: 
Calling all HuffPost superfans!
Sign up for membership to become a founding member and help shape HuffPost's next chapter
BEFORE YOU GO