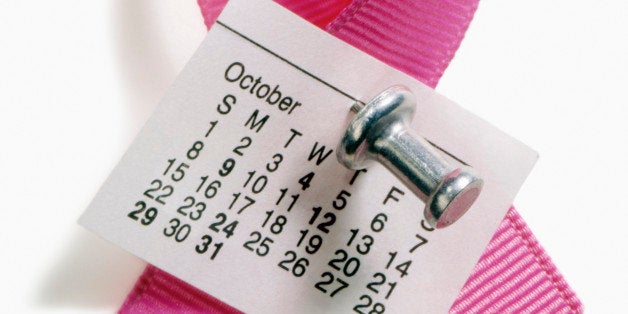 I love October. After all, it's my birthday month. As a child, as soon as Oct. 1 appeared on the kitchen calendar, I would begin my countdown to the 30th day of the month, anticipating presents, surprises and comforting traditions like my special birthday cake. Adorning the whipped cream frosting were the candles, nearly masked by a dozen vertical chocolate rabbit ears surrounded by a chocolate marquis with bright red letters "Happy Birthday Nancy."
It was the second month of my arrival in kindergarten, when my teacher, in honor of my birthday, chose me as the celebrated leader of the traditional Halloween Parade. Each pint-size child, adorned in hand-made costumes, would traipse throughout Baldwin Elementary School visiting each classroom, as their proud parents joined them. It didn't matter to me that my costume was a hand-me-down from my third grade sister; I was a lucky girl to be born in this special month of October and even doubly blessed to have a birthday on Doorbell Night!
After consuming my second piece of birthday cake and six chocolate rabbit ears, I would give my dad the "look" and this began his yearly doorbell night speech to my mom, "C'mon Antoinette, let them have some fun -- it is Nancy's birthday." After padding us down for doorbell night contraband -- soap, eggs and toilet paper -- my mom reluctantly released her four children into the wild to take part in the devious ritual of ringing doorbells. My siblings and I would go door to door, taking turns ringing a doorbell and running like mad hoping to find a tree or bush to hide behind. Cupping our hands to our mouths to keep the laughter from escaping our bellies, we witnessed our modest neighbors appearing at their front doors in bathrobes, slippers and curlers. My siblings were deeply grateful to me that my birthday fell on doorbell night, otherwise they would not be able to exchange doorbell night stories on the bus ride to school the following day, passing soaped car windows, egged houses and telephone lines donned with toilet paper.
October is the month when my favorite season of autumn is ushered in. Living in New England, I have an unobscured front row seat to view the changing of the leaves with their spectacular hues illuminated against a cobalt sky. As a child, replacing my shorts and bathing suit with sweaters, gloves and boots signaled October was here. Macoun apples and pumpkin pie were added regimens to my daily spoonful of cod liver oil. There were so many reasons why I loved October -- it just was a great month.

It wasn't until I was diagnosed with breast cancer in 2004 that my affinity with October changed as my cancer was missed by years of mammography screening, thus delayed and advanced upon discovery. It was only after my diagnosis did my half-dozen physicians reveal that my cancer was hidden for years because mammography is limited in dense breasts. October became Breast Cancer Unawareness month to me -- as there was barely any "Awareness" about the decades of research on the risks and screening challenges of dense breast tissue. While there were discussions about over-diagnosis due to screening, discussion about under-diagnosis did not exist as dense breast tissue is the strongest predictor of the failure of mammography screening to detect cancer. There was no awareness that women with dense breast tissue are 17 times more likely, when compared with women with fatty breasts, to have an interval cancer -- cancer detected within a year of their "normal" mammogram and that high breast density is an independent risk factor for breast cancer. The medical and cancer community were silent about the harms of dense breast tissue until patient voices began to expose these tragic but common "real life and death stories" of cancers missed for years by mammography because of dense breast tissue.
The outrageous pink items that make us more "aware" or the marketing ploys with promises that proceeds will benefit breast cancer research annoy me. What are most offensive however, are the false and outrageous headlines and statements from those that should know better. "Breast Cancer doesn't have to be a death sentence -- you just need the right treatment" was one of the headlines this October. Was this physician not "aware" that women and men who follow all the established protocols from prevention strategies, to screenings, to treatment die from breast cancer?
Personal advocacy is powerful. Social media and blogging have given patients and health care providers louder voices to reach a global audience. Advocates are illustrating the realities of breast cancer, compelling the public to see beyond the pink ribbon.
Since my diagnosis, I am thankful to live through 10 Octobers as Breast Cancer Awareness Month, adorning more birthday candles on my much healthier adult birthday cake. I am grateful for more "attuned" ears during Breast Cancer Awareness Month as it results in more attention to the disease, increasing speaking and media opportunities. So, bring it on -- all 31 days -- as patients and advocates use their narratives to educate about breast cancer and its risks to improve prevention, screening, treatment, and research outcomes, particularly for those with metastatic disease.
Breast cancer ranks second to lung cancer as the cause of cancer deaths in U.S. women. It is a serious public health issue. Let's use every opportunity to improve quality of life and reduce deaths by bringing Awareness to Measurable Actions -- during October -- Breast Cancer Awareness Month and beyond.
Popular in the Community