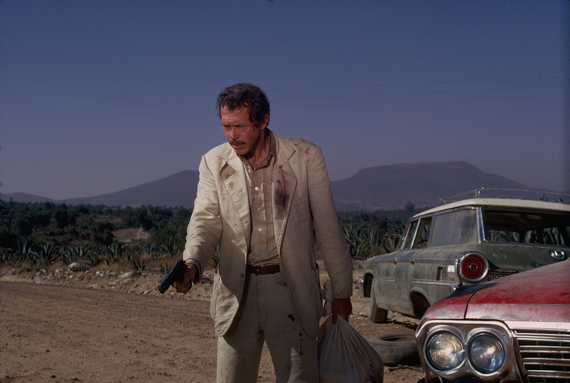 It seems like every generation has a director whose movies are considered "too violent." Today it's Quentin Tarantino. Before that, it was Brian De Palma. And before that, it was Sam Peckinpah. From March 31st through April 7th, you have a chance to evaluate Peckinpah's work for yourself with a career-spanning retrospective at the Film Society of Lincoln Center.
Peckinpah started out making traditional westerns, but gradually his films became more violent--and his outlook on life more cynical. His typical anti-hero is an aging male loner whose old-fashioned values are no match for rapidly changing modern society. Some highlights from the festival:
Ride the High Country (1962). Peckinpah's first great western, and the first to address the themes of aging and obsolescence. Starring old school movie cowboys Joel McCrea and Randolph Scott, in his final screen performance.
The Wild Bunch (1969). The film that put Peckinpah on the map, and also ignited a storm of controversy. Like Bonnie and Clyde (1967), it ushered in a whole new level of cinematic violence. Like McCabe and Mrs. Miller (1971), it's also one of the greatest anti-Westerns ever made. And just look at that cast!
Straw Dogs (1971). Shy mathematician Dustin Hoffman is pushed too far and goes on a bloody rampage. Susan George's rape scene is still controversial, and led to charges of misogyny. Tootsie this ain't.
Pat Garrett and Billy the Kid (1973). Wanna see Bob Dylan as a laconic, knife-wielding cowboy? Sure you do! Dylan also did the soundtrack: "Mama, put my guns in the ground/I can't shoot them anymore./That long black cloud's comin' down/I feel I'm knockin' on heaven's door./Knock, knock, knocking on heaven's door..." Oh, James Coburn and Kris Kristofferson are in there as well.
Bring Me the Head of Alfredo Garcia (1974). Movie critic Gene Shalit famously joked "Bring me the head of the studio that released this one." But Garcia's reputation has outlived Shalit's. Over-the-top violence, black humor, and a duffle bag with a severed head in it. A big influence on Quentin Tarantino.
Convoy (1978). Okay, not a great movie. Drinking and drugging were taking their toll on Peckinpah. But it does capture the CB radio craze. (Kids, ask your parents.) Based on a 1975 novelty song recorded by C.W. McCall: "Come on and join our convoy/Ain't nothin' gonna get in our way./We gonna roll this truckin' convoy/'Cross the U-S-A./Convoy!"
Late in his life, Peckinpah expressed regret for the amount of violence in his films. He wanted to shock his audiences, not entertain them. Like his movie heroes, his own old-fashioned values were no match for rapidly changing modern society.
All films are shown at the Walter Reade theater. The Walter Reade is located at 165 West 65th Street in Manhattan.
REAL LIFE. REAL NEWS. REAL VOICES.
Help us tell more of the stories that matter from voices that too often remain unheard.