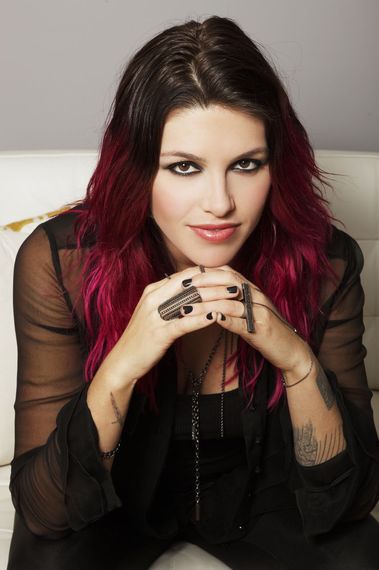 Want to know more about the sexy beauty from The Real L Word? No? Maybe you think you know her already. I certainly didn't. As someone who never saw The Real L Word, I know less about Lauren Bedford Russell than many of you do (or think you do), I imagine. When I got the chance to interview her recently, I was excited. I knew that she was a lesbian. I knew she was dating Kiyomi McCloskey (in fact, Lauren was sitting on the couch in the background when I interviewed Kiyomi last year). I knew she was smoking hot. But that was it.
As a crack journalist, I set about researching her. Or, rather, as a blogger, I grabbed a craft beer and my laptop. I learned a few things before talking to her. She is a successful and talented jewelry designer. She is charitable. And, did I mention the smoking hot part? Well, after I talked to her I also learned that she is very smart, an extremely hard worker, passionate about giving back, grounded. And, funny! Allow me to share...
My first question of course was laser-specific, given my journalistic experience:
Wow, that's a pretty open-ended question. I am not sure how to describe myself given the choice. Usually people try to define you, rather than giving you the chance to do it yourself...
I sit silently, wanting her to take her time. I make a note to always include this question!
The most important thing is -- if I had to pick one thing about myself -- every year I am changing to be a better person. The last three to five years I have evolved. True evolution started when I began to travel, backpacking by myself. Every year, I am evolving and becoming a different, better person. Characteristic wise I am very loyal, I stick to people and I don't let them go. I am from La Jolla, and went to college at University of Arizona majoring in communications (they didn't have a jewelry major). I went to the GIA [Gemological Institute of America] a few years later. I realized pretty soon that jewelry was my thing. My first job was at a jewelry store in Beverly Hills. I lived in LA. Then New York for four years, and back and forth. It was a long process to figure out where I wanted to live. [She finally settled on NY and lives in Brooklyn.] My jewelry line is going really well. I am still with Kiyomi.
Do you identify as any particular kind of lesbian? A Femme?
I look way more feminine than I feel inside. I can't really classify myself. I am not the most emotional person. Not that femininity goes with that, but I guess stereotypically it does. I am pretty independent. I don't really have a type. I have dated really feminine girls and more typical tom girls.
Why jewelry? Do you just wake up one morning and decide, I am going to design a kickass pair of earrings today?
I started actually designing (not just working for a jewelry company) about a year before moving to LA (from New York). At the time I was working for Ivanka Trump Fine Jewelry. I really launched my line when I moved to LA. It didn't take me long to design the first collection, start up the website, open my business. We did a kind of re-launch just for the TV show, and they were great featuring the line big time in the first episode.
It's a boutique line, and there's a nice price range for anyone, from $35 up to $8,000 or more. Custom rings can be whatever price the design requires. But the customer can get an amazing custom piece for as low as $2,000... My favorite part is working with the client to design something for them. It's fun. And I make them pretty quickly.
Your work has a decidedly sexy aesthetic -- the chains call to mind bondage. Talk to me about that.
The first thing that was important for me what to design the line to be in an area that hasn't been done before, or not that much. It has sparkles, but it can be dark. Black rhodium, black diamonds. [Like her Beaujolais Ring, pictured below.]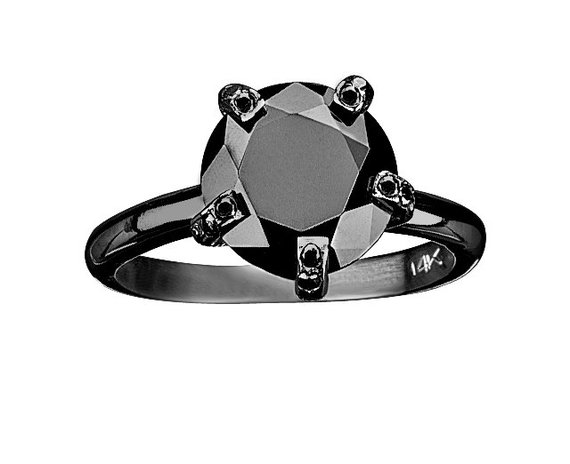 Designed to go with the clothing that I wear, edgy, black, leather, chains. I don't overdress, but it's about looking cool and edgy. I wanted to make jewelry that would go with that. A niche. I started with that. The chain idea grew as a main staple. The signature of my brand is the chain. It's timeless. Seems to be pretty popular. Now, I am starting to incorporate a lot of yellow gold and rose gold. I am working to expand the line to include those -- there will be new designs and also just variety on some of the existing jewelry.
You use really unique city names, how did you decide to do that? Do you love to travel? Is each city important to you?
A lot of the city names started out as cities that really meant something to me. Either I have been there or had a nice experience there. Some are places that I want to go in the future. I am really proud of that. Even the name of the line, my dad's middle name, is a city in France.
Like "lee-own" but I spell it like the city, Lyon.
Ah, gotcha. What does your dad think of that?
He's cool. He's had a pretty amazing life so I am happy to celebrate that and include him in the business.
Your line is unisex. And there are a bunch of pieces that I would wear. Do you find your pieces appeal to lots of butches?
That was a goal for my line to make sure it was unisex. Some of the pieces of course cater to women. A lot of the rings go both ways.
Like bisexual rings, I should have asked.
That was definitely a goal for the line. I am continuing to work on the masculine choices. Skulls have been done a lot, so I've stayed away from them.
Do you have a famous butch or celeb that you would like to see wearing your pieces on the red carpet?
Johnny Depp. He has an awesome style. P!nk bought my black diamond body chain from Kiki de Montparnasse Soho(NYC) recently. That was awesome. It was a dream come true. Hopefully she will wear it soon in public! But maybe it was a piece to wear in private. Laughs.
Let's talk about the charity pieces. How do you decide who to benefit? Do they approach you?
I have approached each and every one of them. I started off with the Equality Bracelet. And then I started getting in to it more and more because it turned out to be one of my most favorite things to do. Next will be a bracelet for the AIDS organization Until There's A Cure. And then, after that I am going to do one for Autism. My half-sister is autistic, and I also get so many requests for these. I have a soft spot for animals so the ASPCA was an easy choice. The Eternity bracelet benefits the ASPCA. The National Multiple Sclerosis Society is pretty awesome about being involved in the Positivity bracelet, and I am sending them a bunch of bracelets to use for their fundraising efforts at the Maryland chapter. A black positivity bracelet is coming (normally it's orange).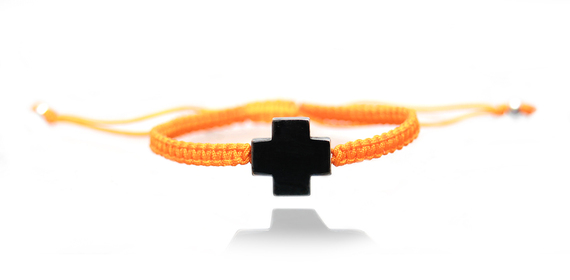 I did one for Obama that was called the Forward Bracelet. The campaign came to me to ask if I wanted to do it. Also, there's the Rock the Vote bracelet. I am very interested in keeping that going. It is my passion.
How much jewelry is too much? (I ask quietly counting all I have on (a multitude of earrings, watch, several cuffs, my wedding ring, and a necklace)
There are a couple of rules. If you are wearing a really big piece -- necklace, bracelet, or ring -- that should be the main attraction. Everything else should be little. If you are just wearing little pieces, then go according to your style. Some people's style is to wear lots. If you are walking out the door and you are questioning, then take something off. It's up to your own personal instinct. Less is more. I love bracelets, though. I have always stacked them on my arm, I can never have too much of them. When I backpacked by myself I bought a braided or beaded bracelet in each city or town and didn't take it off!
OK, are you ready for the lightning round of questions?
Mind block, can't remember the name of it.
We played describe-it-to-me-and-I'll-see-if-I-can-guess to no avail. Is it a green bottle, does it have a big white and red label, etc., until, she says...
I found it! You are going to laugh. Becks Light.
What would you drink if you were out?
Tito's Vodka with cranberry juice.
Oh, you don't have Tito's on the West Coast?
I say something pithy like "Uhh, I don't know. We might, I'm not really a vodka drinker." The answer is that we do. It is a small batch-like vodka made in Texas, and you can learn about them here.
That's hard. I am such a sweets person. Cookies. Chocolate chip. Warm.
That's hard, too. Considering I just read the book Lone Survivor [by Marcus Luttrell]. It was excellent, amazing, I recommend it to everyone. The movie was just out with Mark Wahlberg, I asked people about it, and there are made-up parts that are not in the true-story book. I hate that. Because of that, I will say books.
Way more likely to wear a dress. But some kind of dress with a bunch of fringe hanging off it and black. With combat boots. From Kill City in LA. Vintage. Mine were probably worn by a dude for 20 years before me. I don't think they sell vintage boots anymore there. It's all new clothing designed by them.
Paper because you can recycle it better.
What else would you like people to know about you?
I would say that I am probably a lot different than what they think. If you watched the show, you didn't see a lot of me. It doesn't show who I am. I probably work a lot harder than people think. I work all the time. Around the clock.
That makes me wonder, so I ask: How long does it take you to design a piece?
From sketch to finished product takes about a month. I design it, then someone else does the casting. I make alterations. And we go back and forth until it's perfect.
What is your favorite piece from the line? Do you wear your stuff??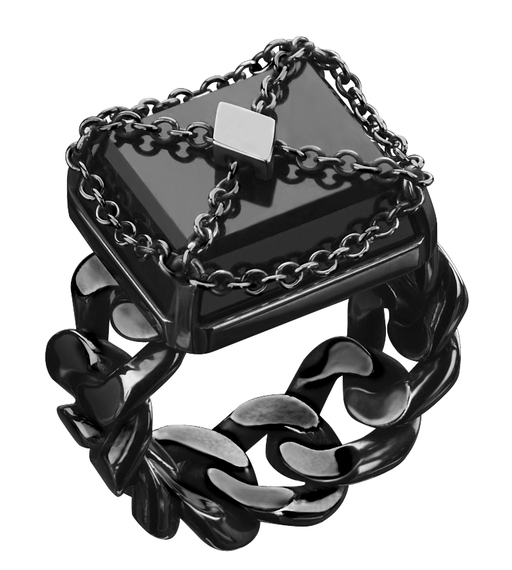 La Nouvelle Orleans [pictured] is my favorite.
Mine too! It's very butch.
And, yes, I wear my stuff all the time, every day!
---
Maybe you should too. Lauren Bedford Russell is a delight. She is giving back in all sorts of ways. And her work is gorgeous. What more could you want?
Oh, and Lauren sent me the Equality Bracelet (in red) so that I could see her craftsmanship (craftswomanship? craftspersonship?) up close. It's Butch to design jewelry like Lauren Bedford Russell does. Be Butch.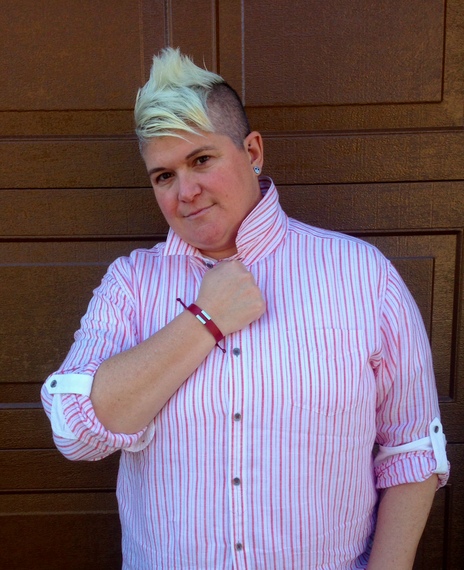 Calling all HuffPost superfans!
Sign up for membership to become a founding member and help shape HuffPost's next chapter