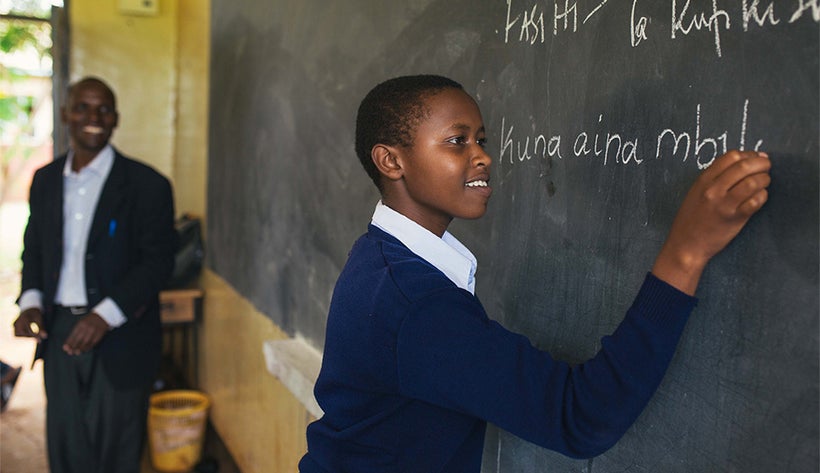 Completely Rethinking How We Approach Poverty Eradication & Secondary Education Globally
Recently, I was introduced to a game-changing non-profit, The School Fund (TSF), here in Silicon Valley that is completely disrupting how to fund and provide secondary education across the developing world. Their approach is simple — crowdsource the funding needed to send kids to secondary schools (middle and high school) in the developing world and partner with local organizations on the ground to select high potential students and ensure proper program execution. The entrepreneurial spirit of seeing barriers and breaking them down, of being lean, nimble and responsive to local needs is embedded throughout the TSF model in everything they do and everyone engaged in their cause. "I have worked on education issues for many years and was initially attracted to the direct approach TSF uses to help students overcome the financial barriers that stand between them and their education," remarked Tim Carlberg, Principal at the Skoll Foundation and TSF Board Member, "TSF is the Kiva of global education." Started 6 years ago by Matt Severson, a former Google Senior Associate and Business Development Manager at X — The Moonshot Factory, TSF started as a personal passion and has sparked a global movement providing schooling to over 1100 kids and collecting a number of best practices along the way. What I appreciate most about their work — beyond the broader impact they are generating — is the transparency, simplicity of engagement and how personalized it is. You go to the website, select a student or partner to support and donate. They also ensure 100% of donations collected go directly to funding student scholarships not their overhead as is the case with so many NGOs and government run efforts. "We are always asking how can we improve, how can we scale and adapt our efforts to support the broader needs of our partners. We look at everything through a holistic lens and are keen to solving the problems of education globally by supporting the entire community and every stakeholder in that eco-system (parents, teachers, community leaders)," noted Louis D. Lo Praeste, Executive Director of TSF. This kind of thinking and approach is not the norm in the non-profit world and as someone who has worked with global NGOs for two decades now, I can honestly say that we only need more of this mindset if we are ever to solve the world's challenges.
"I'm passionate about tackling poverty and developing the next generation of global citizens who are engaged with the world, finding solutions to the world's most pressing needs. Education is at the heart of this work and something so fundamental, it is often something we take for granted here in the west. We created The School Fund to address the global education crisis. We provide scholarships through a crowdfunding model to high potential students across the developing world and engage local partners who are on the ground...this is how you generate lasting impact and change." — Matt Severson, Founder, The School Fund
Thinking Differently & Solving the Global Education Deficit is Critical Not Just for Kids Around the World, But Our Kids as Well...
We all should support the scaling of efforts like those of TSF now if we are ever going to seriously address the growing global education deficit. Not just because it is the right thing to do but because our kids will inherit all of the problems associated with the massive lack of education in the developing world. From stunted economic development and upward mobility to its impact on resiliency levels, public health issues and our broader global security; lack of education globally is an issue that rarely gets enough attention but is one issue we can solve if we come together in new and different ways that actually work and leave a sustainable impact. This past June UNESCO released their latest Global Education Monitoring Report as part of their tracking and reporting on the Sustainable Development Goals (specifically Goal #1 and #4) related to poverty eradication and education globally. The results of the report are sobering, especially when it comes to secondary education:
264.3 million children, adolescents, and youth are out of school
62 million are adolescents of lower secondary school age (12-14)
141 million are youth of upper secondary school age (15 to 17)
Most disturbing beyond the staggering numbers is that the out-of-school rate has not budged since 2008 at the primary level, since 2012 at the lower secondary level and since 2013 at the upper secondary level. And as the report shares, the consequences are grave: if all adults completed secondary school, the global poverty rate would be more than halved. And progress on these issues has essentially stopped for the last eight years.
Preparing the Next Generation of Global Citizens & Social Entrepreneurs
Amidst the great and growing need for education globally, we also have an opportunity to engage and prepare the next generation of American kids to be global citizens and social entrepreneurs by connecting them to efforts like those of TSF. As Tim shared, "As I've gotten to know more about TSF's model for change, I've grown to appreciate its potential to help expose students in North America and Europe to the challenges faced by their peers in lower income countries around the world. In doing so, TSF is helping to educate the next generation of global citizens." By connecting with efforts like TSF, we unlock opportunities for our kids to make a difference in their peers lives around the world and for us as parents and educators to also learn while bringing the world into the classroom. We need to do more of this so we can prepare the next generation to be effective global citizens who are educated about the world, engaged with the world, and prepared to do something meaningful in and with the world one day. We live in a global world, no matter what the current political rhetoric espouses and in the West we don't do enough to educate our own kids about global issues and challenges. When you connect with kids around the world and hear their stories, you are forever changed and compelled to do something. I felt that way the first time I visited a slum in South Africa years ago. And once you know, you know and are forever changed. So the question is, what will you do because now you know. The needs are simply too great to ignore.
Calling all HuffPost superfans!
Sign up for membership to become a founding member and help shape HuffPost's next chapter
This post was published on the now-closed HuffPost Contributor platform. Contributors control their own work and posted freely to our site. If you need to flag this entry as abusive,
send us an email
.