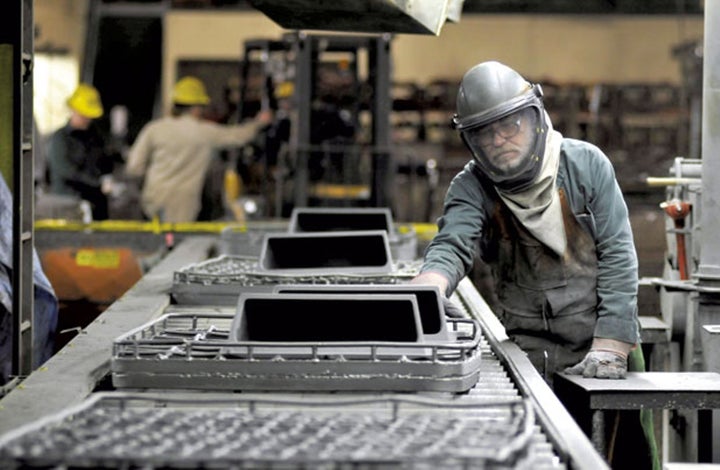 The next President of the United States needs to abandon his promise to bring back jobs of the past and concentrate on preparing the nation for the jobs of the future. It's the only way to truly make America great again.
More than 30 years ago, Bruce Springsteen sang about a struggling American Main Street in the face of tough economic times in My Hometown.
"They're closing down the textile mill across the railroad tracks / Foreman says these jobs are going boys and they ain't coming back…"
Over the subsequent decades, there have been hints of recovery but for the manufacturing sector in the rust belt, it hasn't gotten anywhere close to where it was in the…well, glory days, to borrow once again from The Boss.
So is it any wonder that at the core of the movement that swept President-Elect Trump to the White House were rural, blue-collar, workers from Michigan, Ohio, and Pennsylvania who were desperate for a message, any message of hope. And when they heard the Republican nominee promise to bring back good manufacturing jobs, it was enough to break with traditional voting patterns and reach out for that economic lifeline.
The only problem is, without a functioning time machine, bringing back manufacturing jobs is an impossibility not even someone who can single-handedly defeat ISIS could pull off.
The very phrase "make America great again" implies some kind of reset to a time long since passed. A mission to restore America to a previous default setting where American economic superiority was without peer, factories and manufacturing plants were humming, and jobs were plentiful for anyone who wanted one.
But as outsourcing, downsizing, and offshoring became the norm, the American working class needed someone to blame and there was no shortage of credible targets. There were the greedy corporate executives and fat cats in Washington who sold them out with unfavorable trade deals.
What many failed to notice was an evolution in global manufacturing that saw automation play a bigger role. In a recent interview with USA Today, Michael Hicks, an economist at Ball State University, noted that there is no one villain to blame for this global manufacturing transformation.
He estimates "80% to 90% of the manufacturing jobs lost in the U.S. since the peak in 1977 have been because of productivity gains —- not because of trade deals."
Hicks believes that there is no foreseeable path to restoring manufacturing in this country to its previous state. "Even if manufacturing exploded, there's no reason to suppose that the new factories would look anything like the ones even from 2005."
That's because the rate at which robotics and automation are penetrating just about every facet of industry is growing exponentially. It's little wonder given the cost-effectiveness of using robotics. According to a recent piece in Technology Review, "Boston Consulting Group reports that it costs barely $8 an hour to use a robot for spot welding in the auto industry, compared to $25 for a worker—and the gap is only going to widen."
In a recent Fortune Magazine piece, CEO of Xerion Investments and policy analyst, concurs with the robotics-centric vision of the future.
"The problem is structural. Jobs aren't being replaced by cheaper ones somewhere else; they're being eaten by microchips and smart software executing ever more sophisticated tasks without human intervention. And it's not just blue-collar robots: The latest "deep learning" artificial intelligence software fully anticipates and executes complex tasks, like driving, grading college assignments, autonomously flying drones, debugging new microprocessors, and even running entire telecommunications networks from the cloud."
In the face of this sweeping change, President-elect Trump can no sooner being back manufacturing jobs than he can the horse and buggy industry or Victrola producing jobs.
So what can he do?
It is more than a little ironic that the man who so desperately wants to bring the country back to a 1950 economy is the person with the responsibility to prepare it for the 2050 economy.
There are signs jobs will be plentiful in the future, if we train and prepare for it. That means investing in technology, innovation, and, as much as Republicans will hate to hear this, renewable energy. There's no denying that a growing job sector is in the renewable energy field. A 2016 study found that in the U.S., "renewable energy jobs increased by around 6%, while employment in oil and gas extraction (and support activities) contracted by 18%."
The next President of the United States needs to abandon his promise to bring back jobs of the past and concentrate on preparing the nation for the jobs of the future. It's the only way to truly make America great again.
Calling all HuffPost superfans!
Sign up for membership to become a founding member and help shape HuffPost's next chapter
BEFORE YOU GO