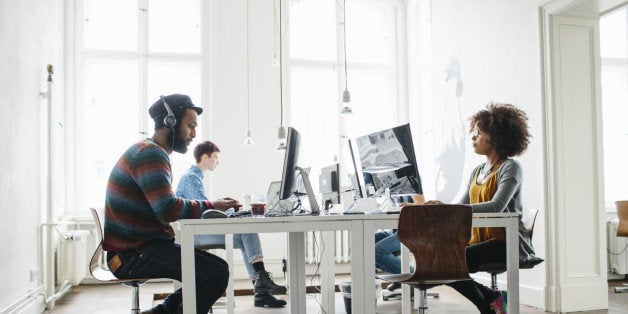 Bringing Big Company Culture Wins to Smaller Teams
Company Culture and its impact on companies bottom line is not a new area of discussion. It's a core focus for larger companies like Google and Facebook, of which they attribute a large part of their success. It's also brought into the discussion when companies end up with questionable practices, like when Volkswagen engineers took the freedom to rig diesel engines to bypass pollution-monitoring devices last year.
No matter your business or it's team sizes, it goes without question in today's working age that culture matters. Bottom line, if you are consistently having problems with your people, the environment and culture you have created are probably the best places to start. It's a foundational element to expanding your company in today's world.
It's easy to look at companies like Google who offers free gourmet food, let's you bring your dogs to work, and an ability to take off up to 3 months a year and struggle to be able to do that with a smaller more dependent team.
But that doesn't mean you can't be just as creative and giving to your company culture, creating a more productive workflow, trustworthy environment, and a place where workers want to be. Which, by default, increases your profits, despite the cost.
Address what's bringing stress to the work environment.
No workplace is a happy place 100 percent of the time, but that doesn't mean that taking the time to make it a better place is worthless. Seeing stresses in your team and starting conversations with them on what can be done as a group to improve the environment doesn't just give team members an opportunity to be heard, it allows you to solve problems creatively, or openly communicate as to why things need to be the way they are. This lowers frustration in the work environment.
Learn what's bringing them stress in their personal lives.
Benefits like extended maternity leave, flexible work schedules, and rides to work aren't just random perks thrown at workers just because they sound like a good idea at the time. They exist to address very real things that add stress to their lives.
The morning commute sucks? Providing a shuttle while potentially being a daily cost, may lead to employees showing up less stressed, less tired, and ready to tackle more challenging tasks earlier in the day.
Having people calling out or leaving halfway through the day for an individual or family matters? Implementing flex time or work at home program might be the solution. If your workers are worried about who's going to get their kids to school in the morning every day, their concerns are likely to bleed naturally over and affect their work.
Build in more responsibility and freedom.
Helping others feel heard further than having an open door policy or even having a place where they can submit suggestions. It starts in having conversations and working together to address concerns. Giving team members an ability to work on their ideas and then creatively express how they may improve the company gives them an opportunity to feel not only heard but instills responsibility and trust. When you give that power to someone, they can show their respect and drive for the company.
When it comes to managing a team or a business, it's the owners or managers job to inspire, listen, and support that team. It goes much further than making sure the work gets done on time.
Company culture starts from how you address the people in your business or team. It's much more than making work a great place to be, but how you as a company or team leader can compliment and improve the lives of your team members.
Now more than ever workers are asking employers to step up to the plate. Not just because they want the business or team to improve their lives, but because we understand now more than ever how much a great workplace can contribute to happiness in other areas of our lives.
Calling all HuffPost superfans!
Sign up for membership to become a founding member and help shape HuffPost's next chapter