After two years and four months in a hospital bed, my friend Eric Mies would really like to go home.
Before sharing with you why Eric has been in the hospital for over two years, I would first like to tell you a bit about him.
I first met Eric in February of 2009. I was working as the Director of Advocacy at a local wildlife rehabilitation center, and I contracted with Eric for his expertise in using non-lethal, hands-off techniques for solving conflicts with wildlife. Eric's work with wildlife involved the very common scenario of raccoons, skunks or bats taking up residence in the crawl spaces or attics of people's homes. His primary concern was always the welfare of the animals, and making sure that people didn't take matters into their own hands, which often results in unintentional harm to the animal, or the creation of animal orphans. He also had concern for senior citizens, and those struggling financially. For those clients he would often reduce the price of services, or not charge at all. Up until his accident, Eric was one of a team of people that worked for me and I considered him the "Michael Jordan" of my team.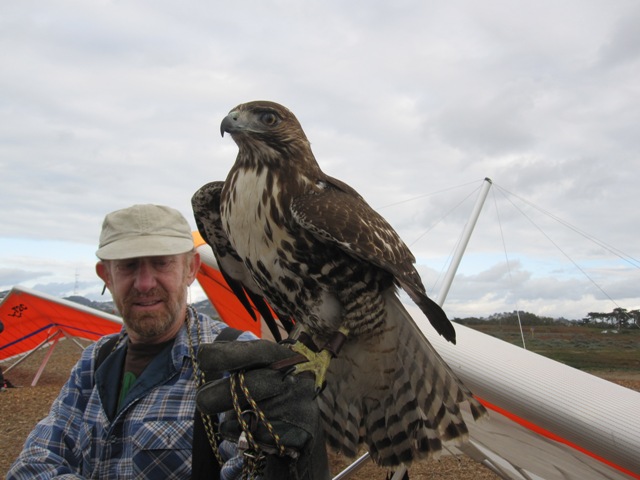 One of the first things I learned about Eric was his passion for hang gliding. With 23 years of flying experience, Eric is a well-known hang gliding pilot and instructor. During one of our first conversations, Eric casually mentioned that he takes people who are paralyzed hang-gliding so that they can experience freedom through a tandem flight. What has always stayed with me was hearing Eric describe that for people that weren't able to walk; they were now able to fly. I can't help but wonder about the possible foreshadowing there.
I don't think I will ever forget the call I received on Saturday morning, May 21, 2011. An employee of mine called me at home to tell me that Eric was involved in a serious hang-gliding accident the day before. Disbelief and sadness filled me, especially after hearing her words, "Eric is critical, it was a very bad accident." In one afternoon, Eric's life, and the life of his wife Celia and daughter Natalie changed forever. In talking about his accident, Eric told me he never lost consciousness, and he knew immediately after impact that he was paralyzed. I couldn't imagine what it was like to free fall 70 feet from the sky, hit the ground, and remember it all.
After his accident, Eric was immediately rushed to San Francisco General Hospital, where he underwent several life-saving operations. Being a veteran who served in the U.S. Navy from 1973 to 1977, Eric was then transferred to the VA hospital in San Francisco, undergoing more surgeries and enduring complications along the way. After several months, Eric was transferred again, this time to the VA Hospital in Palo Alto, Calif., as a resident of the Spinal Cord Injuries and Disorders Center. A few days ago, I asked Eric how many surgeries he has had so far. He said that "10 sounds about right."
During the days I could visit Eric, I have been touched by the courage, humor and strength he demonstrated on the card he had been dealt. If you have a chance to watch the video below you will hear that he accepts full responsibility for what happened, and is just looking forward to being with his family again.
Over the last two years, things have been difficult for his wife Celia and daughter Natalie. Before his accident Eric was self-employed and the main provider for his family. Since his accident that Friday over two years ago, Celia's modest salary as a secretary has been the sole means of support for herself and their daughter Natalie. The VA hospital in Palo Alto is about a 90 minute drive and because money is tight now, visits to Eric aren't as frequent as they need to be. The hang gliding community has rallied around Eric in support. Over the last few years, fundraisers have been held, and Eric's story has been shared on hang gliding web sites and social media.
Finally, after two years and four months, three different hospitals and ten surgeries, Eric is ready to come home. He just needs a little help to get there. If you want to learn more about what is necessary to bring Eric home, please click here
REAL LIFE. REAL NEWS. REAL VOICES.
Help us tell more of the stories that matter from voices that too often remain unheard.