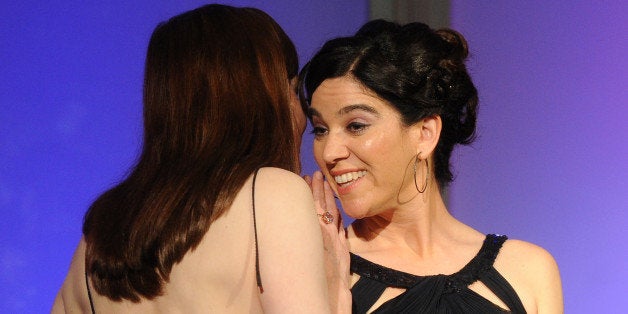 The Academy of Motion Picture Arts and Sciences announcement in January that it will work to diversify its membership that votes for the Oscars each year was a huge step forward for the entertainment industry. Memberships to the Academy will no longer be life-long and instead they will be term-limited and based on how much each member works. In addition, the organization has committed to doubling the number of women and diverse members of the Academy by 2020.
This announcement was truly significant as I'm a firm believer that in order for there to be change, women in power need to make room for other women. Academy President Cheryl Boone Isaacs so aptly said to the audience at the Oscars on Sunday night "each of you is an ambassador who can influence others in the industry. It's not enough to listen and agree. We must take action."
This year's Oscars featured much needed calls for parity for African-American actors and actresses and it was also notable for women who fared pretty well in receiving awards. Examples include Spotlight which became the first film with two woman producers to win Best Picture and Sara Bennett became the first woman visual effects supervisor to win an Oscar. Storylines about women and girls also took center stage - which has often not been the case at previous Academy Awards.
Despite making some headway for women at the Oscars this year, the current stats are grim. According to the Women's Media Center, women comprised just 9 percent of the directors of the top 250 domestic grossing films of 2013.
The Center found that the "low number of women serving as directors is particularly unfortunate, as these individuals not only provide much of the creative vision for films but they also may perform a gateway function, opening the door to employment in other important behind-the-scenes positions. For example, films with at least one female director were substantially more likely to employ women as writers and editors. On films with at least one female director, women comprised 53 percent of writers compared to 10 percent on films with exclusively male directors."
Change starts from within. Women need the confidence to lead and the opportunity to be considered for positions of power. And women in power need to do what they can to encourage more women to move up the ranks so that once and for we can all rid ourselves of the sticky floor and glass ceiling. The recently formed Institute for Entertainment, Media and Culture at Pepperdine University is an important part of this discussion. The iEMC is committed to developing more thoughtful interaction with and reflection upon the intersection of media, technology, entertainment, and culture so that we can - and will - have a more diverse workforce in the entertainment industry. And the Pepperdine Center for Women in Leadership is committed to strengthening the leadership capacity of women in the entertainment industry and all fields.
I was moved by Kerry Washington, the Scandal stars' response to why she attended the Oscars. She said "as a new member of the Academy, I want to be a part of the conversation so there is institutional change, so we never have a year like this again." She is exactly on point - in order for women to be a part of the solution they need to be a part of the conversation. This is true not only for women, but for ethnic diversity as well. This quote from an article in Vox sums it up perfectly: "hopefully #OscarsSoWhite will push it in better directions on diversity, and hopefully 2016's quasi-Year of the Woman is the start of something better and not just a blip."

Dr. Bernice Ledbetter is Practitioner Faculty of Organizational Theory and Management at Pepperdine University Graziadio School of Business and Management. Her research and teaching interests focus on leadership and values, especially gender differences, as well as on moral developmental and non-western approaches to leadership. Dr. Ledbetter recently started the Pepperdine Center for Women in Leadership to empower and advance women in the workplace.
Popular in the Community