In the Millennium Village in Bonsasso, Ghana, Theresa teaches her neighbor, Padina, what to expect now that she has brought her newborn home. Padina is one of many women with newborns in the village of Bonsasso. Theresa, a community health worker (CHW), works with Padina and other women in the village to prepare for birth and motherhood so that they are able to give birth safely and can care for their newborns and keep them healthy.
But not all women in Ghana have access to a CHW. In fact, most women and children have no access to a trained health worker. The World Health Organization (WHO) estimates that about 800 women die every day from preventable causes associated with pregnancy and childbirth. Over 50 percent of these deaths occur in countries in sub-Saharan Africa, like Ghana.
We are excited to be moving into the era of Sustainable Development Goals because universal health coverage -- the idea that every person has access to a health worker -- will be a core component of these goals. This new era is reviving the spirit and drive of organizations and governments who are committed to health and are working hard to figure out how to bring healthcare to the doorstep of every household.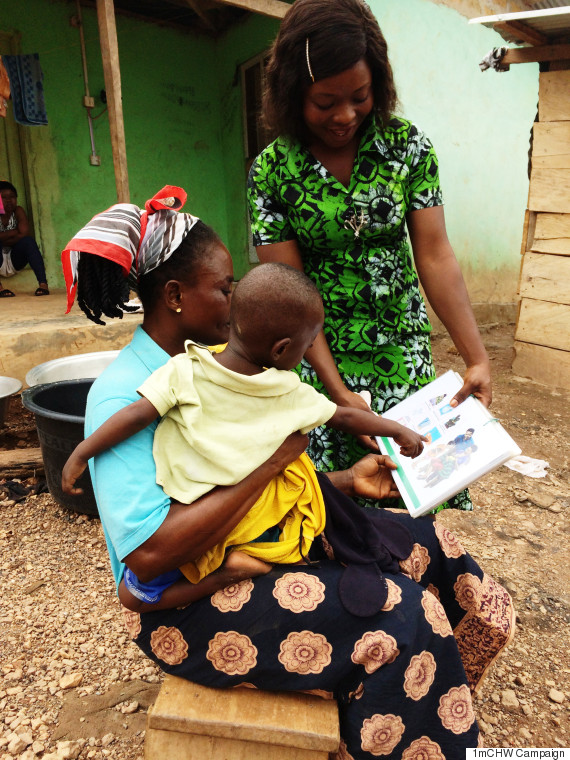 How are we going to help countries achieve universal health coverage?
By recruiting and training more CHWs. Every day in countries across the world, CHWs journey out to rural and remote areas, often over poor roads and waterways, where they provide basic primary healthcare services to people in need. CHWs, like Theresa, diagnose pneumonia and malaria, educate communities about Ebola and other infectious diseases, deliver vaccinations, promote good hygiene and nutrition and educate mothers on healthy pregnancies and safe births. CHWs serve as a lifeline to the healthcare system.
Research has shown that community health workers are successful at reducing maternal, newborn and child mortality rates. But despite all of the research and evidence in support of CHWs, these essential health workers, who are on the front lines of many of the world's most significant health crises, are often untracked and insufficiently supported. So while we know CHWs are effective at promoting health and delivering critical services, we have a poor grasp of how many CHWs there are in the world, which communities they serve and what services they provide.
What information do we have?
Not much. Each organization that runs a CHW program has some type of data on CHWs. While this data may not be comprehensive or up-to-date, it does exist. Some organizations share data, some don't. If we are going to ensure that every person has access to a health worker, we need to know -- at a bare minimum -- who CHWs are, where they work, and how many there are. This requires that everyone share their data so that CHWs, like Theresa, are recognized.
For these reasons, among others, the One-Million Community Health Worker Campaign (1mCHW) and Direct Relief teamed up with Esri to build a set of mapping applications, dubbed the "Operations Room." The Operations Room is an interactive online platform of CHW programs that operate in sub-Saharan Africa. It contains data on CHW counts and population coverage, CHW organizations and (if available) services delivered. This is one of the first platforms of its kind, sharing data about CHWs at a global level so that governments, like Ghana, are equipped with the knowledge they need to improve coverage and delivery of health services at the community level.
The newest application, a CHW story map titled A Day in the Life: Snapshots from 24 Hours in the Lives of Community Health Workers, uses photos and stories collected from throughout sub-Saharan Africa to tell the story of one long day across the lives of different CHWs, like Theresa, who are providing care to millions of people. A Day in the Life gives us a peek into the lives of CHWs and brings awareness to the challenges they face. It helps us realize that these community health workers, these points of data, are people.
Where do we go from here?
Well, for the 1mCHW Campaign, the path is clear: expand the Operations Room. Through generous support from Johnson & Johnson, this year the 1mCHW Campaign will be able to take a deeper dive into collecting and sharing more detailed CHW data from Ghana.
What does this mean for you? Take the time to learn about CHWs like Theresa, and help share their stories so that, one day, everyone will have access to a health worker.
Editor's Note: Johnson & Johnson is a sponsor of The Huffington Post's Global Motherhood section.
REAL LIFE. REAL NEWS. REAL VOICES.
Help us tell more of the stories that matter from voices that too often remain unheard.