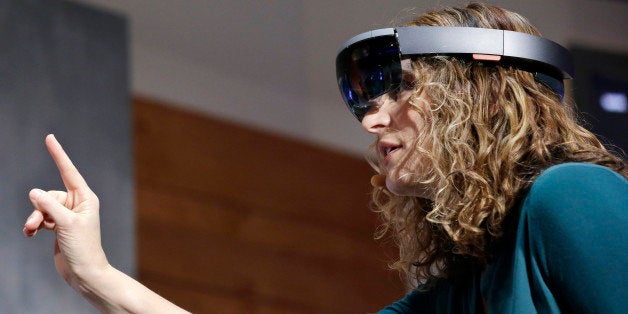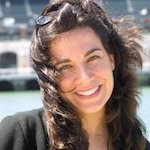 By Joni Blecher
Joni Blecher is a freelance writer who has spent her career covering tech and a myriad of lifestyle topics. When she's not writing, you can find her exploring the food scene in Portland, Oregon.
Microsoft made a splash last month when it unveiled a concept that, until now, we've only seen in the movies: glasses that project interactive holographic images onto the real world. Dubbed "HoloLens," these wireless glasses allow the wearer to interact with three-dimensional images. They can be used to learn how to make household repairs, build prototypes in mid-air, and even take a virtual walk on Mars. In the same week, Google shut down its sci-fi-inspired Google Glass Explorer program and announced it was time for a reboot, which raises the question: Is the time right for HoloLens? Can it succeed where Google Glass failed?
There are many reasons Google Glass, in its current iteration, didn't succeed. It had gone to market before it was ready, and essentially the company asked consumers to pay $1,500 to beta test the product. Its functionality was limited. Google Glass pairs with a smartphone to keep users connected to email and Google apps and allows them take photos and videos -- which raised many privacy and copyright concerns. (They were even banned from movie theaters.) And despite making an appearance on a walk down a fashion runway, the design was reminiscent of something a cyborg might wear.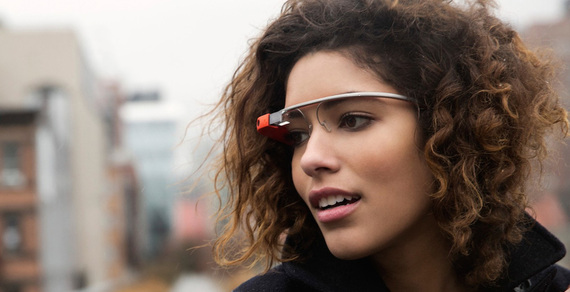 Google Glass tried to be fashionable, but the product was plagued by privacy concerns.
That said, Google Glass didn't completely fail. Google's Glass at Work program is still operating with 10 certified partners, many of them in the medical field. These companies are creating apps that use Google Glass for live surgery demonstrations, fast access to patient medical records, and workflow automation.
HoloLens and Google Glass are entirely different technologies. HoloLens is part of the Windows 10 computing platform and has an onboard CPU, GPU, and HPU (holographic processing unit). The aim of HoloLens is to allow those who wear it to interact with projected images and their surrounding environment.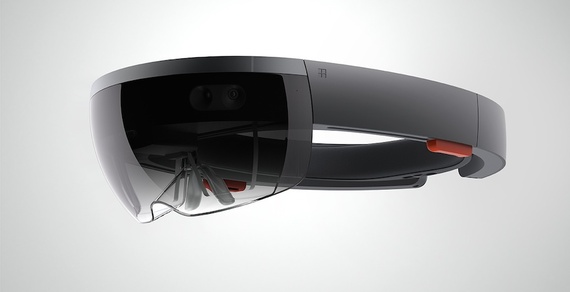 Microsoft's HoloLens projects three-dimensional images onto the real world.
Like Google Glass, the HoloLens glasses are wireless, so you can walk around a room wearing them without being tethered. The difference between the two designs is that HoloLens has two lenses and resembles motorcycle goggles, while Google Glass is primarily the top half of an eyeglass frame with a tiny clear monitor. When you wear either, you can still see the surrounding environment. In fact, HoloLens accommodates furniture and other objects in the room when projecting holograms. For example, if you're using a building app, it will project an image of a building on top of the ottoman in the room.
It's the HoloLens apps that are the stuff of science fiction. There's a design studio where you can assemble a prototype by placing holographic objects together and then print it on a 3D printer. Microsoft has been working with NASA's Jet Propulsion Laboratory on an app for the Mars rovers. Scientists can don HoloLens and interact with the images taken from Mars in a 3D environment. There's also a building-block app reminiscent of Minecraft that's used to create buildings and blow up walls by tapping on them (aka AirTap).
One of the more practical demos is using HoloNotes, an app integrated with Skype, to install a light switch. While wearing HoloLens, place a Skype call to someone who walks you through installing the light switch. They see what you see on their tablet and talk you through what you need to do and draw arrows on the tablet screen that appear on the wall in front of you. No more saying, "Wait, is it the wire on the right or the left?"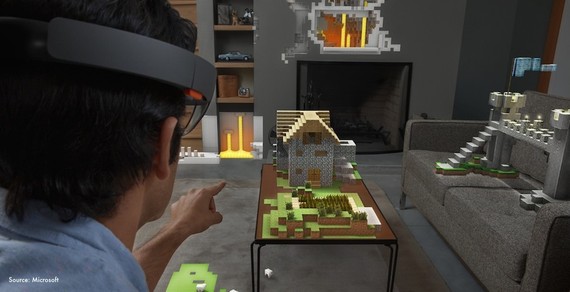 HoloLens accommodates furniture and other objects in the room when projecting holograms.
The apps offer a glimpse at HoloLens' potential. HoloLens provides an active encounter while Google Glass offers a passive experience. There are problems both solutions can solve. For example, there's a time when a doctor may want to wear Google Glass to record a surgery as a teaching tool. In a similar scenario, first responders could use HoloLens (and the HoloNotes app) to get instructions from a doctor on how to perform life-saving treatments in the field.
Although HoloLens has exhibited some draw-dropping demonstrations, that doesn't mean it will be an overnight success when it becomes available with Windows 10. When it comes to introducing a new technology, it typically takes at least three shipping versions before the majority of the bugs are under control. It will also depend on the apps developed and how Microsoft supports its developer community. It's ultimately the apps that will drive adoption. That said, HoloLens, if rolled out correctly, has far more potential to change the way we interact with technology than Google Glass.
REAL LIFE. REAL NEWS. REAL VOICES.
Help us tell more of the stories that matter from voices that too often remain unheard.